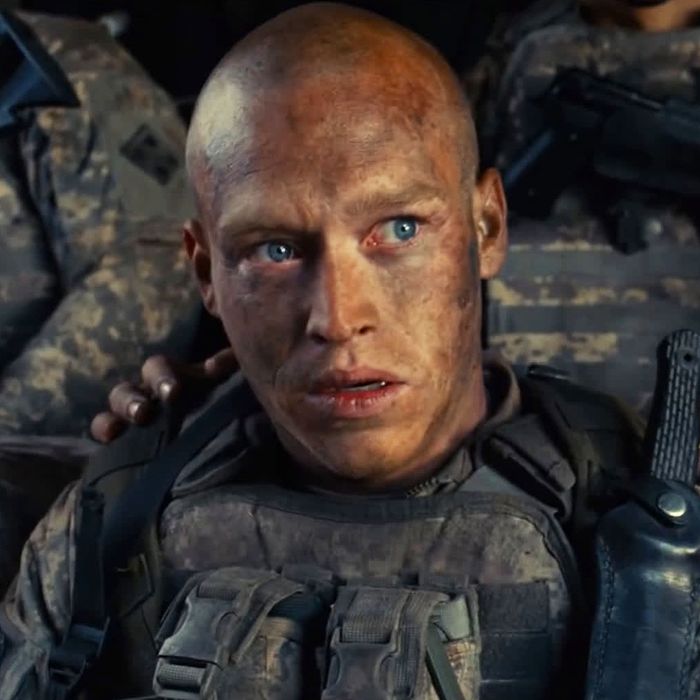 Originally set for release in 600 theaters, the movie rolled out into the homes of military families and became an on-demand winner instead.
Photo: Century 21
In The Outpost, arguably the Pandemic Summer's most acclaimed war biodrama — this summer's only war biodrama, in fact — a small contingent of U.S. Army soldiers find themselves vastly outnumbered, increasingly outgunned, and ceding the higher ground to Taliban forces during the Battle of Kamdesh, the bloodiest engagement of the Afghanistan War. Originally set for release in 600 theaters in July, the film faced its own obstacles: It was a tiny indie passion project with popular, if not exactly bankable, stars — Scott Eastwood, Orlando Bloom, Caleb Landry Jones — directed by a filmmaker whose last movie, released nearly a decade earlier, was a notorious flop. Oh, and it was poised to arrive in multiplexes at the height of blockbuster season. Then came the coronavirus. And with it, the cancellation of The Outpost's premiere at the SXSW Film Festival, followed by widespread theater closures that ultimately limited the thriller, which is based on Jake Tapper's book The Outpost: An Untold Story of American Valor, to just a few dozen screens operating at partial capacity.
But a curious thing happened on the way to the cinematic ammo dump. The Outpost's distributor, Screen Media, pivoted the film to a day-and-date premium video-on-demand release, and on the strength of the overwhelmingly positive reviews that came in from viewers who had purchased an at-home screening (the movie has a 92 percent "fresh" score on Rotten Tomatoes), along with the subsequent robust word of mouth — particularly among members of the military community — The Outpost became an under-the-radar hit. Just when the entertainment industry was all but writing off this year and opening-weekend box-office returns no longer seemed able to distill a film's commerciality, the gritty military thriller managed to succeed, shooting to the top of the streaming rental charts on Spectrum, Fandango Now, Google Play, and iTunes, where it remained for three weeks, eventually coming to rank among the top 50 independent movies of all time on the Apple app. Since migrating to Netflix on October 2, the film has ranked among its most watched properties. And although Screen Media refuses to release data about how much The Outpost has grossed online to date (as is the industry standard these days regarding PVOD numbers), stock for its parent company, Chicken Soup for the Soul Entertainment, shot up by 26 percent thanks in significant part to this film's streaming popularity.
Now, in time for Veterans Day, a special director's cut of The Outpost is headed back onto 350 screens across the U.S. on November 11 and 12, featuring a special introduction from director Rod Lurie (The Contender, The Last Castle) and several military veterans who participated in the filming. What's more, The Outpost's distributors plan to mount an Academy Awards push for Jones and the film's screenwriters. "We worked very hard to make this a large, cinematic experience," Lurie tells Vulture. "But Screen Media saw the virtue of the film and said, 'No, July 4 weekend is too significant a weekend to give up.' I think the reviews really propelled it. But this is a prototypical word-of-mouth film, especially among the veteran community."
Published in 2012, Tapper's book delves into a historically overlooked military boondoggle: how a vulnerable combat outpost in remote northeastern Afghanistan was subjected to almost constant attacks by enemy forces. In 2009, 53 cavalry scouts deployed at the base — known as Combat Outpost Keating — were nearly overrun but fought off a two-day onslaught by 400 Taliban fighters, resulting in eight American casualties. Two survivors, Army Staff Sergeant Ty Carter and Staff Sergeant Clinton Romesha, received Medals of Honor from President Obama. Hollywood soon came calling. Tapper granted Academy Award–nominated screenwriter Paul Tamasy (and his writing partner, Eric Johnson) an option to adapt the book into a movie for no money upfront, and the project was set up at Universal Pictures with Sam Raimi (Spider-Man, The Evil Dead) attached as director. "I know that this is my life's legacy, telling this story. I know that no matter what I accomplish with the rest of my life, this will be it," Tapper says, adding that he felt a personal sense of responsibility to the real-life soldiers who died in the conflict. "The more people that know the names Gallegos and Thomson and Kirk, the happier I'll be."
Then a competing project based on Romesha's own book, Red Platoon, materialized at Sony with Ben Affleck set to direct and his brother, Casey Affleck, in the leading role. When Raimi pulled out of The Outpost project, the Universal deal fell apart. Tamasy and Johnson then brought The Outpost to Millennium Media, the indie production company behind such high-octane, lowbrow action flicks as The Expendables, Olympus Has Fallen, and Rambo: Last Blood, which had been looking to develop its own Battle of Kamdesh movie for several years.
Lurie wasn't an obvious replacement for a filmmaker with a multibillion-dollar box-office pedigree like Raimi. Although his 2000 political drama The Contender yielded a Best Actress Oscar nomination for star Joan Allen and a Best Supporting Actor nod for Jeff Bridges, several of Lurie's more recent titles were commercial misfires — 2011's Straw Dogs grossed just $11.1 million worldwide (against a $25 million budget). But as a graduate of West Point who had served as an artillery officer in the U.S. Army (albeit during peacetime), he was intimately acquainted with the military milieu. Millennium co-president Jonathan Yunger regarded Lurie's commitment to showcasing the battlefield experience with integrity as a kind of secret weapon. "One of the things that Rod said that sticks with me was about death and how people die twice: once when they actually die and another time when their name is spoken for the last time," Yunger says. "I felt honored to help Rod execute this vision because there was something bigger than all of us at play — keeping the memory of those who have fallen alive."
As the movie scrambled into production in Bulgaria in early 2018, Tapper introduced the filmmakers to survivors of the Battle of Kamdesh. And the team not only hired veterans to serve as consultants but also enlisted them to appear on camera — in some cases, autobiographically so. "Daniel Rodriguez plays himself in the film," Lurie says, "and a guy named Henry Hughes plays Brad Larson. He was at that outpost before the battle, then he went to AFI and got nominated for an Academy Award for a short film. So I had a guy with a filmic background helping me on set." (IMDb Pro reports that the budget for The Outpost was $18 million, but the director and producer insist this figure is incorrect. Although they will not divulge the price tag, Lurie says the below-the-line costs were "well under" $5 million.")
In October 2019, in the lead-up to The Outpost's intended dual premieres — one at West Point before 4,000 cadets, another in March at SXSW — Millennium screened a rough cut of the film at the Navy War Museum in Washington, D.C. Producers flew in soldiers who had survived the battle of Camp Keating and the Gold Star families of those who did not, keeping grief counselors on hand for anyone who needed support while watching the relentless depiction of the attack that comprises most of The Outpost's second half. "We were really nervous because we didn't know how people were going to react," recalls Tapper, who is also credited as an executive producer. "I don't know what it's like to lose a loved one in battle, much less see their death depicted in a film. So afterwards, I walked around sheepishly to every one of these families asking what they thought. They all felt positive about the project. That was the most important thing."
After the pandemic scuttled the plans for a rollout in hundreds of theaters across North America, the film's big-screen run was initially limited to just 71 locations. With other Hollywood studios, such as Universal and Disney, bypassing the obligatory 90-day "window" between a film's theatrical and home-video releases this year (with Trolls World Tour and Frozen II, respectively), Screen Media maneuvered to make The Outpost concurrently available via video on demand. There, it topped almost every online rental chart, rising to No. 3 on Amazon Prime in its second week of streaming, buoyed by social-media promotion from Tapper and his fellow CNN anchormen Don Lemon and Chris Cuomo as well as Instagram shout-outs by Outpost supporting actor Orlando Bloom's fiancée, Katy Perry. Upon the film's DVD release in August, The Outpost also performed strongly through the rental service Redbox, ranking as its top title this summer for two weeks and remaining among its top 20 rentals until last month.
"Home consumption was up. That was helpful in terms of being able to fish where the fish were; we weren't competing at theaters," says Screen Media's executive vice-president of distribution, Mike Messina. "People were talking about the movie. The military families found the movie. If you looked at the Twitter chat at that time, there was just a tremendous outpouring of support from the people who were watching it and praising it. Rod was engaging with people, talking to people online. And it just continued to swell."
For his part, Lurie is quick to pin the film's success on enthusiastic support from members of the armed forces and military families. "I can tell you from reading thousands of Twitter messages and emails from veterans that there is nothing more that they want than for their loved ones to understand what they went through," the director says. "This movie removes a big obstacle. I get so many veterans saying this is one of the first times they saw a truly authentic portrayal of what it is like out there, 'This is what I fucking went through.'"