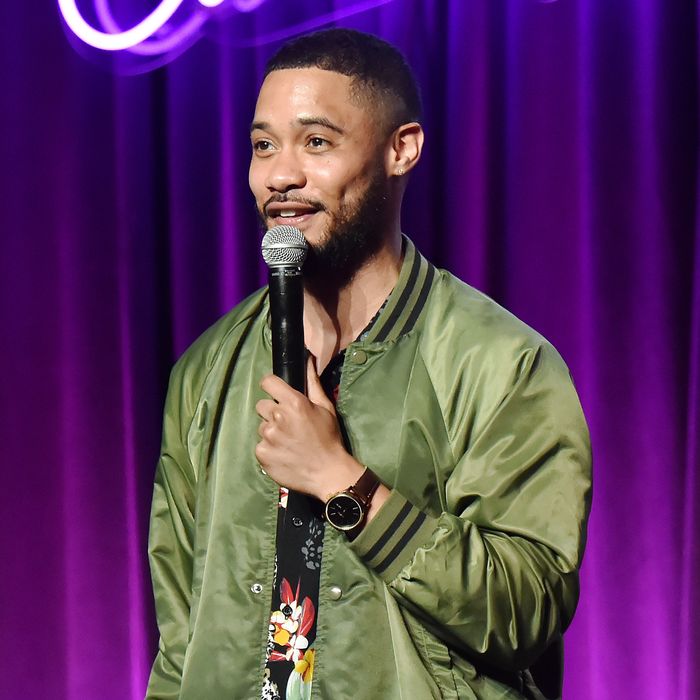 Langston Kerman.
Photo: Jeff Kravitz/FilmMagic for Clusterfest
The comedy-podcast universe is ever expanding, not unlike the universe universe. We're here to make it a bit smaller, a bit more manageable. There are a lot of great shows, and each one has a lot of great episodes, so we want to highlight the exceptional, the noteworthy. Each week, our crack team of podcast enthusiasts and specialists and especially enthusiastic people will pick their favorites. We hope to have your ears permanently plugged with the best in aural comedy.
My Momma Told Me With Langston Kerman - "May the Best Roaster Win" with Zack Fox
Bored of the media's focus on white conspiracy theorists like Alex Jones and President Trump? Then take a listen to My Momma Told Me, where host Langston Kerman explores the vast world of Black conspiracy theories, from Tupac hiding out in Cuba to the magical controlling power of menstrual blood in spaghetti sauce. On this week's episode, Kerman and his guest, comedian and musician Zack Fox, take on one of the wildest conspiracy theories out there: Dr. Yakub and the invention of white people. Long story short, the Nation of Islam believes that a big-headed alien scientist took 59,999 followers from Mecca to a Greek island where he began a process of selective breeding that created all non-Black races. The comedy is obvious in discussing a theory as outlandish as this, but the podcast really shines when Kerman and Fox talk about the interplay between mythology and culture. As they point out, disseminating a conspiracy theory (or a religion) is like roasting someone: As long as you get the crowd on your side, it doesn't have to make sense. —Pablo Goldstein
Listen: Spotify | Apple | Website
The Most Wonderful Pod of the Year - A Princess for Christmas
Sure, we've all heard of Netflix's A Christmas Prince by now, but years before that there was Hallmark's A Princess for Christmas. If you've never heard of it, don't worry — the latest episode of the seasonal podcast The Most Wonderful Pod of the Year dives deep into the most ridiculous details of the Hallmark holiday film in a way that's as enjoyable as sitting down and watching the best holiday classic. For the last three years, hosts Jackie Gonzalez-Durruthy and Ross Kimball have gathered during the holiday season to record this show that shines a light on the most obscure made-for-TV Christmas movies. Both hosts come with the perfect balance of a deep love for the genre and a hilariously critical eye for everything that makes these films unbelievable. In the premiere of season three, there are impromptu sing-alongs, deep dives into the true accents of the stars, and dissections of the strange details that all royal-themed holiday films seem to agree on. (What's with all these made-up, strangely named pseudo-European countries?) The whole thing is like drinking a warm cup of cocoa with tiny marshmallows by a fire, a soothing ritual to get you in the joyful spirit of the season. —Brianna Wellen
Listen: Spotify | Apple | Website
Assembly: Season 2 - David Cross | Part 1: "Nothing to See Here"
Host and creator Robert Milazzo recorded the material for the just-launched sophomore season of Assembly last year, which means he spent a big chunk of the pandemic cobbling the show together. And it is an amazing endeavor — nothing short of an audio documentary about and around comedian, actor, and writer David Cross as he moved around New York and other places preparing for a new stand-up show. But it's not just the host interviewing his subject. He tracks down friends and acquaintances of Cross — his "not-so-Greek chorus" that he checks in with periodically, which includes (in the first episode) Janeane Garofalo, Patton Oswalt, and Sarah Silverman, plus comics who started performing the same time Cross did at clubs in Atlanta, like Paul Clay, Rexx Garvin, and Mark Rivers. They all sound off about Cross and what he was like back in the day and now. There's a lot of music layered in, giving it a lush backdrop (much of the music was created by Fred Armisen). And then there's Cross himself, being interviewed on the phone, in a car, and in a restaurant, discussing the workshop-like series of small-venue gigs in and around Brooklyn he's doing to start the process of putting a new hour together. Coyly, the only thing he won't give Milazzo access to during this season is his new material. It's going to be an interesting series indeed. —Marc Hershon
Listen: Spotify | Apple | Website
Pretty Big Deal With Ashley Graham - Phoebe Robinson
This week, Pretty Big Deal host Ashley Graham invites Phoebe Robinson to discuss creativity in quarantine, which she is no stranger to. Robinson launched the hilarious and heartwarming podcast Black Frasier while sheltered at home. It "focuses on fostering deep conversations and helping listeners feel connected," and has also had the pleasant side effect of helping Robinson "manage her self-doubt, stand in her magic, and be more present in the moment" during this time. "I'm figuring out who I am and what my place is in the world in a more profound way," says Robinson. On top of that, she managed to read a whopping 42 books recently, which she jokingly mentions before talking more seriously about her experience as a Black woman in publishing and her publishing imprint and production company, Tiny Reparations. Fittingly, her upcoming Comedy Central series is called Doing the Most. It will showcase guests teaching Robinson the ins and outs of their various skills. All of this good news is served with a side of Robinson's signature energy, which includes a bit of self-deprecation and singsong celebration. It's a fast and fun conversation about some serious shit that's sure to leave listeners in high spirits. —Becca James
Listen: Spotify | Apple | Website
Other Podcasts We're Listening To:
TV, I Say With Ashley Ray - Steven Weber with Election Week Reassurance
Listen: Spotify | Apple | Website
Celebrity Memoir Book Club - The Meaning of Matteo Lane and Mariah Carey
Listen: Spotify | Apple
Fake the Nation - Optimistic, Yet Miserable (with Paula Poundstone and Dorian Warren)
Listen: Spotify | Apple | Website
Got a comedy-podcast recommendation? Drop us a line at comedypodcasts@vulture.com.
If you like comedy and you like podcasts, we recommend you subscribe to Vulture's own Good One podcast, which releases new episodes every Tuesday on Apple Podcasts, Spotify, Stitcher, Overcast, or wherever you get your podcasts.