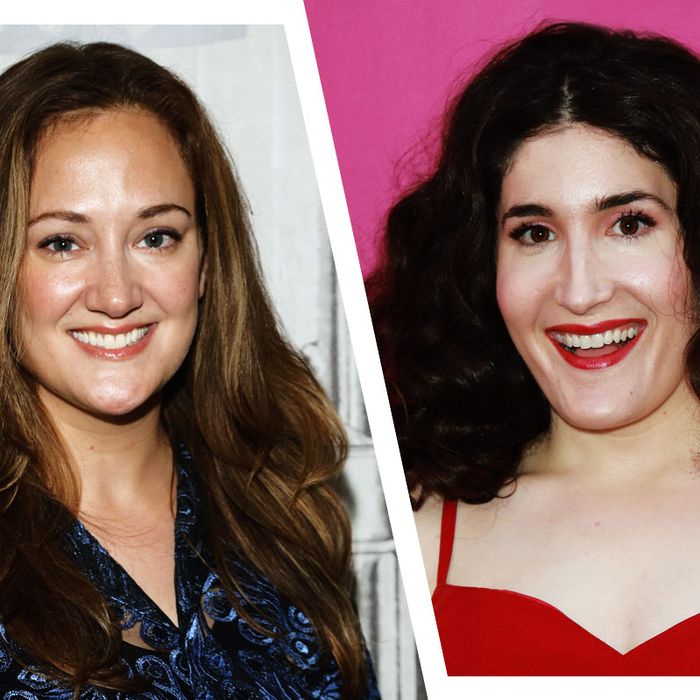 Meet your new wellness experts.
Photo-Illustration: Vulture and Getty Images
The comedy-podcast universe is ever expanding, not unlike the universe universe. We're here to make it a bit smaller, a bit more manageable. There are a lot of great shows, and each one has a lot of great episodes, so we want to highlight the exceptional, the noteworthy. Each week, our crack team of podcast enthusiasts and specialists and especially enthusiastic people will pick their favorites. We hope to have your ears permanently plugged with the best in aural comedy.
POOG - Organs
This is 2020. We've moved beyond Goop and Poosh and Noom, and our new thing is POOG, where the hosts aren't trying to sell you bourgeois wellness products for your last expendable dollar — they're trying to get those products for themselves for free. It's not a parody of communities like Goop, it's a deconstruction and appreciation of them from the inside. Is an obsessive search for wellness in the absence of an actual illness a symptom of illness, or of wellness? Can one even clear their chakras enough to find the answer to that question? Co-hosts and two of the greatest living minds, Jacqueline Novak and Kate Berlant, explore all things health on POOG, from mental health in their episode titled "Psychic Warfare" to physical health in "Organs," the latter of which grapples with the horror of not being able to see inside one's own body. Discussing the objects, techniques, and alternative milks they have used in pursuit of bodily and spiritual enlightenment, Berlant and Novak acknowledge that the pursuit may be ridiculous, but there are still benefits to be reaped. Even the placebo effect is, by definition, an effect. —Kathryn Doyle
Listen: Spotify | Apple | Website
Add to Cart With Kulap Vilaysack and SuChin Pak - Salvaging Christmas With Poise (Pads), a Kegel Goose, and a Majestic Water Buffalo 
At the beginning of the first episode of Add to Cart, Kulap Vilaysack and SuChin Pak promise to be your new best friends — or at least your new kooky aunties — and throughout this debut episode about online shopping, they deliver on both promises. Every week the pair promises to expose what they've added and removed from their online carts for the first time on air; it's only their producer who knows ahead of time. It adds an extra layer of spontaneity and hilarity to each episode, since the hosts discover along with listeners what strange pajamas, Netflix series, and "hoo-ha" accessories might come up. It introduces a fun premise going forward: Can Kulap and SuChin guess what is in each others' carts? How many nonsense items will they purchase just for an on-air bit? Will every episode include at least one vagina-adjacent item? Based on the first episode's roundup of "grip strengthener, Kegel exerciser with app, and Poise pads," the answer might be yes, and all for the better. While this podcast feels perfectly born in the midst of a pandemic, when online shopping is the only safe activity left, Add to Cart is poised (pun intended) for greatness beyond, thanks to the hosts' sharply witty yet friendly rapport and seemingly endless wish lists of offbeat good, bad, and huh, maybe I need one of those items that are just a click away. —Brianna Wellen
Listen: Spotify | Apple | Website
I Said No Gifts! - Ziwe Disobeys Bridger 
Each week on I Said No Gifts!, host Bridger Winegar invites "friends, loved ones, and people he's secretly trying to destroy" to chat. He stresses, however, like any gracious host would, no gifts: "Naturally, every guest disobeys, meaning their chat will eventually turn to whatever object lies beneath the wrapping paper." Joined by Ziwe, the host and guest rib each other about relationships before Winegar reveals Ziwe sent him an unexpected gift via email. This prompts her to mention, "I think this is a grift. I think it's a grift in that you have designed a system in which you get paid to interview people who have to give you gifts." Her gift reflects this theory and is a message that says "ABSOLUTELY JACK SHIT FROM AN EMOTIONALLY EXHAUSTED BLACK WOMAN," accompanied by her email signature. It's an I Said No Gifts! first, so Winegar asks for an explanation. "It's actually audacious that you would ask me to do your podcast then ask me for a gift," says Ziwe, adding, "You get the privilege of my presence. My presence is a present. Kiss my ass." It's a high-energy response shared with humor that leaves Winegar laughing, and it opens the conversation up to even more engaging and amusing discussion. —Becca James
Listen: Spotify | Apple | Website
The Sarah Silverman Podcast - "A Fistful of Almonds"
Just this fall, comedian Sarah Silverman took the plunge and kicked off her own podcast, which was spurred, no doubt, by the lack of performance and appearance opportunities COVID has brought us. The handful of episodes thus far have been "guestless," as Silverman puts it, but this week's entry welcomes her first visitor: her boyfriend Rory Albanese. She calls him after telling the story behind the episode's title, where we find out why Albanese having a "fistful of almonds" prevented the couple from having sex that night. Before we get into that strange little domestic snapshot, Silverman kicks off the show with her smart take on the state of the U.S. right now and her unbridled dismay for those responsible for much of it. The bulk of the episode is her listening to voice-mail messages from listeners and fans who have called in with questions, but there is also the occasional rant or diatribe. It feels like she hasn't heard these in advance, and she addresses each one in Silverman style: some self-deprecating humor, some genuine compassion if warranted, and one mea culpa when a guy wants to know why she won't go full vegan, stopping short at dairy products. He ticks off the reason why, and when he's done, Silverman swears that she is now ready to do her best to jettison milk, eggs, and cheese. And we get the feeling that it's no joke. —Marc Hershon
Listen: Spotify | Apple | Website
Other Podcasts We're Listening To:
Dads: The Podcast - Tig Notaro
Listen: Spotify | Apple | Website
Spanish Aquí Presents - Cholo-fy Me (w/Angel Aviles)
Listen: Spotify | Apple | Website
Got a comedy podcast recommendation? Drop us a line at comedypodcasts@vulture.com.
If you like comedy and you like podcasts, we recommend you subscribe to Vulture's own Good One podcast, which releases new episodes every Tuesday on Apple Podcasts, Spotify, Stitcher, Overcast, or wherever you get your podcasts.