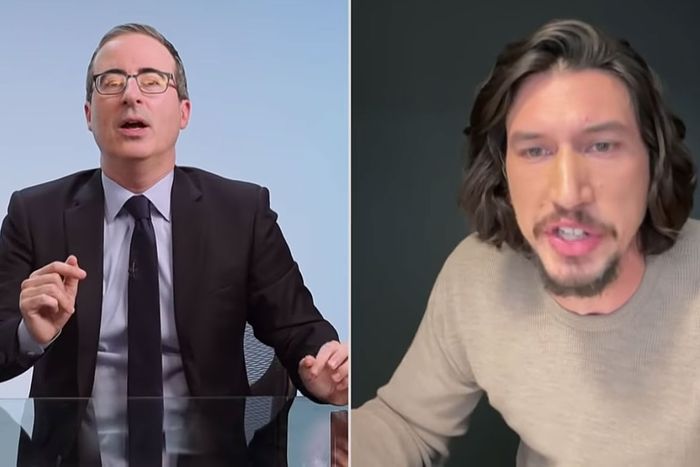 We love a full-circle moment.
Photo: YouTube
Ho ho ho, Merry Christmas! Oh wait, you're telling me that Thanksgiving hasn't even happened yet? My bad. As the sun sets earlier and earlier these days, it can be hard to keep track of what week it is. As we hurtle further into darkness and the great unknown both politically and metaphorically, late night presses on, but not without some shake-ups to keep us on our toes. This week, Conan O'Brien announced that his nightly TBS show will come to an end in 2021. However, he's not entirely exiting the late-night space, since he's signed on to host a new weekly variety show on HBO Max. So as our comrade Conan winds down, let's wind up and dish out the top late-night moments of the week.
5. Harry Styles Does Vogue's "73 Questions" on The Tonight Show
There was a ton of hullabaloo on the internet this week about Harry Styles becoming the first man to grace the cover of Vogue while wearing a dress (gasp). It sent some conservatives into a mini tailspin about masculinity and gender roles and became the rare controversy that was low stakes yet ripe for parody in 2020. Obviously, the minds at The Tonight Show decided to capitalize on this opportunity and dedicate a sketch lambasting those offended by Styles's cover. Jk, they did a "73 Questions" parody with Jimmy Fallon, as Styles being quirky and random instead. It was a cute sketch with Fallon delightfully eating cherries and playing the piano as he channeled Styles's ethereal, himbo-lite energy, sort of floating through life. As someone who never really got into the One Direction thing (sorry), I'm not sure how accurate Fallon's impression was of the "Watermelon Sugar" singer, but it had some cute moments — particularly at the end when Fallon made up an original Styles song called "Chocolate Kisses" at the piano. Light humor wins again.
4. Jimmy Kimmel Wants to Know If Obama and Michelle Smashed After bin Laden
This Obama book tour has been … something else! From his predilection for ethereal bisexuals to using the F-word slur as a teen, President Obama is really opening up about his past in surprising, and sometimes confounding, ways. While for better or worse Obama has shared a lot of himself these past weeks, there are certain things the former president and current Netflix producer would rather keep close to his chest, like the intimate details about his sex life with First Lady Michelle Obama, particularly in relation to the killing of Osama bin Laden. On Thursday, Obama dropped by Jimmy Kimmel Live, where he was asked to spill the deets about what went down between himself and Michelle the night they found Osama bin Laden. After a sort of long-winded intro, Kimmel asked Obama, "So, on the night you did kill bin Laden, did you and Michelle make love?" Yes, Kimmel straight-up asked the first Black president of the United States if he boned his wife after disposing of one of America's greatest enemies. That's Leta Powell Drake levels of ballsy interviewing. After quite a long pause, Barack demurely answered, saying, "I suspect she was asleep, because the truth of the matter is, most of the time, by the time I was done working, she'd be snoozing." So, now we know. There was no bow chicka wow wow in the Oval Office on May 2, 2011. A classy (yet slightly disappointing) answer.
3. Amber Ruffin Sings Jazz Standard "I Don't Wish Him Well" on The Amber Ruffin Show
Now to wade back into decidedly less sexy political territory. Ten days and what feels like 100 breaking-news election results later, Donald Trump has refused to concede the 2020 election to President-elect Joe Biden. Even though Trump literally refuses to acknowledge reality and insists on being both a nuisance and a grave threat to our national security, that doesn't mean we can't continue to bid him adieu, which is precisely what Amber Ruffin did on her late-night show The Amber Ruffin Show. Channeling her inner Billie Holiday, Ruffin pinned a white gardenia in her hair, and (quite beautifully) sang farewell to Trump via the gorgeous, made-up jazz standard "I Don't Wish Him Well." In the song, Ruffin wished a lot of things for Trump — a long life (so that he can live to see his 20th divorce), adventures of the grandest scale (specifically ones that land him in jail) — but she did not wish him well. "I hope he develops a misshapen butt and can never find underwear / And every kid who ever sees him says 'Hey, what's wrong with your derriere?' They stare!" My sentiments exactly.
2. Samantha Bee Helps You Celebrate a Very COVID Thanksgiving on Full Frontal
The holiday season is upon us, and it's going to look a little different this year because of the whole global pandemic that's currently surging across our country. While skipping the trip to your parents' house and eating leftovers alone in your apartment does not sound like most people's idea of a good time, Samantha Bee reminded us on Full Frontal that doing so is vitally important to flattening the curve (wow, it's been a while since we heard that one!) and getting this pandemic somewhat under control. "The safest way to celebrate this year is to completely avoid all travel and gathering this year, especially indoors," Bee said bluntly. "Homes are now a main source of coronavirus transmission, accounting for up to 70 percent of cases in some areas." So unless you quarantined and moved back in with your parents on Halloween like some of us, do your Maw-Maw and Pop-Pop a favor, listen to Bee, and stay as far away from them as possible. As the old saying goes, home is where the heart is and also the place you're most likely to contract the novel coronavirus.
1. Adam Driver Ends a Season-Long Bit on Last Week Tonight
It's so rare in this crazy life of ours that anything truly comes to a satisfying end. Think back to your favorite movies or television series or books: Did the ending really work? Did it really deliver, or did it sort of sputter out and die and leave you ultimately emptier than you were before you embarked on the journey? This week, the finale of Last Week Tonight delivered on its promise, wrapping up the season-long bit of John Oliver thirsting over Adam Driver with a FaceTimed appearance by Kylo Ren himself. "Hey John," Driver said, staring into his phone screen. "What the fuck are you doing? This bit. This bit that's either sexual or violent." It's at once satisfying and deeply funny. Imagining that movie star Adam Driver cares about what little bespectacled John Oliver says about him on his show is a funny enough premise to begin with, but then having him repeat the lewd, ridiculous, and thirsty comments on his show to his face really did tickle my funny bone. "I'm sick of people stopping me on the street and asking me if I'm going to punch a hole in you like the Marriage Story wall," spit out Driver. The only thing that could have made the moment better is if Driver really did punch a Marriage Story–sized hole through Oliver. All good bits come to an end, but not every good bit ends as well as this one did. Happy birthday to Adam Driver, and happy season finale to John Oliver, who ultimately got what he always wanted: Adam Driver to choke him out (metaphorically speaking).