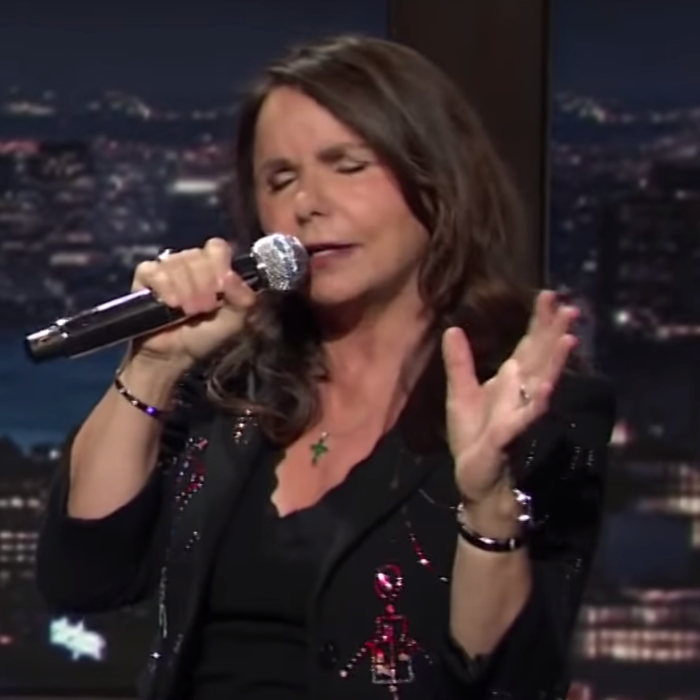 Sing him to shreds, Patty!
Photo: The Tonight Show Starring Jimmy Fallon/YouTube
How do you coup — I'm sorry, I meant to say "How do you do?" The dust has settled on the raucous celebrations and champagne-popping of last weekend, and we're now about a week into a world with President-elect Joe Biden (it really does roll off the tongue) and no concession in sight from the loser (I truly never get tired of saying that). As such, society at large, as well as our trusted late-night hosts, are now forced to sit in this liminal space until the previous president's reign of terror is officially over on January 20.
For anyone hoping that the end of the election would mean the abrupt end of Trump jokes on late-night television, I've got some bad news. But while the late-night landscape hasn't completely changed now that we've entered this state of political limbo, interesting things are beginning to happen. Veteran comedian John Mulaney has joined the writing staff of Late Night With Seth Meyers for an unspecified amount of time, which sounds great for Late Night but maybe not so great for aspiring late-night writers. Anyway, here are the top moments from our first official post-Trump, pre-Biden week.
5. Tooning Out the News Blasts Biden for Not Conceding
It's been six days since the election was called, or as I like to call it, The One Good Day of 2020, and only four (four!) Republican senators have acknowledged the fact that Joe Biden won the election. This is incredibly alarming (and tacky!). While real-life human Republicans hem and haw on cable news demanding recounts and de-counts outside various landscaping shops, our animated satirist friends at Tooning Out the News on CBS All Access have decisively called the election in Trump's favor. In their "Hot Take" spoof, a Republican news anchor claimed that not only did Trump win the U.S. election, but he received so many votes that he's now the president of Bolivia as well. Sounds about right. Representative Kathleen Rice, Democrat of New York, served as the human guest to defend the election results against an increasingly absurd claims of fraud from the animated panel, which involved the Beatles, not being allowed to park your car inside the polling place, and a haunted locket with Joe Biden's face in it. It's the little details here that get me: the single clap after the anchor announces Trump's victory; the chyrons that read "God King Smites Election," "Peaceful Transition Always Violent," and "Trump Definitely Won." Listen to Major and Billie Eilish and take the L, Trump Biden!
4. La Grande Dame Karen Huger Spices Things Up on Watch What Happens Live
You know who's not taking any Ls these days? La Grande Dame of Potomac Miss Karen Huger, that's who. On Sunday, she dropped by Watch What Happens Live and casually revealed to Andy Cohen and comedian Dulcé Sloan that she and her husband, Ray "Ray-Ray" Huger, role-play as Zorro and a damsel in distress to spice up their love life in the bedroom. While that alone would be enough to garner entry to this list, Huger went a step further and revealed that Rihanna herself slid into her DMs and said that she was proud of her. It's not exactly an invitation to walk in a Fenty Fashion show, but it's a start! For anyone who, like me, has been watching this season of The Real Housewives of Potomac, it's nice to see that La Grande Dame is thriving and that her marriage is going strong. After the ice cream sundae that was this past weekend, hearing that Huger is truly living her best life was the cherry on top. You go, slither queen!
3. John Oliver Celebrates the Results of His First U.S. Election on Last Week Tonight
It's been a little while since Emmy-winner and namesake to a sewage plant in Danbury, Connecticut, John Oliver appeared on this list. While Last Week Tonight is always top-notch, it does feel a little unfair to compare a 30-minute episode of television to Karen Huger playing "La Grande Dame or a Damn Lie?" That aside, Oliver's post-election episode on Sunday, November 8 was truly delightful. It was underscored by the fact that this is was the first U.S. election Oliver voted in, having only recently become as an American citizen. How amazing is that!? Oliver, who can skew angry at times, was full of joy in the top half of the episode, sharing clips from the celebrations sweeping the nation and the world at the news of Trump's defeat. "It was like that all day here in New York. There was a mood here that can only be described as a reverse 9/11," Oliver said. "Why? Because it combined complete euphoria and abiding disgust for Rudy Giuliani, and this time, people were actually dancing on the rooftops in New Jersey. It was a really good day! Never forget." If only the election results came out on 11/9, then it really would have been a reverse 9/11.
2. The Daily Show Shines a Light on Africa's Excellent Handling of COVID
With everyone so laser-focused on the election over the past week, it can be easy to forget that we're in the midst of the second wave of a deadly pandemic. Not only is COVID still very much a thing, it's also still very much getting worse as cases skyrocket and hospitals have — once again — reached their capacity right here in the good ol' U.S.A. Shockingly, some continents have gotten coronavirus relatively under control and are not clocking 100,000 new COVID cases a day, if you can believe it. On The Daily Show, Trevor Noah took some time to shed light on one such continent: Africa. "It turns out there is one place where they do seem to manage the virus better. And that place might surprise you … because you're racist," Noah quipped before devoting a segment to the success Africa has had with managing COVID. According to the WHO, Africa is leading the world in response to the COVID-19 pandemic. While the U.S. has 250,000 dead (and counting) with a population of 300 million, the entire continent of Africa, with its population of approximately 1.2 billion people, has less than 42,000 dead. So, yeah, maybe we're doing something wrong over here? If this coup keeps up, I'm booking a one-way flight to Accra, Ghana — real talk. Until then, can someone from Africa take a mission trip to the U.S. and help our sorry ass?
1. Jimmy Fallon and Patty Smyth Sing Goodbye to Trump on The Tonight Show
There's truly nothing like saying goodbye to someone you never ever want to see again. After four years, we finally have the opportunity to say sayanora, hasta la vista, auf wiedersehen, toodleloo, ta-ta, don't let the door hit your ass on the way out to Donald Trump. What's the only thing better than saying good bye to Trump? Singing goodbye. On Tuesday, Jimmy Fallon and the one and only Patty Smyth sang a duet of a Trump-themed version of Scandal's "Goodbye to You," which took us back to so many terrible moments from the Trump administration. Like that time he stared directly into the sun. Or that time he said he could shoot someone on Fifth Avenue and get away with it. And that time where he had toilet paper on his shoe. Fallon and a truly pumped-up Smyth sang goodbye to all that with such joy and enthusiasm, you couldn't help but sing along with the chorus at the end, as terrible photos of Trump flooded the screen. The only thing that could have made this better is if they had sung "Goodbye to You" by Michelle Branch as an encore performance. But given the former president's refusal to leave the White House, Fallon may have another chance to break out that ditty down the line. Alexa, please play YG's "FDT."