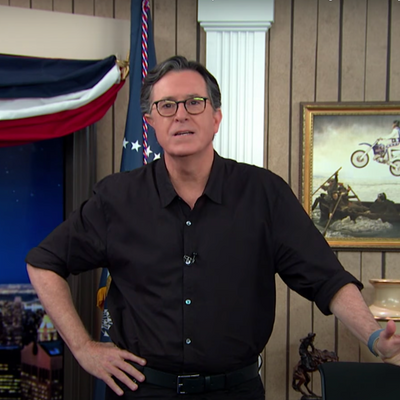 Tell us how you feel, Stephen.
Photo: CBS
Can you feel the brand-new day? Can You. Feel the. Brand-new Day? We have reached the end of Election Week 2020, and our national nightmare begins to draw to a close. From the looks of it, we are headed toward a brighter tomorrow (kind of), and the change occurring in the country at large is already being reflected in the late-night television landscape. Take a break from obsessively checking the results and waiting on Nevada and watch the top moments from late night during this absolutely bonkers week.
5. Politicians Read Mean Tweets on Jimmy Kimmel Live!
In an act of stunning bipartisanship, politicians of various stripes joined together to read mean tweets about themselves on Jimmy Kimmel Live! a day after the election. It was an incredibly odd segment featuring both Democratic and Republican politicians Bernie Sanders, Elizabeth Warren, Pete Buttigieg, Andrew Yang, Cory Booker, Al Franken (!), Nancy Pelosi, Ted Cruz, Anthony Scaramucci, and John Kasich, who all read and responded to tweets about themselves. I got emotional whiplash from feeling fondness for Bernie and Liz to seething with rage that Ted Cruz was on my television screen without consent. Even though the tweets weren't particularly mean (or funny), it was quite the a walk down memory lane watching a bunch of the politicians who ran for president in a clip package together. It had big Fantine and Éponine returning as ghosts for the finale of Les Misérables energy.
4. Leslie Jones Shares Her Frustration on Late Night
Now that we're nearing the end of the vote-counting process, I think it's safe to say that watching the results come in is at times a deeply frustrating and repetitive process. It's a lot of watching John King and Steve Kornacki at a smart board circling the same three counties in Wisconsin prognosticating as you sit and wait for the ballots to roll in. Supermarket Sweep's Leslie Jones articulated her frustration with the process on Late Night With Seth Meyers on Wednesday evening. "I hate them weathermen," Jones told Meyers, joining a long list of King haters while also becoming the first person in the known universe to express a negative opinion about Kornacki. It's not just how these weathermen "cross the floor" that annoys Jones, but the fact that they rarely have new news to share. "Okay, he got Michigan. Okay, he got Michigan, OKAY, HE GOT MICHIGAN!" Jones screamed at the top her lungs. Jones definitely has a point that it's repetitive, but also, did you hear? Biden got Michigan!
3. Common and Black Thought "Say Peace" on The Tonight Show
With our eyes glued to the screen more than usual this week (I shudder at the thought of what my screen-time average will reveal on Sunday), it can be nice to give our retinas a much-needed break, close our eyes, and just let a song wash over us. The Tonight Show Starring Jimmy Fallon offered a great opportunity to do just that, with Common's performance of new song "Say Peace" featuring Black Thought and PJ. For those who did choose to open their eyes, the performance was filled with very cool visual effects featuring images from around the world of BIPOC. "Find peace in the culture I'm responsible to save / Every piece of the puzzle every article or page / Peace in the struggle I'm awake and not afraid," rapped Black Thought. It's a lovely sentiment, and the song's not half bad either.
2. Henry Winkler Shows Off Sly Stallone's Boots on The Late Late Show
Now for something completely different: Did you know Henry Winkler has the key to Corpus Christi? The Fonz stopped by The Late Late Show to talk about publishing his 35th (!) book and also shared some of his most prized possessions with James Corden. Joined by his adorable pup, Sadie, Winkler went all out for the segment, aptly named "The Late Late Show and Tell," breaking out knickknacks from Happy Days and various other projects. Among other things, Winkler's got a key to the city of Corpus Christi, Texas, which he apparently procured just by visiting once and being nice; a silver bullet that he got from when Lone Ranger star John Hart was a guest star on Happy Days; a board from Arnold's with various musings from his days on set; and a pair of Sly Stallone's boots from The Lords of Flatbush that he stole and wore as the Fonz. Of all of Winker's nostalgic and sentimental possessions, my personal favorite was the throw pillow with Dr. Fauci's face embroidered on it that sat in the corner of the interview. Someone needs to produce a buddy comedy with Winkler and Fauci and call it Fonzie and Fauci ASAP.
1. Stephen Colbert Goes Rogue During His Election Night Monologue
Not gonna lie, there's not much I'll miss about the Trump era. The jokes, the hot takes, and the memes have not been worth the racism, misogyny, jingoism, climate-change denial, and the [fill in the blank] that we've had to put up with for the past four years due to his complete and utter incompetence. That being said, I will miss the way the president's moral failures caused some of the most visible people in the nation to speak their minds and get overtly political on their given platforms, even if it was "bad for their brand" or "alienating to certain demographics." I'd argue that no one did this in the late-night realm more so than Stephen Colbert, and his Thursday night monologue was a testament to this. Going off script, Colbert spoke from the heart during his monologue taking down Trump's Thursday night address, where he falsely claimed widespread voter fraud as the reason that he is (probably) going to lose this election. "We all knew he would do this," Colbert said, getting visibly emotional. "What I didn't know is that it would hurt so much. I didn't expect this to break my heart. For him to cast a dark shadow on our most sacred right from the briefing room in the White House? Our House, not his. That is devastating." It is devastating, and Colbert's willingness to get vulnerable and really wrestle with what's at stake was genuinely moving. Trump has cast a dark shadow on our country that we may never truly get out of, but thankfully for Colbert and the nation at large, it looks like the light is coming.