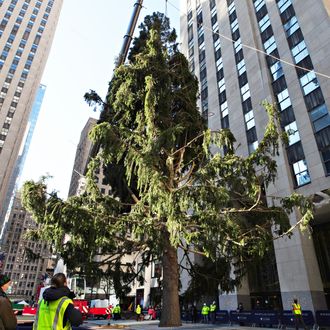 She's trying her best.
Photo: Getty Images
If you happen to be reading this from midtown Manhattan, lift your ear to the sky. You may hear a low wail. Follow the sound to 45 Rockefeller Plaza and behold, it's 2020's Rockefeller Christmas tree, and she is in pain. The 75-foot Norway Spruce was driven from Oneonta, NY onto Rockefeller Plaza and lifted into place by a crane on Saturday. The Rockefeller Christmas tree is, of course, a beloved New York institution, but Twitter users were quick to point out that this year's tree looked a little worse for wear, with its sparse leaves and crooked branches. Many drew attention to its resemblance to Charlie Brown's Christmas tree, and even more bemoaned the fact that 2020 denied us even the simple pleasure of a perennial holiday tradition. But in this poor tree's defense: who among us doesn't look a bit haggard and defeated after the year we've had? This tree, despite all of her damage and defects, showed up anyway, and so to her we say: shine on.
Updated on November 18 at 2:30 p.m.: The 2020 Rockefeller Center Christmas tree is the gift that keeps on giving. According to the Ravensbeard Wildlife Center in Saugerties, New York, a little Saw-whet owl was found in the tree's sad sparse branches by a man who "works for the company that transports and secures the Christmas tree in Rockefeller Center." In a Facebook post, the Wildlife Center explained how the man's wife called the center to see if they could rehabilitate the owl after its harrowing experience of having to live inside the world's saddest tree. Now, they've "given him fluids and are feeding him all the mice he will eat." Relatable! They assure followers that "his eyes are bright and seems relatively in good condition with all he's been through." Slightly less relatable! They've named the little (roc-a-)fella Rockefeller, and once the vet gives him the okay he'll be released into the wild, able to soar free, far, far away from Midtown Manhattan.
Updated on November 19 at 6:00 p.m.: It looks like the 2020 Rockefeller Center Christmas tree is getting a little 'spruce-ing' up, pun intended. People reports that 30 Rock's Charlie Brown Christmas tree is receiving a bit of a face lift, as crew members were spotted adding branches to the tree in an attempt to fill out its slightly shoddy figure. Apparently, adding branches to the tree is a normal occurrence, and Rockefeller Center's social media even insinuating that the tree would be receiving a light cosmetic makeover. "Wow, you all must look great right after a two-day drive, huh?," Rockefeller center tweeted on November, 18. "Just wait until I get my lights on! See you on December 2!" Hey, if the work is good, we shouldn't be able to notice, right?