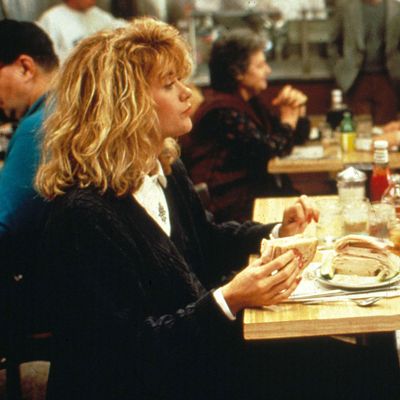 "All men are sure it's never happened to them and most women at one time or another have done it, so you do the math."
Photo: Moviestore/Shutterstock
Every week for the foreseeable future, Vulture will be selecting one film to watch as part of our Friday Night Movie Club. This week's selection — voted on by Vulture readers — comes from TV critic Jen Chaney, who will begin her screening of When Harry Met Sally on November 6 at 7 p.m. ET. Head to Vulture's Twitter to catch her live commentary, and look ahead to next week's movie here.
American democracy may be a chaotic journey through Electoral College purgatory, but democracy as a concept is still alive and thriving. We know this because Vulture put this week's Friday Night Movie Club selection in the hands of the people and asked you to vote, in an extremely scientific, unbiased, and valid Twitter poll, for the one you'd like to focus on during this week's livetweeted viewing party.
Eight staffers each chose a worthy film, and from an initial pair of surveys, two candidates emerged as finalists: Singin' in the Rain, chosen by the great Angelica Jade Bastién, and my selection, When Harry Met Sally… Clearly Vulture readers were in the mood for something happy at the end of this stressful week. Or is it more accurate to call it one very long Tuesday?
The winner, and the film I'll be tweeting about tonight at 7 p.m. ET, is When Harry Met Sally…, the best rom-com of all time with ellipses in its title. (Say Anything… obviously is in second place.) I have some theories about why the Nora Ephon–penned, Rob Reiner–directed exploration of hetero male/female friendships and romance prevailed in this race. Please, allow me to make like Steve Kornacki, slide on my palomino brown modern Gap khakis, and break it down for you.
The first reason this movie appeals at this moment, and it's a big factor in why I suggested it, is familiarity. When you're exhausted and emotionally shredded, you want to watch something that you already know you like. And a lot of people know they like When Harry Met Sally… I can basically recite sections of this movie, which, in my opinion, is the most quotable rom-com in modern history, and maybe movie history full-stop. It's got "I'll have what she's having," obviously. But also, "Baby fish mouth"; "No one has ever quoted me back to me before"; "You're right, you're right, I know you're right"; and two terms that this film elevated into the American lexicon: "on the side" and "high maintenance."
As previously noted, When Harry Met Sally… is a happy movie, and most of us probably aren't up for watching something overly seriously right now. But it's more than merely happy. It's funny and light, but also extremely smart, a balance that too few rom-coms manage to achieve. It's heartwarming in a lot of ways, but it also has a cynical streak, courtesy, largely, of Crystal's Harry. "When I buy a new book, I read the last page first," he announces. "That way, in case I die before I finish, I know how it ends. That, my friend, is a dark side." Plus, Meg Ryan achieves absolute, most charming, peak Meg Ryan-ness in it, and that alone is enough to make a person smile.
It is absolutely true that certain things about this movie seem a little retrograde more than 30 years later. It unfolds in a gorgeous-looking New York City, but one that is seemingly filled with solely white people and that is also heteronormative as hell. Also, its entire underlying premise is flawed. Of course men and women can be friends!
Having said that, When Harry Met Sally… holds up beautifully in almost every other way and that's because of Nora Ephron's nearly perfect Oscar-nominated screenplay. As noted earlier, almost every line in this thing is a triumph of movie prose. In particular, every sentence that Carrie Fisher, as Sally's best friend, Marie, utters is high-quality platinum dry comedy. "Someone is staring at you in Personal Growth." "Thin. Pretty. Big tits. Your basic nightmare." "Everybody thinks they have good taste and a sense of humor but they couldn't possibly all have good taste [and a sense of humor]." There is a whole other movie inside When Harry Met Sally… called When Marie Met Jess… and it is just as good.
By the end of When Harry Met Sally… life just seems better. This is a film about appreciating the people you've taken for granted and a love story about finding your soul mate on your own timeline. As Harry says, "When you realize you want to spend the rest of your life with someone, you want the rest of your life to start as soon as possible." Similarly, when you realize Friday Night Movie Club is going to focus on When Harry Met Sally…, you want Friday Night Movie Club to start as soon as possible, especially after a week like this one. See you on the Vulture Twitter account tonight at 7 p.m. ET.
When Harry Met Sally is available to stream on HBO Max and to rent on Prime Video, YouTube, Google Play, Vudu, and iTunes.