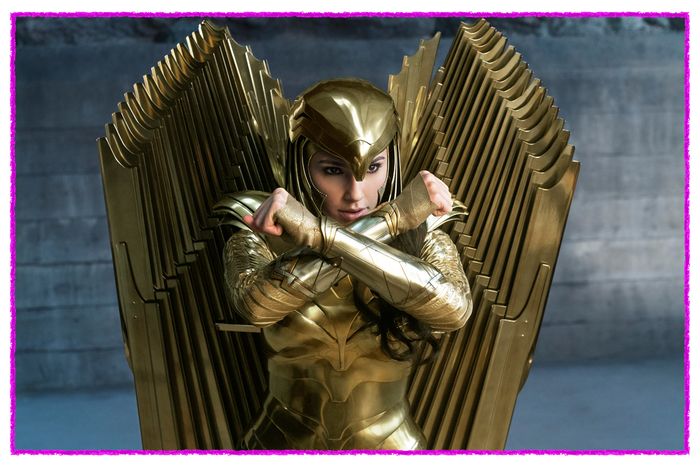 Gal Gadot in
Wonder Woman 1984
.
Photo-Illustration: Vulture and Warner Bros.
In Vulture's Fall Movies Fantasy League, contestants stake their pride, and the respect of their peers, on their ability to predict the tumultuous next few months of cinematic releases.
Finally, some excitement around here!
With nearly every other would-be tentpole getting pushed to 2021, the Fall Movies Fantasy League was split between the haves and the have-nots: those who shelled out for Tenet and those who didn't. It was honestly getting a little boring! But, luckily, here comes Wonder Woman 1984 to save the day: Last week, Warner Bros. announced that the superhero sequel would be sticking to its Christmas Day release, but with a twist. While WW84 will open in theaters both domestically and worldwide, it will also be headed straight to HBO Max the same day, a bid to strengthen the flagging streaming service's subscriber numbers. It's a bold experiment, but I don't think anyone knows for sure exactly how it will play out for the movie, the service, or the future of the theatrical window (though it's not looking great for the latter). In a year full of uncertainty, this is the good kind of uncertainty, what we used to call … suspense!
Here's what the news means for the staff league. Three people drafted Wonder Woman 1984: TV critic Jen Chaney, blogger Justin Curto, and editorial director Neil Janowitz. Justin and Jen are too far behind to make up the lost ground, but Neil is only 16 points behind the leader, movies editor Katy Brooks. Coincidentally, WW84 can score exactly 16 points if all of these things happen:
• It opens on more than 600 screens in the U.S. (Likely.)
• It opens at No. 1 on the domestic box office. (Likely.)
• It scores higher than 80 percent on Rotten Tomatoes. (Possible; the original scored 93.)
• AND it earns more than $100 million worldwide. (This is the big one. Tenet made it to $350 million, but it was also released at what turned out to be a relative lull in the pandemic. Still, grosses in China, Japan, and South Korea — where the first Wonder Woman grossed over $117 million — are approaching pre-pandemic levels. So I think WW84 is a solid bet to hit this mark, too.)
If all that happens, we'll see a tie for the top spot, which would mean the league would then hinge on two events: whether Wonder Woman 1984 is able to go even further and hit $500 million worldwide, which no movie released in 2020 has yet achieved, and who has more films that make the American Film Institute and National Board of Review top-ten lists. It's going to come down to the wire, and I, for one, am loving it.
In other news, Hillbilly Elegy hit Netflix this week, and everyone hated it. Its whopping one-point total makes it the lowest-scoring film in FMFL history (yes, even lower than Antebellum). My condolences to the sole Vulture staffer who drafted it, Amy Adams superfan Chris Murphy, whose faith in Elegy's ability to lead him to victory was apparently as misplaced as Adams's own.
Here, the update for the staff league:
Week 12 Results
Chris Murphy
Hillbilly Elegy: November streaming release (3) + RT score below 30 (-2) = 1 point
Coming 2 America: Pushed to 2021 = 0 points
Total: 1 point
Jen Chaney
Coming 2 America: Pushed to 2021 = 0 points
Total: 0 points
Current Standings
1. Katy Brooks: 59 points (8 movies)
2. Rachel Handler: 58 points (8 movies)
3. Neil Janowitz: 43 points (7 movies)
4. Hunter Harris: 37 points (7 movies)
t-5. Tolly Wright: 32 points (6 movies); Alison Willmore: 32 points (8 movies)
7. Jen Chaney: 30 points (7 movies)
8. Chris Murphy: 27 points (8 movies)
9. Justin Curto: 25 points (6 movies)
10: Jackson McHenry: 20 points (6 movies)
Staff fantasy-league teams are listed in full here.
Vulture's Fall Movies Fantasy League is open to all readers. Enter and you can look forward to an exciting autumn of endlessly refreshing Box Office Mojo and Rotten Tomatoes and quibbling over the precise definition of "wide release."