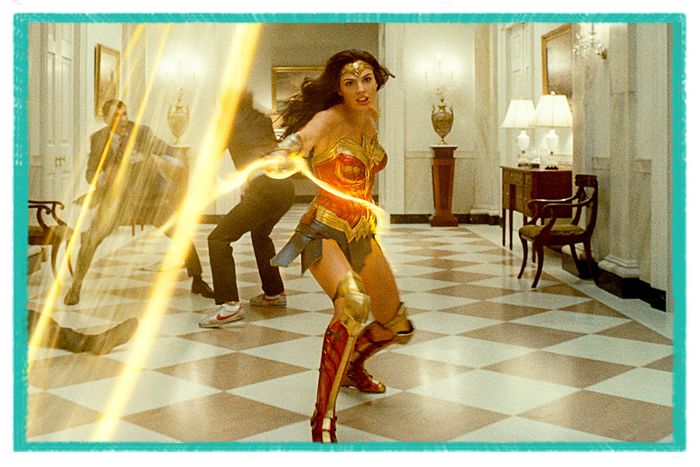 Wonder Woman 1984
,
2020's sole remaining blockbuster.
Photo-Illustration: Vulture and Warner Bros.
In Vulture's Fall Movies Fantasy League, contestants stake their pride, and the respect of their peers, on their ability to predict the tumultuous next few months of cinematic releases.
As a certain resident of Washington, D.C. is currently learning, a lot can change in two months. For instance, just peruse this list of upcoming fall releases published in the innocent days of September. Black Widow, hitting theaters on November 6? No Time to Die, the week before Thanksgiving? Were we ever so young?
Now the cupboard is almost bare. With Disney pulling both Free Guy and Death on the Nile from their December release dates — both remain undated, but for the purposes of the league we'll assume they're each destined for 2021 — the list of forthcoming blockbuster releases has been whittled down to precisely one, Wonder Woman 1984. (Or two, if you're a believer in the Croods franchise. Croods: A New Age, theoretically coming November 25!) The fate of the theatrical box-office currently rests on Gal Gadot's toned shoulders — that is, if Warner Bros. holds tight and keeps the superhero sequel in its Christmas release date. Christopher Nolan certainly hopes they do, and for the sake of keeping this game interesting, so do I; otherwise it'll be a very long slog until next spring. Fortunately, this week's vaccine news may give the studio more confidence in sticking with the date. Just think — if every one of the first 15 million people immunized immediately goes and buys a ticket to Wonder Woman 1984, the movies will be saved!
Until then, we'll have to content ourselves with the smaller-scale drama of the current theatrical landscape. This weekend's big new release was Let Him Go, a dramatic retelling of Queen's "Bohemian Rhapsody" a well-received adult drama in which Kevin Costner and Diane Lane try to rescue their grandson from evil Lesley Manville. Its $4.1 million haul topped the box office — the third new film to do so in as many weeks — and tied Honest Thief for the second-highest opening of the fall. Per Deadline, its audience was 66 percent over the age of 35, and 52 percent female. At the risk of sounding like Steve Kornacki, these are intriguing numbers! Proof that there is still space for films that know their target audience to continue making small, but nonzero, sums of money. Is that enough to hold us until 2021? It might have to be.
Here's the update for the staff league:
Week 10 Results
Jackson McHenry
Death on the Nile: Pushed to 2021 = 0 points
Total: 0 points
Current Standings
1. Katy Brooks: 59 points (8 movies)
2. Rachel Handler: 58 points (8 movies)
3. Neil Janowitz: 43 points (7 movies)
4. Hunter Harris: 37 points (7 movies)
5. Tolly Wright: 32 points (6 movies)
6. Jen Chaney: 30 points (6 movies)
7. Chris Murphy: 26 points (6 movies)
t-8. Justin Curto: 25 points (6 movies); Alison Willmore: 25 points (7 movies)
10. Jackson McHenry: 17 points (5 movies)
Staff fantasy-league teams are listed in full here.
Vulture's Fall Movies Fantasy League is open to all readers. Enter and you can look forward to an exciting autumn of endlessly refreshing Box Office Mojo and Rotten Tomatoes and quibbling over the precise definition of "wide release."