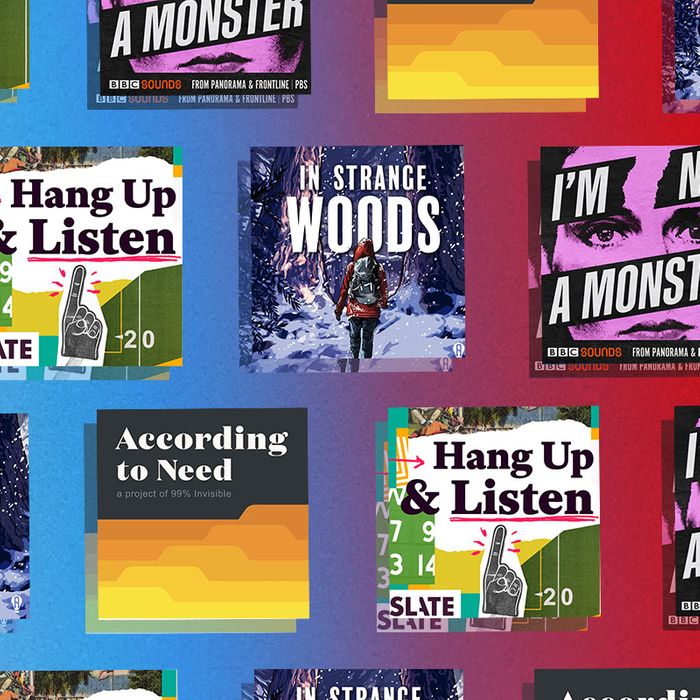 Photo-Illustration: Vulture
In this week's issue: the expanded 99% Invisible universe, and a snowy trek into the wilderness that also happens to be a musical. Plus, read on to the end to find our picks for the best podcasts of the year.
Also, some housekeeping: This is the last 1.5x Speed for the year, as I'm taking a break to recuperate from 2020. We're back on January 6, 2021, which I know is a real date in theory, but I still can't quite wrap my head around the general concept of "2021."
In the meantime, let me know what podcasts you've been enjoying. I've got some catching up to do. Find me on Twitter or reach me over email: nicholas.quah@vulture.com.
99% Invisible: According To Need
Apple Podcasts | Spotify | Website
There's been a string of great podcasts released over the past year that attempt to carve out a better understanding of homelessness, an issue that's long afflicted cities across the United States — particularly on the West Coast — but has been exponentially worsened during the pandemic. A few issues ago, I wrote at length about KNKX's Outsiders, which functions as an effective and compelling overview of the state of homelessness in America, at least as it was leading up to the pandemic, and last week, I flagged KQED's Sold Out, which provides listeners with fascinating windows into various policy experiments being implemented throughout California, deemed the epicenter of the country's housing-affordability crisis.
Adding to this strong run of podcasts is According to Need, a new spinoff miniseries from the team at 99% Invisible. Complementing the other shows, this project approaches homelessness from another crucial angle that remains under-emphasized: What, exactly, are the systems and services currently in place to support the unhoused? And how do they hold up?
Led and hosted by Katie Mingle, a senior editor at 99% Invisible, According to Need is, in part, a tour of a bureaucratic structure that is at once both specific and general. Mingle's reporting and storytelling spans various aspects of the systems and services dedicated to supporting the unhoused in the Oakland area, but those bureaucratic structures tend to reflect similar lived experiences across all types of regions and populations.
One other thing about According to Need that's worth noting is how it extends 99% Invisible's ongoing effort to broaden its footprint. Long a show about the hidden world of design — and long synonymous with its creator, Roman Mars — 99% Invisible has taken steps in recent years to expand its internal universe, giving individual staff members the opportunity to build out their own standalone spinoff projects. Avery Trufelman was the first beneficiary of this shift with Articles of Interest, and According to Need marks an impressive showcase for Mingle, who has been with the show since 2014.
In Strange Woods
Apple Podcasts | Spotify | Website
Equal parts docufiction and audio musical, In Strange Woods kicks off with a tragedy. A teenage boy disappears after going deep into the woods of the fictional Whitetail National Forest, supposedly in Minnesota. His body is found shortly thereafter, and for one reason or another, the community of Whitetail ascribes his death, at least in part, to a lack of wilderness survival training. Internalizing this notion, the boy's sister Peregrine (Lily Mae Harrington) feels compelled to learn the survivalist skills that could've kept her brother alive, and so she seeks out tutelage from a grizzled old recluse (Patrick Page), who also happens to be the person who found her brother's body.
The events of In Strange Woods are framed within the construct of a fictional documentary, evoking earlier genre-driven fiction podcasts like The Black Tapes and Limetown that utilized a faux public-radio format to deliver its fantastical universes. In Strange Woods uses the same concept at first, but all that gets thrown out the window pretty quickly when the show's musical elements kick in.
The podcast dropped the first of its five episodes yesterday, and having only listened to that debut, I can't really speak to where the story will go. That said, I can say I enjoyed what I've heard, though I suspect your mileage may vary depending on your relationship with musical theater in general. In Strange Woods carries Spring Awakening vibes in its musical performances, and considering the nature of its premise, it's likely to run along similar thematic lines of confronting a loss of innocence, not to mention the grief that comes with losing a sibling.
Meanwhile…
• Don't miss our picks for the Best Podcasts of 2020. It's been the year from hell, but hey, at least the pods were good.
• Things might be a little weird over at the New York Times with respect to Caliphate these days, but here's another audio documentary set within the overlap between ISIS and the homefront: I'm Not a Monster, from Frontline PBS and BBC Panorama.
• Because the NBA is starting back up again in a bit, two picks for hoop heads: Slate's Hang Up and Listen has an hour-long special on Michael Jordan's mixed latter-day return to the league with the Washington Wizards, called "The Last Last Dance," and ESPN's always reliable 30 for 30 Podcast franchise just announced that they're due to drop an episode next Monday about March 11, 2020 — the day the NBA shut down after a player tested positive for the coronavirus.
And that's a wrap for 1.5x Speed! Hope you enjoyed it. We're back next week, but in the meantime: Send podcast recommendations, feedback, or just say hello at nicholas.quah@vulture.com.