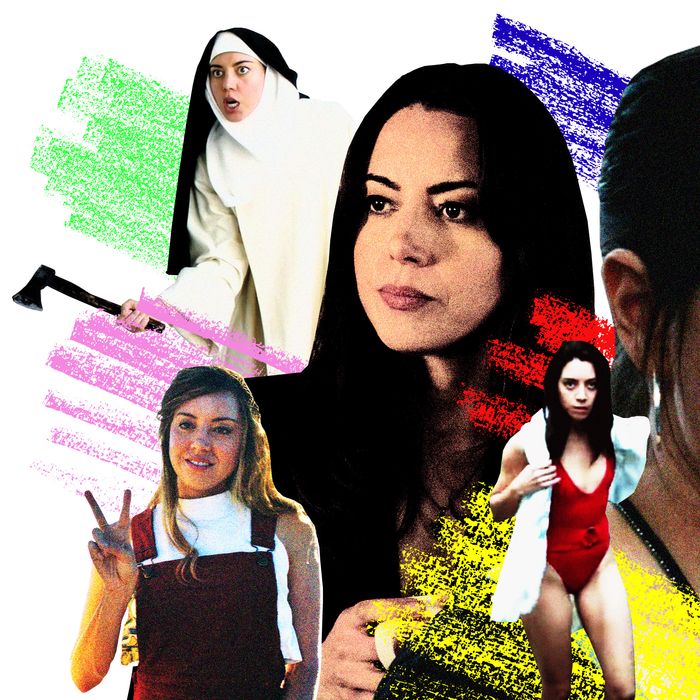 Photo-Illustration: Vulture and Photos: Gunpowder & Sky, Star Thrower Entertainment/Kobal/Shutterstock, Hulu, Momentum Pictures, Universal Pictures
Why is Aubrey Plaza the way she is? As I was researching this piece, I was surprised by how often Google prompted me to fill in the blanks with this question. What is it about Aubrey Plaza that makes her confusing? Is it that she seems shady and offensive? Surely she's not the first female comedian with a bawdy sense of humor. Maybe she's too convincingly disturbed, too believably contemptuous of the world, its pointless demands, and its idiot people. Yet she's not pretentious or elitist. She's angry, bored, or maybe inexplicably horny. Even when she's playing loud, wild women, her signature deadpan makes it difficult to understand the intentions behind the words. She always seems like she's hiding something—her feelings, her true self, her darkest and deadliest secrets. She'll say she wants to murder you, which is funny, and kind of sexy. Still, you get the feeling she could follow through.
Back in the early 2000s, Jim Benton's "Happy Bunny" was all the rage among the prepubescent female patrons of then-all-powerful stores like Hot Topic and Claire's. The smiling, dead-eyed cartoon rabbit came in various colors, with "edgy" captions like "Cute but psycho," "Me want hurt you," and "I hate everything." Sometimes he'd be giving the finger. By the end of the decade, Aubrey Plaza's April Ludgate had entered college and taken an internship at the Pawnee Parks and Recreation Department. Known for barking at her superiors and casually issuing death threats, April's "evil" act — meaning morbidly rude but ultimately harmless, like Happy Bunny — is mostly a façade. April may hide behind layers of impenetrable sarcasm, but she also dares you to call her bluff.
Since her Parks and Recreation days, Plaza has lent her talents to a wide range of genres — raunchy sex comedies, indie mumblecore, experimental avant-garde, to name a few. She continues to scour uncharted territory while never losing sight of the cynicism and intuitive intelligence that underscores the disaffected, quasi goth-girl characters that made her famous. Her most recent turn in Lawrence Michael Levine's provocative meta-thriller, Black Bear, plays precisely on those qualities that make Plaza such a biting satirist and lovable trickster: her poker-faced ambiguity and simmering, hot-blooded instability. Is Plaza playing a bit or does she actually mean it? Is she truly dangerous or on the verge of cackling and confessing to the ruse? Either way, she'll roll her eyes, which throws everything back into question…
Plaza has never played a straight serial killer, yet a homicidal impulse informs her most memorable work. No actress of the same generation feels as awesomely sinister as she does. But in Black Bear and Happiest Season, her two most recent movies, we get two wildly different Plaza performances. That got us thinking about her range of naughty to nice — naughty being highly capable of ending your life. So we put together this ranking of Plaza's feature-film performances based on how likely her character is to kill you.
So many rom-com exes come off as embittered and vengeful, especially if they've been done as horribly dirty as Plaza's Riley. But in Happiest Season she's a perfect angel who deserves all of the happy endings, especially the one that involves Kristen Stewart as her girlfriend. This does not happen, and the fact that Riley doesn't seem to be the slightest bit upset about it is a testament to her complete and total innocence. Not that she gets a real opportunity to weigh in …
Verdict: According to the evidence, Riley is a beautiful human incapable of damage. 
Before A24 became the unofficial purveyor of hipster-approved cinema, its very first production was a laughably uncool (if incredibly stylish) comedy starring Charlie Sheen as a hotshot graphic designer who, for some reason, women find irresistible. Plaza plays genius bad-boy Charles Swan's producer, one of the only women mildly skeptical of the sleazy protagonist, though only because he's terrible at making deadlines.
Verdict: This is Charlie Sheen propaganda that completely defangs Plaza. 
We've seen it countless times before: A group of 30-somethings come together for a weekend, unearthing old flames and pent-up feelings. Like the reunion-movie progenitor The Big Chill, About Alex centers on one friend's attempted suicide. Against type, an understated and refreshingly earnest Plaza plays the closest thing to the group's den mother. There's a touching naturalism to the way she eye-rolls and pulls her sleeves down over her hands in her more emotionally vulnerable scenes. It's an affecting reminder that even our most phlegmatic friends have feelings, too.
Verdict: She's more likely to cook you a meal and tuck you into bed. 
Mystery Team, an odd little film about a group of sleuthing man-children headed by a baby Donald Glover (via his sketch team, Derrick Comedy), marks Plaza's feature-film debut. Sadly, Plaza's Kelly, the "ex-goth," forensic-pathologist-aspiring love interest, is a bit of a nothing character. The team face their biggest challenge yet when they promise Kelly's kid sister to solve the murder of the girls' parents. Despite her gloomy demeanor, Kelly is charmed by the trio's zany do-gooding. I, for one, find the boys unbearably annoying, and frankly I'm surprised Kelly doesn't too.
Verdict: In a movie full of punchable little dorks, Kelly chooses love instead. 
The tentative relationship between Ira (Seth Rogen) and Daisy Danby (Plaza) is sweet and awkward in all the right places, though Judd Apatow seems to lose interest in the couple right when it's getting good. Daisy's a slippery love interest: dorky enough to mesh with her bumbling suitor, but more playful and sarcastic than he's able to keep up with. The poor guy's shocked when she casually sleeps with his douchey friend — Daisy is full of surprises, though it's not exactly secret-agent-level deception when you're as clueless as Ira.
Verdict: She's just a funny person living her life. 
Attention all fans of Plaza in Happiest Season: That's not the first time she's played a preternaturally adorable lesbian with incredible top energy. Addicted to Fresno is admittedly a crapshoot with dated humor and tonal inconsistencies galore. Yet Plaza's flirty yoga instructor pulls us into her gravity field whenever she pops up onscreen, which is far too little. In her character's forthright — even nurturing — manner, we get a taste for the explosion of charisma she brings to Clea DuVall's queer Christmas movie. And how could you not smile when she tells Natasha Lyonne's flighty protagonist that she's distracted by her "really cute ass." Less of a wounded figure than Riley, she's also less willing to put up with other people's bullshit.
Verdict: Yogis are generally peaceful beings.
A coming-of-age drama about a privileged sad-boy yearning to escape from — I'll stop there because, honestly, there's no point with this cursed movie. I am, however, happy to report that our girl Aubrey, who plays an eccentric real-estate agent hoping to sell our moody protagonist on a dumpy property, is the movie's single ray of light. "Is it safe for you to drive like that?" our hero asks, gesturing at his driver's cast. She chirpily points out that if anything's going to kill them, it'll be her eyes.
Verdict: If only her bad eyes had crashed the car and ended the movie early.
Olivia is flummoxed when she attends her white husband's high-school anniversary and finds out that all his old pals are Black, and that, once upon a time, he was the crew's Eminem, or maybe Chet Hanks. This cute but mostly uninspired ensemble comedy boasts performances from the likes of Channing Tatum and Oscar Isaac, among other famous folks. Plaza's Olivia and her dilemma is only one thread in a much larger tapestry, and the actress plays her part relatively straightforward; she's incredulous, lightly mocking, and hurt — how is she just finding this out? As a result, she comes off as cold and shrewish for most of the film — her character is ultimately just a reaction.
Verdict: Unlikely to murder, but likely to make you sleep on the couch tonight.
17. The Driftless Area (2015)
A quack-mystical neo-noir, The Driftless Area feels like watching a lobotomized version of Twin Peaks. Among the many idiosyncratic inhabitants, Plaza's Jean is a sexually promiscuous car saleswoman who puts out as a means of upping her sales. She's sort of a call girl to Ned, Ciarán Hinds's dealership owner and pseudo-pimp, and at one point she ends up giving Sean Penn's local idiot a therapy session while sitting on his back. In a movie full of bizarrely drawn, dotty characters, Jean's jaded intelligence sticks out, providing relief from the film's exhaustingly ethereal mood.
Verdict: Too world-weary to pose much of a threat.
2019's criminally underrated Child's Play reboot is Plaza's bloodiest entry to date in terms of body count. With that piercing gaze of hers, she's typically playing — or at least pretending to play — the crazy one, but here that deranged intensity is utilized to convey jittery terror. As Karen Barclay, the cool single mom who unwittingly brings a defective "Buddi" doll home as a present for her friendless 13-year-old, Plaza makes a powerful case for herself as a future scream queen, juggling casual, disbelieving sarcasm and camp-tastic, horror-stricken panic. I don't think there will be a follow-up to this Child's Play, but if there was, I could see Plaza taking on a more active role fending off her plastic assailants. But as it stands, she's only acting in self-defense.
Verdict: Harmless unless you're a demon toy that wants to kill her.
15. Joshy (2016)
This surprisingly poignant bachelor-weekend dramedy is the definition of a sausage-fest, though women punctuate the brotherly bonding in unexpected, and at times uncomfortable, ways. Alex Ross Perry plays the neurotic nerd of the group who, after being dumped by his girlfriend of ten years, attempts to pick up a lady at a local bar by demonstrating his knowledge of ancient pyramids. Unluckily for him, Plaza's the one he ends up with. In her brief but jarring cameo, she wakes up from her drunken slumber and catches Perry's character taking off her shoes — he's afraid to scuff the couch. Justifiably thinking he's some kind of pervert freak, she unleashes her fury. It's a brutal moment for the group's most fragile member and a demonstration of Plaza's ability to recalibrate the room with a few biting words.
Verdict: Scary when drunk, but you would be too if you woke up in a cabin full of strange men. 
Maneater Tatiana (Plaza) and her No. 2 (Anna Kendrick) are game for anything, like crashing fancy destination weddings through improvisation, subterfuge, and sexual teasing. Thinking that these supposedly accomplished ladies will impress their parents, Zac Efron and Adam DeVine — two actors who aren't exactly known for playing brainy guys — are swindled by the clever party girls. Naturally, Tatiana is the shrewd and conniving brains behind the operation, and Plaza is a natural screwball leading lady: cool and defiant, self-absorbed yet irresistible.
Verdict: She's not looking to get into too much risky business, yet her skills make her dangerous …
When Plaza's anal-retentive valedictorian, Brandy Clark, realizes she's been missing out on a world of sex, she responds by systematically going through a bucket list of sexual exploits with a number of hapless neighborhood boys. There's something weirdly exacting and unfeeling about her nerdy obsession to check off boxes — even her gal pals and smitten lab partner are slighted in the process. No, there isn't any evidence of murderous foul play, but Brandy's OCD personality isn't the furthest thing from serial-killer territory.
Verdict: She's just a weird virgin, you'll be fine … probably …
With Chris Pratt in Parks and Recreation and Mark Duplass in Safety Not Guaranteed, Plaza's world-weary irony queens open up and embrace the weird losers within and beside them. As Darius, a magazine intern tasked with delivering a story on an outlandish grocery-store clerk played by Duplass, Plaza is playful and vulnerable in a way that humanizes her penchant for sarcasm. She's not actually a stone-cold secret agent, but play-acting goes a long way, especially when you're having fun. Her commitment to the part isn't as tragically deluded as that of her partners, but she's just as capable of getting lost in the fantasy.
Verdict: She may be playing pretend, but she might actually kill you. 
11. Playing It Cool (2014)
I choked a little when I realized this 2014 rom-com would have us believe that Plaza, Chris Evans, Topher Grace, Luke Wilson, and Martin Starr are all writers who run around in a pack tailgating, bowling, and happy hour-ing while showering Evans's emotionally stunted protagonist with terrible advice. I'll reserve the rest of my judgment and say that playing "one of the boys" comes easy to Plaza. Her perpetually indifferent façade (poorly) masks her vulnerability, and she compensates for that self-repression with heavy drinking, casual sex, and manic outbursts. One of the boys, indeed. We're first introduced to her Mallory at the shooting range, pointing a gun at the camera with more grit and flair than any of her dude companions. She's also an avant-garde performance artist, and in one scene we get a glimpse of Mallory in action, screaming profanities and hurling random objects at the crowd. That barely contained instability is a Plaza trademark, though Mallory's rage seems to come, disappointingly, from being friend-zoned.
Verdict: It's probably not the best idea to run away if she professes her love to you.
10. An Evening With Beverly Luff Linn (2018)
The waitress and disgruntled wife of Emile Hirsch's loser, cheapskate coffee-shop manager, Plaza's Lulu Danger is a femme fatale ripped straight out of the noir playbook. A surprise getaway with a lockbox full of cash proves she's certainly more capable of wielding a gun than anyone else in the film. And the way she's got Jemaine Clement's doting sidekick character wrapped around her finger is a delectable master class in man-eating manipulation. But alas, behind that steely, cocktail-sipping veneer, Lulu's got a big ol' heart just waiting to be melted down.
Verdict: Get in her way and you might find yourself staring down the barrel of a gun. But will she shoot?
Whit Stillman's 2011 comedy of manners sees an enigmatically aloof Greta Gerwig as the leader of a coed clique obsessed with rescuing their fellow students from depression and depravity. Also the unofficial heads of the university's suicide-prevention center, these poised and perfectly coiffed ladies believe that tap dancing and donuts are the key to rehabilitation, which infuriates Plaza's clinically depressed Debbie. With her flimsy bangs and perpetually slouched posture, Debbie's like someone out of Girl, Interrupted dropped into The Stepford Wives. Plaza's grungier, openly disturbed characters are often positioned as outliers, but here her anger and defiance feels righteous next to her infuriatingly mannered guardians.
Verdict: She always seems to be on the verge of strangling Gerwig's Violet, which, frankly, seems entirely justified.
Julie Powers is a working-class hero we must always applaud for rightfully terrorizing and cursing out the spineless, narcissistic schlub at the film's center. Is she terrifying? Yes. All of her bleeping, profanity-laced appearances are sharp and abrasive; Scott cowers whenever he's forced to confront her. Paired with the film's comic-book aesthetic and snappy editing style, Plaza's over-the-top aggression feels practically combustible, and deadlier than normal. Her eyes are practically medusan.
Verdict: Watch out, Pilgrim, she very well may bite off your head.
7. Center Jenny (2013)
Artist and experimental filmmaker Ryan Trecartin's fever dream mishmash of meme humor, video games, and sorority rituals is an uncanny vision of contemporary culture in the age of social media. Along with other known professional actresses like Alia Shawkat and Jena Malone, Plaza joins Trecartin's regular troupe to add to the film's trippy sense of surrealism, where reality is indistinguishable from the artifice of popular culture. Her voice and image distorted by heavy auto-tuning and clownish makeup, Plaza is indistinguishable and intimidating, like some computer-generated bimbo demon.
Verdict: Have you ever had a bad trip and convinced yourself someone's going to kill you? Yeah, me neither. 
De Niro's titular dirty grandpa may be the star of the show, but his only true rival in raunch is Lenore, Plaza's lip-licking, upside-down twerking, slutty college girl. Raunchy bro comedies are often retrograde in their depiction of down-to-party women, but Plaza's cartoonishly slinky, go-for-broke performance proves she's in on the joke. And she's way kinkier than the other girls — and the guys, for that matter. Even when grandpa throws in the towel and puts the brakes on his lascivious ways in the movie's sentimental final act, Lenore shows up ready to take her septuagenarian bae for a spin in the sack. "Are you coming or are you dying?" she howls. When grandpa Dick dies, it'll certainly be in the middle of an orgasm.
Verdict: The French don't call it "little death" for nothing.
The Little Hours, adapted from Boccaccio's 14th-century satire, The Decameron, is a disappointingly one-note raunchy-nun movie. That doesn't take away from the fact that Plaza was born to play a raunchy nun. Framed by a religious habit, her caustic gaze captures just how stupid and annoying it must feel to be locked away as a bride of Christ, though, as Fernanda, she makes the best of it by indulging in lesbian sex orgies and witchcraft. She's easily the scariest of her fellow sisters, and Plaza brings the same unhinged, manic sexual energy of her party-girl roles to her foul-mouthed sinner-in-disguise. The quintessential Plaza character will joke about murdering her enemies with a straight face, but Fernanda's too angry about being cloistered by the patriarchy to make light of these matters.
Verdict: If you're a dude there's a 50/50 chance you'll be ritually sacrificed. 
4. Black Bear (2020)
"She's doing some Gena Rowlands shit," Christopher Abbott, Plaza's co-star, said of her latest performance. From the get-go, Allison seems strange and alluring in ways that married couple Gabe and Blair can't quite gauge. Is she flirting or being friendly? Is she mocking you or is she on your side? Where does the performance end and the real person begin? The film's refusal to resolve these ambiguities makes Plaza's filmmaker and Single White Female all the more tantalizingly eerie. For Allison, other people are mere pawns to be arranged and rearranged for maximum effect — like words on a page, or characters in a script in progress. Behind Plaza's calculating gaze is an intoxicating madness that slowly reveals its dimensions as the film lurches toward its finale. Plaza has never been more sphinxlike.
Verdict: Allison's not afraid to spill a little blood for art's higher calling.
Plaza plays loony types with dark streaks like a natural; Ingrid Goes West gives that persona the most elaborate characterization and contemporary resonance of the actress's career to date. As Ingrid, a mentally ill young woman who ventures out to California plotting to befriend the Instagram-famous object of her obsession, Taylor Sloane (Elizabeth Olsen), she's essentially a con artist tragically in denial of her own wrongdoing. Does her deception really count if the person she's pretending to be is the person she so desperately wants to be? Watching Ingrid maneuver her way around a growing web of lies is both frightening and pathetic to behold, and the character's dual nature allows Plaza to straddle her self-conscious weirdo while deconstructing the effortless cool girls she plays in some of her lighter comedies. Ingrid proves she's capable of going to extreme lengths for a shot at social-media stardom, which makes her, uh, not the most trustworthy person to be around.
Verdict: She'll do anything for the right number of likes.
Plaza's deadpan delivery and dazed charisma vibes tremendously well with indie hero Hal Hartley and his wayward, nebulous worlds of conspiracy and existential crisis. In Ned Rifle, the final, and most lighthearted entry in Hartley's Henry Fool trilogy, Plaza plays Susan, her most offbeat femme fatale, an academic type who wears knee-highs and cheap lipstick, and was once the scheming Lolita to our hero's estranged ex-con father. With an old Hollywood flair, Plaza's got a knowing smile and clever sparkle in her eyes that reads equal parts seductive and threatening. Deliciously self-assured and hiding all sorts of deranged ulterior motives behind her penetrating gaze, Susan is the catalyst for the film's bloody, whirlwind conclusion.
Verdict: Don't be surprised if she pulls out a gun after having her way with you in bed. 
It's pretty hard to compete with a flesh-eating zombie who ends up eating her own dad (John C. Reilly). Plaza fully commits to her role as the undead Beth Slocum, who, after dying from a mysterious snake bike, crawls out of her own grave and shows up at her parents' front doorstep like nothing's wrong. It sort of isn't — at first. She's insanely horny and lovey-dovey when boyfriend Zach (Dane DeHaan) shows up, frazzled but relieved to have his beloved back in his arms. But it isn't too long before charming, airheaded Beth assumes her snarling, decomposing final form, and lustiness converts into hunger for actual human meat.
Verdict: She will definitely eat you.