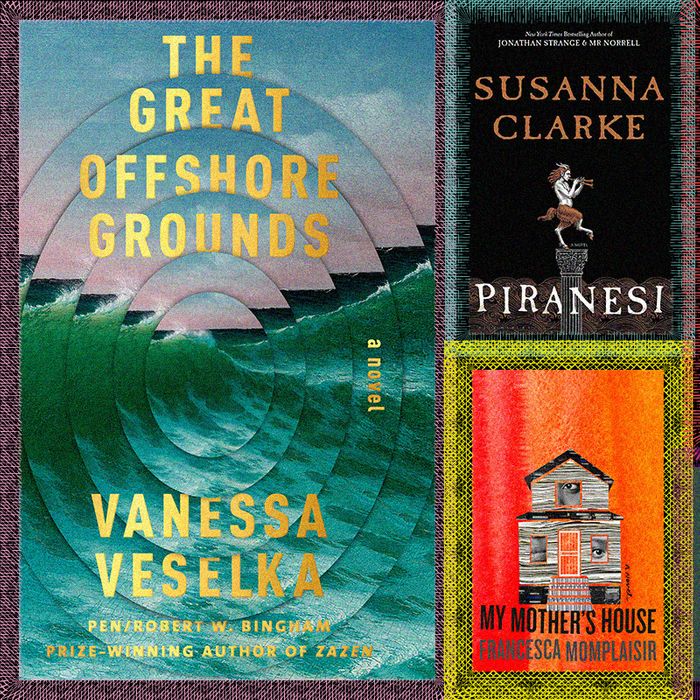 Photo-Illustration: Vulture and Photos Courtesy of Publisher
This was a tough year for publishers and authors: Independent bookstores closed their doors, publishing dates were delayed, and authors scrambled apologetically to promote books they'd worked on for years, which now threatened to vanish from public view without leaving a ripple. None of it is fair. I wonder if we'll look back on 2020 as the year of Lost Great Books; perhaps there will be a future curriculum organized around this principle. I hope so. Here are ten that ought to be on it.
10. The Shapeless Unease, by Samantha Harvey
Can't sleep? Take a homeopathic approach and allow like to cure like with Harvey's crisp and nightmarish account of her insomnia. A book about rest-starved desperation that reads with the dark enchantment of a fairy tale.
Photo: Courtesy of Publisher
9. Interior Chinatown, by Charles Yu
Willis Wu is an actor struggling to bust out of the crate of the passive Asian characters he seems doomed to play. (Among them: Disgraced Son, Striving Immigrant, and Guy Who Runs In and Gets Kicked in the Face.) Part novel, part screenplay, part screed, and part sociology, this National Book Award winner is always funny and pretty savage.
Photo: Courtesy of Publisher
8. Lakewood, by Megan Giddings
This is a fun and uplifting novel about America's history of ethical medical experimentation on vulnerable people and how everything always turns out awesome for them. Just kidding. It's the opposite! (But it is still fun, albeit in a horror-movie way.)
Photo: Courtesy of Publisher
7. The Cult of Smart, by Fredrik deBoer
I hate that the cover of this book makes it look like exactly the kind of mealy-mouthed, pop-science garbage that it is not. But never mind: DeBoer has written a book about education that is radical and undaunted in every possible way, from its politics to its tone. I wish I'd had it in my arsenal when I dropped out of high school.
Photo: Courtesy of Publisher
6. The Great Offshore Grounds, by Vanessa Veselka
Two words: feminist picaresque. Not enough? Fine, 14 more words: Witches, boot camp, road trip, Alaskan fishing vessel, estranged father, secrets, swamp, tornado, sex. This is a twisty, chunky yarn of a novel engineered for total absorption.
Photo: Courtesy of Publisher
5. My Mother's House, by Francesca Momplaisir
A torrential, Faulkneresque tale of evil and love among multiple generations of Haitian immigrants living in New York. The most hard-core novel of the year.
Photo: Courtesy of Publisher
4. Piranesi, by Susanna Clarke
Ever had your heart broken by a ­puzzle? Read this and report back. Clarke's ingeniously constructed device — it feels inaccurate to call it a "novel" — is at first impenetrable, then thrilling, and finally pulverizing. I refuse to provide a plot summary; it is to your own benefit.
Photo: Courtesy of Publisher
3. Romance in Marseille, by Claude McKay
A wicked, sexy, black-humored novella that feels extremely contemporary but was somehow written 90 years ago. If McKay were alive, we'd be swamped with rapturous profiles of him. Since he's not, all you can do is scorch your hands on this newly unearthed classic, published for the first time this year.
Photo: Courtesy of Publisher
2. Fraternity, by Benjamin Nugent
It takes guts (or, more appropriately here, balls) to write an entire book from the perspective of a shifting crew of frat-house members. Nugent does it so acutely that, midway through the book, I felt transformed into a dude named Kevin with a Natty Ice in one hand, a lacrosse stick in the other, a spray of acne across my back, and a dream in my heart.
Photo: Courtesy of Publisher
1. The Undocumented Americans, by Karla Cornejo Villavicencio
This hybrid work of memoir and journalism hit me the way John Travolta's adrenaline injection hit Uma Thurman in Pulp Fiction. (My husband, next to me on the sofa: "Why are you gasping?") Villavicencio writes about growing up undocumented in America with violent intensity, humor, bravery, and style.
Photo: Courtesy of Publisher
*A version of this article appears in the December 7, 2020, issue of New York Magazine. Subscribe Now!