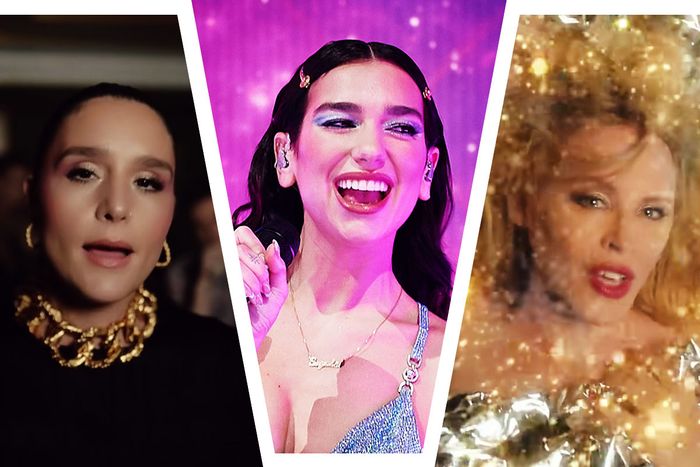 Here are 21 of the songs we'll take with us from this year into 2021 — where hopefully we can dance together again.
Photo-Illustration: Vulture, Getty Images and YouTube
This was the sort of year that made you want to turn to the dance floor for refuge. Between the struggles for racial justice, the political chaos, and a global pandemic, there was more than enough reason to crave a night of release, escape, and celebration, but one that could never happen — a fact that felt all the more punishing as the year continued to prove genre-changing for dance music. Past icons returned, and new ones were crowned; disco came back in full force; and dance became even more of a platform to explore racial, gender, and sexual identities. Many of the songs that best captured the mood of this strange year were ones we never got to experience as they were intended to be — in motion, in a body of people.
Dance music and public-health crises have been connected since the early 1980s, when the beginnings of the AIDS epidemic threatened the connections that queer people, especially people of color, sought out on the dance floor. "People's need to stay in touch with what made being alive matter to them pushed music into hyperdrive even as death pressed close," the critic Ann Powers writes in Good Booty, her 2017 history of pop music and sex. AIDS coincided with the advent of Hi-NRG music, aggressive and super-electronic, which Powers notes "sponsored a kind of mass ecstasy." In the face of a plague, dance music doubled down and encouraged the togetherness that seemed to be in jeopardy.
How, then, will historians remember the role dance music played in 2020? From the beginnings of the current disco revival in late 2019 — a third wave, after a prior disco renaissance around the turn of the 21st century — the songs seemed uniquely centered on human connection, often fueled by nostalgia. We knew nothing of COVID-19 when Dua Lipa's "Don't Start Now" and Jessie Ware's "Mirage (Don't Stop)" came out in fall 2019, but they set the tone that would become pervasive throughout the unexpected year of solitude that followed. "Last night we danced, and I thought you were saving my life" is how Ware opens her song. It's the canonically central idea of this music: a night, a connection, a moment of freedom.
"I think astute poets can smell a bad time coming, and music is also slippery and reflexive," Vulture's music critic Craig Jenkins wrote in April of the Rolling Stones' eerily apt "Living in a Ghost Town." The same could be said of dozens of other musicians who released dance songs in 2020. Their work reflected on the past, explored and strengthened identity, worked toward justice and equality, mourned losses, and, most crucially, restored our sense of momentary attachment to one another. They also set dance up to once again be one of the most exciting spaces to watch in music after the past decade's awkward growth spurt. Here are 21 of the songs we'll take with us from this year into 2021 — where hopefully we can dance together again.
"Body Pump," by Aluna
Aluna Francis made her debut solo album, Renaissance, separate from her producing partner, George Reid, as part of a conscious mission to recenter Black women in dance music. Its thumping first single, "Body Pump," name-checks AlunaGeorge's breakout debut, Body Music, but sounds freer than that record's buttoned-up stylings. Aluna's voice reads as more human, cracking and stretching as she allows more passion into her lyrical delivery than ever before. By the track's final movement, her command from the chorus explodes into a plea amid a barrage of electronics: "I'm trying to be different! Don't make me think about it!" The rest of the industry are the ones who need to be thinking.
"The Streets Where I Belong," by Annie
Annie wanted her first full-length in over a decade, Dark Hearts, to be "a soundtrack to a film that doesn't exist." Well, this lushly detailed ballad could be a whole stand-alone movie. The protagonist: a girl named Annie. The setting: a small town. The story: a boy named Johnny and a dream. Annie sings wistfully and with conviction, but the moment she sings, "Take it away, Johnny," and throws it to a guitar solo, it all sounds too good to be true. But truth is irrelevant here — the dance floor is a platform of possibility, a testament to the transporting power of music.
"La Chíqui," by Arca and Sophie
On her new album, KiCk i, the first in a set of four, Arca wanted to make dance music. Her success up to this point had ranged from the lo-fi anthem "Nonbinary" to the electro-reggaeton Rosalía collab "KLK" to the playful hyperpop of "Rip the Slit." It all collides on the frenetic "La Chíqui," glitched out and dripping in Auto-Tune, with a key assist from fellow club weirdo Sophie. It's a song about finding confidence in your identity and one that calls you to go for broke on the dance floor. To Arca and Sophie, both actions have always been intertwined.
"anthems," by Charli XCX
Charli XCX didn't write "anthems" for the club — she wrote it for scrolling through the internet at 2 a.m. wondering what the hell you're doing right now while most club doors remain shut. The standout track from her quarantine album, how i'm feeling now, which was created at a breakneck pace in consultation with her loyal fans, takes stock of our mundane new normal while longing for a song big enough to turn to for escape. Charli glides over a smattering of synths that'll turn your brain to soup. Even so, it was the only sound that felt comprehensible this year, a perfectly self-aware song that rose to the occasion as the sort of music it longed for.
"People, I've Been Sad," by Christine and the Queens
Christine and the Queens' music has always been disarmingly intimate. It's precisely what made "People, I've Been Sad" such a rare 2020 treasure. Héloïse Letissier isn't trying to sing something relatable; rather, she's searching for her own catharsis through an audience. The beat is designed for lonely nights, pushing and writhing as if Letissier were exorcising an emotional demon. Her chorus of "You know the feeling" is less about declaration than empathy, inviting the listener into her emotions. And this year, it wasn't a hard feeling to know at all.
"Dancing," by Katie Dey
Katie Dey's voice is distinctly human — trembling and staticky in her digital collages. It perfectly narrates her July album, mydata, which follows the ups and downs of an online relationship, by expressing the emotions behind the screen. The lead single, "Dancing," covers the exciting seeds of connection as Dey longs to bridge the gap between screens. "I need you to be my choreographer," she sings. The track is light and joyful, a bedroom dance party for one that captures the same magic of losing yourself with someone else.
"Say So," by Doja Cat
Disco didn't summit the Hot 100 in 2020 until Doja Cat's "Say So" in May, the song that confirmed the genre as a viable chart trend (one that would eventually reach pop's biggest artists, like BTS on "Dynamite"). And it had a very 2020 rise, between its TikTok ubiquity and the final-sprint addition of a Nicki Minaj feature. Yet this song was still an undeniable throwback, too, between its grooving guitars and Doja's breathy vocals that recall early Donna Summer. Alas, the song gave disgraced producer Dr. Luke his first No. 1 and Grammy nomination since Kesha's lawsuit against him — even though his alleged actions are incongruous with the safety that marginalized people have often sought in disco.
"I'm Your Empress Of," by Empress Of
I'm Your Empress Of, the third album from Lorely Rodriguez's synth-pop project, begs to be experienced as an uninterrupted saga tracing a breakup and a period of personal growth. The opening track, not even two minutes long, sets the stage for Rodriguez's club revelations. She co-produced nearly every song and set the tone by weaving a salsa tune her dad taught her on piano into this beat. It then cuts out for an ad-lib from her mother: "I only have one girl, but the only girl is like having thousands of girls because look at how many times she reproduce herself." Over the next 30 minutes, Mama Rodriguez's daughter makes good on this theory.
"Both of Us," by Jayda G
The piano line at the center of rising producer Jayda G's "Both of Us" makes time feel elastic: You could get lost in it for hours, and it would make those hours feel like minutes. The song is house perfection in its simplest form — a steady drum track, a continuously clanging piano, and just a few decisive lyrics — allowing listeners to lose themselves in a single moment. The piano slows down as the track reaches its emotional core, with Jayda wailing, "I just want to be with you." As the piano reenters, it transports the listener to the middle of the crowd in a sweaty warehouse with all jumping along as one.
"Rain on Me," by Lady Gaga and Ariana Grande
The day in May that Lady Gaga released "Rain on Me" might have been the first day since early March that humanity felt hope: that we'd dance again after the pandemic, that good music would continue to provide escape, that Chromatica would actually come out. About a month later, the song soundtracked my most normal night of 2020, spent dancing in the living room and in the street with some roommates who were moving out. That's the power of two huge pop stars uniting, for the first time, for an even bigger dance collab: Whether it meant everything or nothing to you, it could still carry you away in synths and vocal runs for three minutes without your even noticing you'd gone anywhere.
"Impact," by SG Lewis with Channel Tres and Robyn
Robyn works solely on her own terms, taking as long as she wants between releases and keeping a tight network of collaborators. That makes "Impact" special for many reasons. It's Robyn's first studio linkup with the entrancingly groovy Compton singer-rapper Channel Tres, who opened her 2019 American tour. Robyn's feature is also an invaluable co-sign for producer SG Lewis, an up-and-comer in this latest dance boom. Past all that, it's just a perfect song: Tres's baritone perfectly counters Robyn's voice as it breaks through the roof, while Lewis's tight-as-ever synths only elevate the performances. Yes, that's an impact.
"Future Nostalgia," by Dua Lipa
Not only was Dua Lipa one of the early torchbearers of the disco revival, she gave the phenomenon a name. She had already introduced the sound on her singles "Don't Start Now," "Physical," and "Break My Heart," but the opener of her full-length statement proved her confident commitment to the style. "You want a timeless song; I wanna change the game," she sang, with more attitude than she had exercised on her previous releases. For an artist to come out of the gate on just her second album singing about how she's pushing the pop needle is presumptuous. But when the song is this polished and convincing, it's also totally earned.
"Say Something," by Kylie Minogue
Kylie Minogue came up on the heels of disco's second wave, so when she announced her new album would be called DISCO, it was a fitting christening for the genre's return. "Say Something," her glittering first offering and best song in years, captured the distance the world faced: "We're a million miles apart in a thousand ways," she opens. Minogue said when she finished the song during the first week of lockdown, it brought both her and collaborator Biff Stannard to tears. But "Say Something" practices a decidedly hopeful form of longing fixed on the future. "Can we all be as one again?" Minogue wonders, then gives us a song to unite around.
"Experience," by Victoria Monét with SG Lewis and Khalid
Victoria Monét made her name writing chart-toppers for Ariana Grande, but her own debut solo project, Jaguar, isn't as concerned with the trends of the charts as it is with Black music history. The recording was inspired by the funky live bands of Motown, but Monét fast-forwards to disco on "Experience." The song is light as a feather with a relentless bounce, the wispy vocals pairing with SG Lewis's glistening synths (the less said of Khalid's feature, the better). A Black queer woman, Monét released the song on Juneteenth, in the middle of Pride Month, an action she said she saw as a protest. In the shadow of a month of protests, it only underscored the whiteness, never mind the straightness, of the disco revival.
"Something More — Extended Mix," by Róisín Murphy
The only way to listen to Róisín Murphy is through the extended mixes, and that's nowhere more imperative than on "Something More." Although she had been working on the song since 2019, during the pandemic it immediately became a cry of desperate longing rooted in a history of dance-floor wishes. On the extended mix, the song builds toward the year's most-earned drop, four and a half minutes in, a perfect accent to the lyrics. Subtle touches like this are what prove Murphy is an unheralded master of the dance floor 25 years on. After all, she puts it best: "Life just keeps you wanting."
"Night," by Kelly Lee Owens
Kelly Lee Owens makes music in the service of catharsis, working out her own emotions through her songs in the hope that her listeners can find their own release. On "Night," the standout from her second album, Inner Song, she sings, "It feels so good to be alone" — not by oneself but with oneself. She repeats the line until the drop, dark and forceful, swallows her voice. When she reaches the surface again, she's able to finish the line: "With you." It's simply victorious.
"On the Floor," by Perfume Genius
Perfume Genius's 2017 album No Shape found Mike Hadreas aching to leave his body: "I wanna hover with no shape," he sings on "Wreath," his voice floating formlessly through the song. The follow-up, Set My Heart on Fire Immediately, which was informed by his contemporary-dance project The Sun Still Burns Here, is his most corporeal music, grounded by organic guitars and with Hadreas showcasing an impressive command of his voice. Rock, country, and classic crooners have influenced him, but "On the Floor" channels them all into a dance track. The churn of the guitars implies motion, but you can't fully grasp the freedom in the song until you watch Hadreas contort himself, fluid and empowered, in the music video.
"Lifetime," by Romy
The solo debut from xx guitarist Romy Madley Croft was one of the year's biggest surprises — a huge, free club-pop song from a musician known for quieter, more deliberate work. As influenced as it was by Romy's past, from her coming up by DJ-ing queer clubs to recent xx songs like "On Hold," it was also a clear product of an uncertain year devoid of dancing. "If this world comes to an end, I wanna be there with you," Romy sings pointedly, without being heavy-handed. She packs enough euphoria into three minutes to hold you over till the next time you step onto a dance floor, whenever that may be.
"I Just Want to Dance," by SAULT
SAULT's groovy protest music moves to a near-constant, percussive beat. On the British collective's first album of 2020, Untitled (Black Is), it sounded like marching in the streets in light of its Juneteenth release date. Then 12 weeks later, on a second album, Untitled (Rise), SAULT translated that beat to the club. The standout "I Just Want to Dance" is built around a funky drum performance that could be slotted perfectly into a house track. Yet it's a song in service of the same call to actionable justice as the rest of SAULT's music. "We lost another life, life, life, life," Cleo Sol sings. Then she circles back to the beginning of the hook: "I just want to dance, dance, dance, dance / Makes me feel alive, 'live, 'live, 'live."
"4 American Dollars," by U.S. Girls
U.S. Girls' Heavy Light carries on a project that leader Meg Remy embarked on two years earlier with the sublime In a Poem Unlimited: turning U.S. Girls from the group that backed her vision into a community of musicians. Opening track "4 American Dollars" establishes that firmly, swaying and grooving as Remy proposes collectivism in the face of economic inequalities. "You gotta have boots if you wanna lift those bootstraps," she sings, a line lifted from Martin Luther King Jr. that sounds just as apt in 2020. As the song builds, Remy's voice gets lost among the singers around her harmonizing, belting, and laughing — a beautiful moment of the ego death she's striving for.
"Spotlight," by Jessie Ware
The best full-length statement so far of disco's third wave, Jessie Ware's fourth album, What's Your Pleasure?, moves like a single night out. "Ooh La La" is courting that dance-floor cutie, "Mirage (Don't Stop)" is last call, "Remember Where You Are" is walking outside in the wee hours of the morning. "Spotlight," then, is that magical introductory moment when you step through the club doors and enter a new realm of possibility. "Can't keep the sun from rising, can't keep the heart from beating, can't stop you from believing," Ware whispers as the synths begin to swell, buoyed by a grand strings section. She knows it's just one fleeting night — to her, that means anything can happen. Why else do we dance?