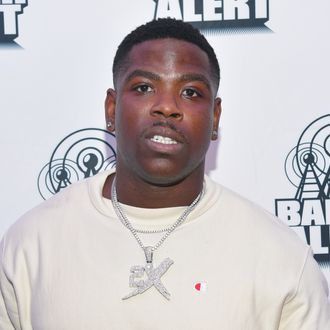 Brooklyn rapper Casanova was among 18 alleged Untouchable Gorilla Stone Nation Gang members indicted in New York, newly unsealed court papers reveal. Casanova, legal name Caswell Senior, was hit with three counts: conspiracy to commit racketeering, conspiracy to distribute controlled substances, and possession of a firearm in furtherance of a drug-trafficking crime, the U.S. Attorney's Office for the Southern District of New York said in a press release Tuesday.
Senior appeared to remain at large as of this evening, with the FBI's New York office tweeting around 6:30 p.m.: "We are still looking for Caswell Senior, a.k.a. Casanova, in connection with this case. He has connections to both NY and NJ. If you have information about his whereabouts, please call us at 1-800-CALL-FBI." The other 17 defendants were in custody.
According to the Feds, the gang's activities were in Manhattan, the Bronx, Queens, Brooklyn, and upstate New York. The alleged drug conspiracy ran from at least 2010 until the present, involving crack, coke, and pot, prosecutors said.
"Members and associates of Gorilla Stone engaged in a series of violent disputes with rivals of Gorilla Stone, including those within Gorilla Stone who they deemed disloyal to the Enterprise," the indictment said. "Members and associates of Gorilla Stone committed and agreed, attempted, and threatened to commit acts of violence to protect and expand their narcotics business, to protect fellow members and associates of the Enterprise, to otherwise promote the standing and reputation of Gorilla Stone amongst rival gangs, and to promote the standing and reputation of members of Gorilla Stone."
The indictment also alleged that: "Members and associates of the Enterprise promoted and celebrated, in music and on social media, the criminal conduct of the Enterprise, namely narcotics distribution, acts involving violence, and the use of firearms."
Senior's name came up during Tekashi 6ix9ine's bombshell testimony against his former Nine Trey Gangster Bloods associates in September 2019. The rapper, real name Daniel Hernandez, testified that his crew had beefs with other artists — and said that Casanova was among these performers. Hernandez also snitched on his rivals' alleged gang affiliations, claiming on the witness stand that Senior was in "another" Bloods group.
Senior's reps could not immediately be reached.
Update, December 3, 10:30 a.m.: The FBI confirmed this morning that Senior surrendered to authorities around 11 p.m. Wednesday night, at the New York Police Department's Midtown South Precinct in Manhattan.
Update, December 3, 3:45 p.m.: Shortly after 2 p.m. Thursday, Senior appeared before Magistrate Judge Andrew E. Krause by video and phone, from a room in the White Plains, New York, federal courthouse. His lawyer James Kousouros, who also appeared by phone and video, entered a not-guilty plea for him.
Krause asked Senior whether he had consumed any alcohol or drugs in the last 24 hours, Senior replied: "Um, I took a shot, of Henny." "Other than that, have you taken or used any drugs or alcohol in the last 24 hours?" Krause pressed. "That's it, just liquor," Senior said. "Before I turned myself in, I took a little swig."
Krause asked whether the Hennessey shot was within the last 24 hours, after 2:45 p.m. Wednesday. Senior said, "No, no, no, no, no, unless the officer gave it to me," and then laughed. (When Vulture asked Kousouros for clarification, he said that this took place at some point before he turned himself in, though the exact time wasn't clear.)
Kousouros also insisted that Senior was not on the lam. "The one thing I've tried to make clear is that he was never on the run," he said. "I think that the characterization of him being on the run, and in any way attempting to evade justice, was inappropriate, as I had been consulted two days ago and was negotiating the surrender with the government, and making very clear that his intention was to surrender." He also said, "It is no small act for somebody facing these charges to walk into a precinct to surrender to authorities — and in fact, it fully supports the act of an innocent man."