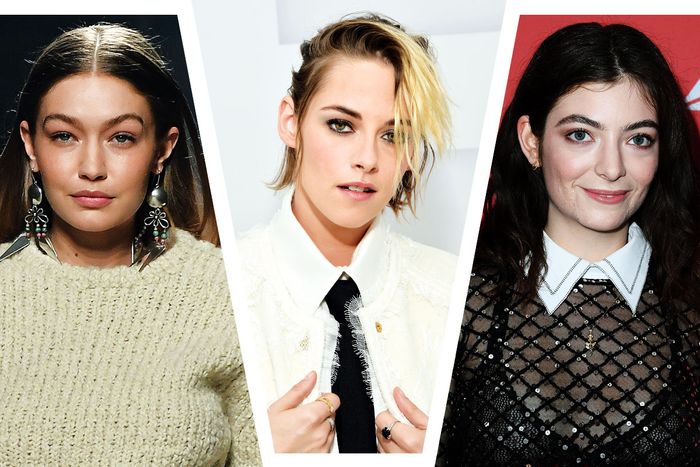 Photo-Illustration: Vulture and Getty Images
2020 came with a lot of surprises, not a single one good except for the return of Lorde's iconic onion-ring Instagram account, where she critiques the golden Os she encounters in her travels. Since we first discovered @onionringsworldwide three years ago, celebrity second accounts have become way more common. There are second accounts like Gigi Hadid disposable-camera-photography account and Bella Thorne's unfiltered-spam account with hundreds of thousands of followers, but actual celebrity finstas — private "fake" Instagram accounts as opposed to a public, "real" Instagram accounts — are nearly impossible to confirm. The existence of them, like Rihanna's mythical second account or the one Prince Harry used to slide into Meghan Markle's DMs, is more fairy tale than fact. It's evidenced by internet intuition — like who-follows-who — and can only be confirmed by the celebrity themselves. But we compiled a list of private accounts we can't see that are strongly suspected to belong to stars based on suspicious profile details and who follows them. At the very least, here's a list of sick finsta names to take inspiration from — as well as the confirmed celebrity side accounts you should already be following.
Alleged Finstas
Kaia Gerber
Who follows? Jacob Elordi, Antoni Poworski, Jeremy O. Harris
Cool username? Decently funny and timely. Even better is her display name, Piano Reeves.
Likelihood this is her? The Jacob Elordi follow amid dating rumors is simply too much.
Cara Delevingne
Who follows? Gigi Hadid, Paris Hilton, and Rita Ora
Cool username? Literally the best one on the list.
Likelihood it's her? Considering her display name is "Caz Del Viz," decent odds. The Spice Girls lyrics in her bio also point to the known fan.
Drake
Who follows? @champangepapi exclusively — the finsta seems to be out of commission.
Cool username? Very Drake username, that's for sure. He even wants to flex on us in private.
Likelihood this is him? Pretty high, but whatever, we just want the @ for the account where he posts cute Adonis pics.
Kristen Stewart
Who follows? Charlie's Angels co-stars Elizabeth Banks and Naomi Scott, Twilight co-star Taylor Lautner, current girlfriend Dylan Meyer, ex-girlfriend Stella Maxwell.
Cool username? Perfectly apathetic.
Likelihood it's her? Dedicated K-Stew fans have known about her highly praised finsta for a min. "She's actually great on social media — you guys are missing out," Naomi Scott said in a Wired autocomplete interview.
Taylor Swift
Who follows? Jack Antonoff
Cool username? Not bad, but for someone who writes under Nils Sjoberg and credited her boyfriend Joe Alwyn as William Bowery on folklore and evermore, we expected a little more craftsmanship.
Likelihood it's her? The lowest on the list. Just love the idea of her and Jack Antonoff brainstorming a song based off of one of her finsta posts.
Lily James
Who follows? Her Baby Driver co-star, Ansel Elgort, Mamma Mia! Here We Go Again! co-star Josh Dylan, and her Cinderella co-star Richard Madden.
Cool username? Hard to wrap your brain around at first, but ultimately fun.
Likelihood it's her? Identifying as "Vanilli" doesn't help, but having a follow from three of her former on-screen love interests does.
Harry Styles
Who follows? His sister, Gemma Styles.
Cool username? "Breakfast" in Italian is indeed a pretty chic finsta name. Likelihood it's him? Well, if the family followers aren't enough, Styles spent some of 2020 in Italy, even learning Italian. On a completely unrelated note, does anyone know how to say "Let me cook you breakfast," in Italian?
Ben Affleck
Who follows? Jen Garner and Ana De Armas, per sleuthing by In the Know reporter Kelsey Weekman.
Cool username? It's so earnest! He clearly understood the spirit of finsta naming by playing on Good Will Hunting, but he has not developed the internet's sardonic sense of humor.
Likelihood it's him? No mention of Dunkin' Donuts, but we still feel strongly about it.
Confirmed Second Accounts
Lorde
Who follows? People who believe in little joys.
Cool username? Exceptional.
Worth a second follow? Absolutely, for Lorde's poetic descriptions of onion-ring batter, not for haranguing her about L3.
Dixie D'Amelio
Who follows? Over 159,000 people who don't get enough of her on TikTok, Instagram, Twitter, and across several YouTube channels.
Cool username? Who am I to critique Gen Z? Not stupid, that's for sure.
Worth a second follow? For those interested in what Dixie gets up to when she doesn't wanna "be happy."
Summer Walker
Who follows? SZA, Lauren Jauregui
Cool username? Insanely.
Worth a second follow? If you can handle Summer Walker at her realest, you'll get some fun memes out of it.
Bella Thorne
Who follows? Diplo, lol
Cool username? Tells you exactly what you're getting.
Worth a second follow? Mostly memes of herself, it's her OnlyFans-Lite. Bella Thorne lovers exclusively.
Cole Sprouse
Who follows? Kiernan Shipka, Nicholas Braun, Dylan Sprouse
Cool username? Intriguing enough.
Worth a second follow? In infrequent but long posts, he narrates his battles to out-paparazzi fans who think they're sneaking pictures of him in public. It's basically his version of a celebrity poetry book. So, if you're into those …
Joe Jonas
Who follows? Sophie Turner, Nick Jonas
Cool username? Very basic pun, but it does accurately describe the account: an extra jolt of Joe Jonas.
Worth a second follow? Recently revitalized, follow for a chance at seeing his quarantine life with Sophie Turner and their new baby, Willa.
Gigi Hadid
Who follows? Gigi Hadid, Kacey Musgraves, Cara Delevingne
Cool username? Feels weird to say out loud, but visually makes sense for her film pics account.
Worth a second follow? For behind-the-scenes photos of fashion month and rare pics of Zayn Malik, that's a double-tap from us.