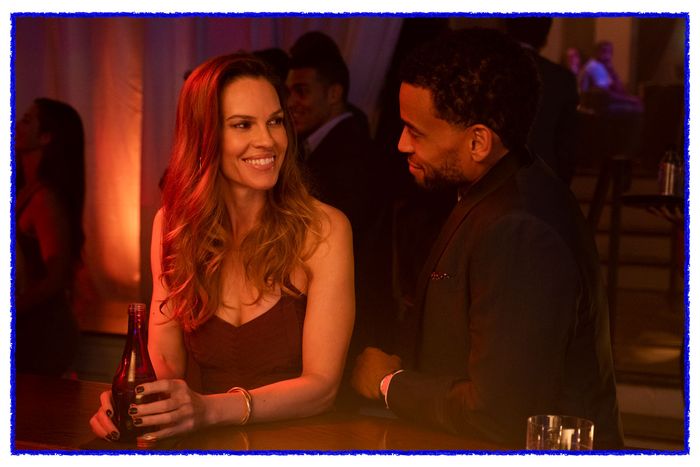 Hilary Swank and Michael Ealy in
Fatale
.
Photo-Illustration: Vulture and Lionsgate
In Vulture's Fall Movies Fantasy League, contestants stake their pride, and the respect of their peers, on their ability to predict the tumultuous next few months of cinematic releases.
Film buffs often talk about "movies that do not exist," meaning projects with big stars and solid budgets that usually got legitimate releases, but have nevertheless left next to no impact on the collective cultural consciousness. Films like Eagle Eye, say, or Elysium. But this year has stretched the term beyond the realm of hyperbole. If any movies can be said to truly not exist, it is those brave films that chose to follow Tenet into the fire that is the theatrical landscape in the fall of 2020. This weekly column is in part a salute to them: Your War With Grandpas, your Come Plays, your Honest Thiefs, your Let Him Gos. They are legends who loom large in the Fall Movies Fantasy League, and for us, at least, their names will not be forgotten.
But even we need to step back sometimes and admit that, in general, these films are just not being seen by that many people. One year ago this week, Cats opened to $6 million, and was instantly a world-historical bomb. That would have been good enough to win the box-office in all but three weekends this fall. Heck, it's three times what this weekend's No. 1, Paul W.S. Anderson's Monster Hunter, earned in wide release. For the vast majority of the country, these movies legitimately do not exist.
But this is not a post about Monster Hunter (and not just because Monster Hunter is not part of the league). This is a post about the movie that came in third on the box-office chart: Deon Taylor's erotic thriller Fatale, which stars Hilary Swank as a detective who hooks up with Michael Ealy, then goes full Alex Forrest. Even as one of the few dozen people who pay attention to things like this, I admit I had lost track of Fatale. The movie was originally scheduled to come out on October 30, but shortly before release it was quietly pushed back to 2021. Then it was even more quietly pushed up to mid-December. It opened Friday on 1,100 screens, pulling in $925,000 — good for a meager $835 per-screen average. As for reviews, they were so mixed that the film pulled off a perfectly balanced 50 percent Tomatometer score. Of all the movies that have not existed this fall, I doubt any of them do not exist more than Fatale does not exist. At least The War With Grandpa will be a trivia answer in five years.
And yet! Judging from the reviews, Fatale seems … well, not "good" or "interesting," but a movie that at the very least maybe deserves to exist. Swank is a credited co-producer, and it's not hard to imagine her jumping at the chance to play a juicier role than she was getting from the rest of the industry. THR's Frank Scheck calls the film "very watchable, in an incredulous B-movie kind of way." Mick LaSalle says it's "the kind of trash that gives trash a good name." Even Kate Erbland's pan — which promises, "You'll think you'll know where it's going, but then you won't, but then you might, and it also doesn't really matter, because it's all bad" — kinda makes me want to see it! If there's any luck, Fatale will enjoy a successful streaming afterlife in much the same way that Antebellum Memorial Wing of the Fall Movies Fantasy League Hall of Shame member Ava has. And if not, well, there's always VOD.
Speaking of streaming, the only big news in the league this week was that the most-owned film in the readers' league, Ma Rainey's Black Bottom hit Netflix, and its near-perfect reviews earned it the coveted critical bonus. Alongside Mank and Trial of the Chicago 7, Ma Rainey fills out the streamer's holy trinity of Oscar contenders this year, though all of their owners will have to wait a few more weeks for the American Film Institute and National Board of Review top-ten lists to see which bets on which would-be awards players truly paid off.
Oh, and what's that news from overseas? Wonder Woman 1984 earned $38.5 million over its first weekend of release in Brazil, Europe, and Asia? Interesting. Very interesting …
Week 16 Results
Jackson McHenry
Ma Rainey's Black Bottom: December streaming release (3) + RT score above 80 (2) = 5 points
Total: 5 points
Tolly Wright
Ma Rainey's Black Bottom: December streaming release (3) + RT score above 80 (2) = 5 points
Total: 5 points
Current Standings
1. Katy Brooks: 59 points (8 movies)
2. Rachel Handler: 58 points (8 movies)
t-3. Neil Janowitz: 43 points (7 movies); Tolly Wright: 43 points (8 movies)
5. The dearly departed Hunter Harris: 37 points (7 movies)
6. Alison Willmore: 32 points (8 movies)
t-7. Jen Chaney and Justin Curto: 30 points (7 movies each); Jackson McHenry: 30 points (8 movies)
10. Chris Murphy: 27 points (8 movies)
Staff fantasy-league teams are listed in full here.
Vulture's Fall Movies Fantasy League is open to all readers. Enter and you can look forward to an exciting autumn of endlessly refreshing Box Office Mojo and Rotten Tomatoes and quibbling over the precise definition of wide release.