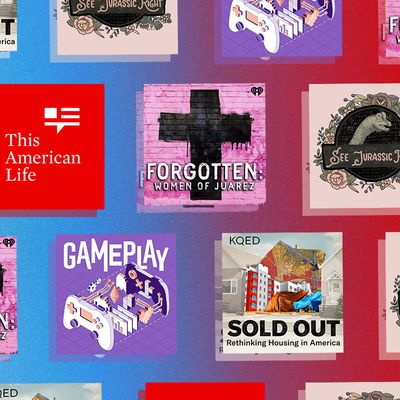 Photo-Illustration: Vulture and Studios
Hey, folks! For this week's issue, I hit my back catalogue and pulled out two picks that should make for good additions to your queue. And, as always, do let me know what you're listening to. Find me on Twitter or reach me over email: nicholas.quah@vulture.com.
This American Life: "Time Bandit"
I make this recommendation with some reluctance, but not for bad reasons. It just feels weird to plug This American Life, even if it is a story from a while back, because recommending This American Life seems like such an obvious move. Maybe that's the burden of being a staple, or maybe that's just my hipster tendencies running amok.
The other reason for the reluctance, and this is more to the point, is that the full impact of "Time Bandit" (the first act of the August episode "Made to Be Broken") relies on its opening reveal, which takes place, like, two minutes into the piece. It's a moment when an ambling expository stretch by TAL producer Sean Cole — who stands in for Ira Glass that week, as he has done with some frequency (which is interesting because Cole's narrative voice is kind of a dead ringer of Glass's, albeit more dry and cold) — snaps out of frame, and the actual gambit is thrust upon you, fully focused. The ensuing whiplash is thrilling.
All of which is to say, I recommend you check this one out cold. But if that's not enough to sell you on the pick, and if you don't mind the reveal, read on.
"Time Bandit" is basically a semi-staging and an unpacking of a specific live spoken-word performance by Jerome Ellis, a composer and a musician, which Cole encountered at a marathon theatrical showcase earlier in the year. The story begins when Ellis is presented onto the stage, with Cole lulling you into the scene with context, mood, and environment detail. He starts what seems to be a recitation of a seemingly esoteric fact when, suddenly and dramatically, Ellis stops mid-sentence. The recitation hangs in the air, the momentum stops, and, for a moment, it seems like time is suspended. The silence is potent, a cavernous in-between, and eventually Cole clues you into what he and the audience begin to realize: Ellis has a severe stutter, and he's working through the bit.
What transpires is basically a variation on Song Exploder but for Ellis's piece. The performance itself is doled out in staggered fragments, and throughout "Time Bandit," Cole crisscrosses across time and instance, flitting between the recording of that performance, his own observations in and out of the moment, and an interview with Ellis himself looking back on the piece. Eventually, the core idea of Ellis's performance comes into view: the notion of "temporal accessibility," which draws attention to how different people access and experience time in different ways. Ellis's stutter, of course, is one vector of difference; later in the piece, that idea is expanded to reflect race as another point of difference that has historically unequal access to time, enforced within a social context.
As a whole, the episode nudges you to be more aware, cognizant, and empathetic of that difference, that need. It's a nudge that has stuck with me, at least; "Time Bandit" is perhaps my favorite This American Life piece from yet another year of many good ones. It does that thing you want from art, where you get to briefly inhabit someone else's experience of the world — Ellis's, but also Cole's as he experiences Ellis's perspective — and further, where you have your perspective on the world slightly altered.
Forgotten: Women of Juárez
This series originally finished its run earlier in the summer, shortly before we launched 1.5x Speed, but I dug back through it again last week for a column I was putting together. And you know what? It's a shame that I didn't recommend this show earlier, because it's well worth your time.
Led by the journalist Mónica Ortiz Uribe and the documentarian Oz Woloshyn, Forgotten: Women of Juárez is a ten-part investigative series that dives deep into the history of femicide around the U.S.-Mexico border, specifically training the bulk of its attention on stories coming out of the city of Ciudad Juárez, which sits just across from El Paso, Texas, where Ortiz Uribe is based.
Part of what makes Forgotten particularly interesting is the way it takes its time. Recognizing its subject to be sprawling, difficult, and dense, it opts to move through its narrative with a gradual sense of ever-increasing scale. It starts out at a focused place that clearly draws from tropes of the true-crime genre — is this the work of a serial killer? — and by the time you reach the final leg of this journey, you're grounded well within a story of vast systems, international relations, and broad social movements while never forgetting the human side of the equation.
Meanwhile…
Three shows I just picked up and am currently working my way through:
• Sold Out, a series on evictions and the housing crisis in California from the Bay Area public-radio station KQED.
• Steven Ray Morris's See Jurassic Right, which is about … well, all things Jurassic Park. I can't explain why I find this incredibly pleasurable, but I just do.
• I'm a pedestrian gamer, but I'm enjoying Kristofor Lawson's Gameplay, which seems to be something like Twenty Thousand Hertz but for the gaming world.
And that's a wrap for 1.5x Speed! Hope you enjoyed it. We're back next week, but in the meantime: Send podcast recommendations, feedback, or just say hello at nicholas.quah@vulture.com.