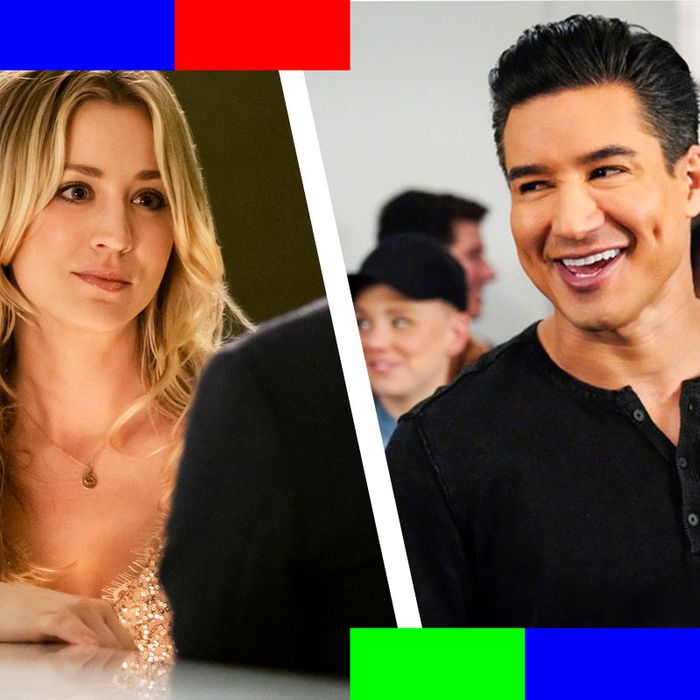 Photo-Illustration: Vulture, HBO Max and Peacock
Here are eight words I never thought I'd type: Peacock's Saved by the Bell reboot is good. I had been prepared to hate the show from literally the moment I read the press release confirming its existence (Governor Zack Morris? Really?); early promos for the series did nothing to dissuade me from thinking we were headed toward the dumbest reimagining of a TV show since 2013's Ironside. And yet, as more than a few actual TV critics noted in their reviews last week, the new SBTB is actually a blast – witty, warm, and very well-acted. Bigger picture, it's also another reminder of the importance of patience in evaluating how well nascent streaming platforms are doing. This week's Buffering focuses on why caution is a must when figuring out how things are going in the streaming wars. Also, Discovery takes the wraps off its long-awaited new SVOD service, and, well, there's some big breaking news to touch upon as well.
The last year or so of new streaming platform launches has been accompanied by a tsunami of Takes about how the wannabe Netflixes are doing, both from Wall Street analysts and from journalists like myself. In some cases, newcomers have been all but written off literally days after launching. This rush to judgement is understandable given the huge stakes involved — for the media giants rolling out these new streamers; for investors wondering if said companies can successfully pivot from the linear age; and for consumers trying to figure out if they can afford to subsidize so many services with their subscription dollars. And yet, as tempting as it is to quickly declare winners and losers, the reality is it's much too soon to be certain about how the battle for streaming subscribers will shake out.
Over the summer, for example, the conventional wisdom regarding HBO Max and, to a lesser degree, Peacock was that both services were off to a slow start, even floundering a bit. On the programming front, critics had very little good to say (if they said anything at all) about each platform's limited number of original offerings. Both have also been waging distribution wars with Amazon Fire TV and Roku, making neither as easily accessible to audiences as a Netflix or Hulu. And in the case of HBO Max, August's massive management shakeup at parent company WarnerMedia hinted that higher-ups at the company maybe weren't too happy with how things were going either. (All the early confusion about HBO's various apps — Go! Now! Max! — didn't help, either.)
These struggles were (and are) real, but I don't think they are at all predictive of whether these new platforms will survive or thrive. If the shift from linear to streaming were a TV show, we would just now be coming to the end of the first act of a four-act program. Indeed, you can already see the storylines about both Peacock and Max evolving. On the distribution front, for example, Peacock and Roku signed a peace accord back in September, while Max and Amazon made up a few weeks ago. And programming-wise, both services will end 2020 with at least one new buzzy offering:
➽ For Max, the potential breakthrough bit of content appears to be The Flight Attendant, a new Kaley Cuoco thriller that's garnering raves from critics and audiences. (HBO Max PR also put out a press release saying the show is the most-watched original yet, but given how relatively few new shows the service has launched so far, and without any specific data, I'm not sure what we are to make of this.) It should be noted that Max execs (well, the ones who launched the service but are now gone) had planned to have Flight Attendant up and streaming over the summer, but pandemic production shutdowns resulted in its takeoff being delayed until last month. Had the show debuted as intended, I think the early narrative around Max would have been different.
The timing shift may even ultimately be a bit of a blessing. While there's no doubt Max lost momentum during the summer as audiences had few reasons to sign up for the service (or even activate access through existing HBO subscriptions), Flight Attendant landed just as Max and its sibling HBO have been on something of a tear with buzzy offerings. Limited series The Undoing, which just ran its finale, saw its linear ratings and online chatter grow every week during its two-month run. The soapy Industry, the comedic docuseries How to… with John Wilson, and the UK import I Hate Suzie have also had positive relationships with the pop-culture Zeitgeist in recent weeks. And on Christmas, just a week after Flight Attendant drops its finale, Max will begin streaming Wonder Woman 1984. I'm sure WarnerMedia would've preferred to have hooked in new subscribers earlier, but as it stands, the fourth quarter has been a dream for HBO Max marketing.
➽ Peacock similarly suffered from COVID disruptions. Its biggest planned launch offering, the Olympics, got pushed until 2021. And, like Flight Attendant, the Saved by the Bell reboot I mentioned at the top of this week's newsletter had to adjust its production schedule because of the pandemic and didn't wrap filming until mid-September. Peacock isn't as overstuffed with high-profile scripted originals as Max, but I am betting overall usage of the app is likely doing quite well right now. Not necessarily because of Bell — though it would be a shock if it weren't the most-watched Peacock original to date, given audience awareness of the franchise — but because Peacock in recent weeks has started offering next-day streaming of NBC originals such as This is Us and the Chicago dramas. Those tentpoles are likely driving more folks to sample Peacock, in theory discovering originals such as Saved by the Bell or titles in the platform's extensive library (my personal new, though technically old, favorite: Columbo).



The fact that The Flight Attendant and the new Saved by the Bell got good reviews and have okay online chatter does not, of course, suddenly mean the problems which plagued both services during their early months have suddenly gone away. The patience I'm preaching goes both ways: Just as it was too soon to start writing obits for Peacock and HBO Max this summer because of a few hiccups, a few good shows or a blockbuster movie on the lineup isn't a guarantee of long-term health. It's not even a given that both streamers will experience a sudden surge of new subscribers this quarter given the state of the national economy and continued problems with distribution. (My instinct is that HBO Max will get a very nice bump from WW84, but we'll know soon enough if that's the case.)
The only thing I think you can take away from these past few weeks of mini-momentum for Max and Peacock is that the companies backing the new streaming services have not gone into battle half-assed or hastily. They have all been in the works for several years, ever since conglomerates such as WarnerMedia, NBCUniversal, and Disney realized Netflix had changed the world forever and that streaming was the future. If anything, these companies waited far too long to get into the game, giving Netflix (and Hulu and Prime Video) a running start to capture eyeballs and dollars. But the one upside of delay is that there is very little haphazard about how most of these young platforms are rolling out. They all have production pipelines packed with big tentpole offerings that will be coming on line over the next few months and years, both in terms of originals (the Game of Thrones prequel at HBO/HBO Max) and library content (The Office shifting to Peacock early next year following the show leaving Netflix on January 1). Having invested billions in this content, they're not about to pull a Quibi and call it quits overnight. If current strategies don't work, they'll regroup and reboot rather than pull the plug.
Not to mention, in recent months most of the major conglomerates have radically reorganized their executive structures to reflect the reality that streaming is not just more important — it is actually the primary means of distribution and monetization of content these days. HBO boss Casey Bloys now also runs HBO Max (as well as whatever is left of cable networks such as TNT and TBS). Disney, having previously turned cable network FX into a streaming brand, this week gave day-to-day control of its ABC broadcast network to Hulu program chief Craig Erwich. NBCUniversal has similarly collapsed the walls between Peacock and its linear networks. Streaming is the heart and soul of these entertainment giants now, so they really don't have much choice but to try to make these new services work. I suppose consolidation could always shake things up: Maybe Netflix wakes up one day and decides to buy ViacomCBS or NBCUniversal, and suddenly some platforms go away. And certainly companies where entertainment isn't the core mission — Apple and Amazon, for instance — could conceivably opt to scale down their streaming portfolios (though there is zero reason to think they will). But for everyone else? Failure is not an option.
One last thing: I do not fashion myself the Sheriff of Streamingtown. Nothing about this week's newsletter should be seen as me trying to dictate the timing or tone of others' assessments of the streaming universe — particularly because I haven't been shy about rendering a hasty verdict (or five) myself. Of course some streamers are going to do better than others, much the way TV networks have had long had ups and downs. There is a need for outside observers to analyze their performances and for critics to judge the quality of their creative output. My only suggestion is that such assessments avoid jumping to definitive conclusions based on short-term highs or lows, the way one dummy predicted the demise of NBC a few years ago. The streaming age is just getting started.
HBO Max's Big Announcement
Just before this week's Buffering deadline, Warner Bros. announced that every one of its planned 2021 feature-film releases — an expected 17 titles in all — will stream on HBO Max the same day they're released in (whatever) theaters (are open). Movies will only stream on Max for a month; they'll then continue playing in theaters and eventually move to other distribution platforms (paid video on demand, DVDs, etc.) as they normally would.
It's a huge deal for the movie business, obviously: Theater owners are going to have a lot to say about this, and the long-term implications will be fascinating to see. The studio insists this "hybrid model" is a one-year thing designed as a response to continued COVID-related disruptions, and not an experiment to see if theatrical distribution windows can be broken forever. Perhaps, but this move is also very much the start of a massive year-long marketing campaign to get folks to sign up for HBO Max.
Indeed, simultaneous with the press release announcing the strategy shift, HBO Max released a glitzy 43-second promo touting the news that Warner movies would be premiering in theaters and on Max "the. exact. same. day," starting with the previously reported debut of Wonder Woman 1984 on Max Christmas Day. You can expect HBO Max marketing to push this influx of premium content heavily over the next year, all in a bid to get consumers to sign up for the platform (and to make sure existing subscribers don't cancel). And with good reason: HBO execs over the years have admitted that one of the service's secret weapons over the service's half-century has been its ability to give customers early access to blockbuster movies. Historically the pay cable window opened up about eight or night months after movies played in theaters, but even so, HBO's Saturday movies regularly have drawn some of the service's biggest same-day ratings, outdrawing many original series. The 2021 strategy is just an (admittedly radical) evolution of something that's worked for the HBO Max brand for years.
What's more, today's news comes as Netflix has started leaning heavily into its own roster of big-budget movies, with TV ads in recent weeks letting customers know to expect "new movies every week" this winter. Disney and Comcast have also stepped up efforts to put big movies on streaming first. There will obviously be a lot more to say about all this over the next few weeks, and the Vulture movies team will have more to say about it soon. But as I get into a bit in this week's lead item, streaming is no longer an ancillary profit stream for big entertainment companies. It's the business, period. And WarnerMedia's decision to shatter previous norms demonstrates that new CEO Jason Kilar is intent on making the new model work.
Discovery+: It's Cable, But Streaming
It took a bit longer than expected, but Discovery Networks finally took the wraps off its long-rumored streaming platform on Wednesday. And while the new service boasts an entirely boring name — Discovery+ — the offering itself appears to be quite impressive. The new streamer will offer a jaw-dropping 55,000 episodes of TV drawn from eight of the company's major TV brands (everything from TLC and Animal Planet to HGTV and Food Network), as well as programming from outside suppliers such as History Channel, Lifetime, and BBC. It will also produce more than one thousand hours of original content during its first year, with more than 50 new series and specials premiering within the first month of the platform's January 4 launch. It's basically Netflix but for reality TV.
This wasn't always what Discovery had planned for streaming. As The Wall Street Journal's Ben Mullin noted in his reporting on the platform's unveiling, the company had for years been telegraphing plans to launch several speciality streamers geared toward superfans of various genres. (It had already greenlit a cooking service and one overseen by Joanna and Chip Gaines.) But perhaps worried that consumers already had too many streaming options for scripted fare, Zaslav decided to change course and instead go for a consolidated service designed to attract almost all kinds of reality TV audiences. Based on the early list of programming, scrolling through the show tiles on Discovery+ will feel like flipping through the section of your cable package devoted to nonfiction channels. While there won't be shows like The Voice or The Masked Singer, basically every other kind of reality TV genre will be represented.
Discovery+ won't be a complete substitute for a cable package, at least not yet. The company still gets a ton of money from cable operators, so it's going to have to ensure that some of its biggest hits continue to have an exclusive cable window. But for all but the most die-hard fans, the new service will offer yet another excuse to cut the cord. Discovery is charging a reasonable $5 per month ($7 without ads), and even if some shows won't air the next day on Discovery+, you can bet episodes will end up there within a few weeks or months of airing. Plus, the roster of exclusives is heavy on spinoffs from existing hits: There are four 90 Day Fiancé offshoots planned for January, plus new twists on Chopped, American Detective, House Hunters, and Toddlers & Tiaras, among others.
To help establish a subscriber base, Discovery+ has taken a page from Disney+ and struck a deal with Verizon that will give the mobile giant's best customers a free year of the streamer. This should help spread word of mouth about the service and help assure someone's watching the ads. But it's also a hedge against the one big obstacle in the way of Discovery+ taking off: It is not the first big streaming platform to target fans of unscripted shows. That would be Netflix, which years ago realized it needed to be making the kinds of shows at which Discovery excels, and then went about doing exactly that. (It understood this, by the way, because it used to license a ton of shows from Discovery and could see exactly how much audiences liked that kind of programming.) Netflix still doesn't make as many unscripted shows as all the various Discovery networks, but it makes quite a bit — and for many viewers currently without a cable package, what it offers is more than enough.
But I don't think Netflix doing well in unscripted has anything to do with whether Discovery+ works or not, any more than Netflix having a robust slate of family offerings has hurt Disney+. Discovery's cable networks are beloved by audiences, as are many of their personalities. I suspect loyalty to brands such as 90 Day Fiancé — which I wrote about back in August — is what is keeping a not insignificant portion of those folks attached to a cable bundle. If the Discovery+ offering is as robust as it seems on paper, and the service starts offering next-day reruns of at least some of the biggest hits from Discovery cable networks, there is every reason to believe the streamer could end up with a very sizable subscriber base within a few years.