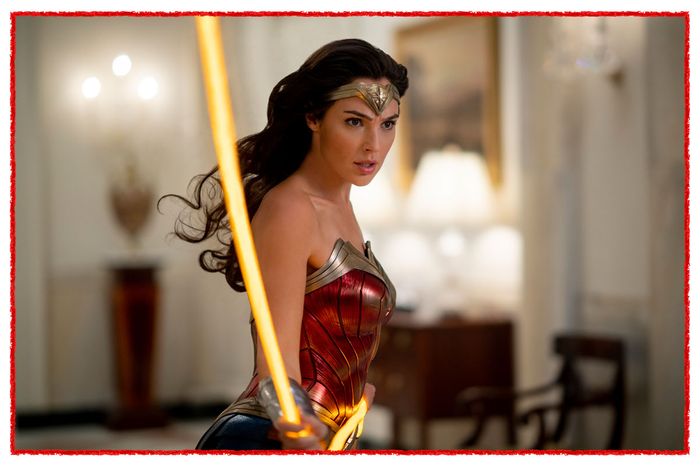 Finally,
Wonder Woman 1984
has arrived to shake up the league.
Photo: Warner Bros. Entertainment
In Vulture's Fall Movies Fantasy League, contestants stake their pride, and the respect of their peers, on their ability to predict the tumultuous next few months of cinematic releases.
Happy Wonder Woman Day, everyone! For months I've been tracking the box-office landscape as one would-be blockbuster after another fled to 2021. Only one held firm: Wonder Woman 1984, the first test of Warner Brothers' controversial plan to debut its offerings on HBO Max the same day that they hit theaters. Now, that day is finally here, which means I actually have things to write about again — a special Christmas gift, just for me!
A few weeks ago, I ran down everything Wonder Woman 1984 would need to do to tie Tenet's league-record 16 points. After opening weekend, let's see how things are going …
Open on more than 600 screens in the U.S.: Check. It actually opened on 2,000 screens. What else were they gonna play?
Open at No. 1 on the domestic box office: Check. WW84's $16 million opening overpowered the Christmas box office, as the sequel earned more than the rest of the top ten combined. That turned out to be the best three-day domestic opening since the weekend of March 8, when Onward opened to $40 million and people at the time thought that was bad. (Tenet did hit $20 million in its Labor Day opening, but that was over four days.)
Earn more than $100 million worldwide: Not yet, but getting there. WW84 currently stands at $85 million worldwide and will probably enter the nine-figure club next week, though it's probably a little greedy to still harbor hopes of it earning the $500 million bonus, as well.
Hit over 80 percent on RottenTomatoes. Uh-oh! After the initial embargo broke, WW84 seemed on track to hit this one, too, with the movie's PR team sending a press release to crow about its 89 percent fresh rating in early reviews. Our own Angelica Jade Bastién was less glowing in her assessment, and as more critics weighed in, the consensus slowly shaded more negative. After opening weekend, the sequel's RT score is a fresh-ish 65, down significantly from the original's 93.
At the moment, Wonder Woman 1984 scores a solid 9 points, which will go up to 14 once it passes $100 million. (The Croods: A New Age should also hit the mark by this time next week, too; it's currently at $98 million.) Funny enough, WW84 was actually outscored on opening weekend by the film it beat at the box office: the Tom Hanks Western News of the World, which despite only earning $2 million in its own wide release, nevertheless scored a pair of bonuses — one for its strong reviews, the other for its unwavering commitment to its release date — to nab a tasty 10 points.
Also earning the critical bonus was Pixar's Soul, which debuted to an impressive 97 percent fresh rating. This one will be a long-tail effort for its owners. Soul's domestic debut on Disney+ was nothing to shout about but the animated film will be a solid bet to show up on the top-ten lists, and the film is also playing theaters in countries that don't have Disney+, which gives it an infinitesimal chance of breaking $100 million, as well. (It's currently at $7 million worldwide after opening in China and Taiwan.)
For those who have been following the drama in the staff league, here's how things are looking: With WW84 failing to land the critical bonus, our top duo of Rachel Handler and Katy Brooks (in other words, the only people who drafted Tenet) have narrowly escaped being overtaken by Neil Janowitz and Wonder Woman. Still, as we enter the final stage of the competition, it's neck and neck at the top of the table: After next week, Katy, Rachel, and Neil should all be within two points of each other. Thus, the league title will come down to who gets more entries on the National Board of Review and AFI year-end lists. Does anyone know if Hallie Meyers-Shyer is a member of either of those organizations?
Week 17 Results
The dearly departed Hunter Harris
Soul: December streaming release (3) + RT score above 80 (2) = 5 points
Total: 5 points
Justin Curto
Wonder Woman 1984: December wide release (7) + Topping box office (2) = 9 points
Total: 9 points
Neil Janowitz
Wonder Woman 1984: December wide release (7) + Topping box office (2) = 9 points
Total: 9 points
Jen Chaney
Wonder Woman 1984: December wide release (7) + Topping box office (2) = 9 points
Total: 9 points
Current Standings
1. Katy Brooks: 59 points (8 movies)
2. Rachel Handler: 58 points (8 movies)
3. Neil Janowitz: 52 points (8 movies)
4. Tolly Wright: 43 points (8 movies)
5. The dearly departed Hunter Harris: 42 points (8 movies)
t-6. Jen Chaney and Justin Curto: 39 points (8 movies each)
8. Alison Willmore: 32 points (8 movies)
9. Jackson McHenry: 30 points (8 movies)
10. Chris Murphy: 27 points (8 movies)
Staff fantasy-league teams are listed in full here.
Vulture's Fall Movies Fantasy League is open to all readers. Enter and you can look forward to an exciting autumn of endlessly refreshing Box Office Mojo and Rotten Tomatoes and quibbling over the precise definition of wide release.