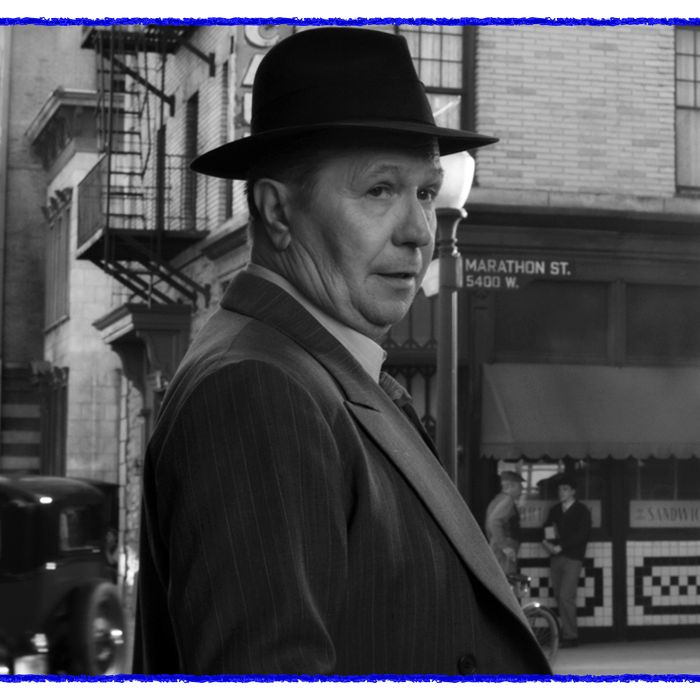 Gary Oldman in
Mank
.
Photo-Illustration: Vulture and Netflix
In Vulture's Fall Movies Fantasy League, contestants stake their pride, and the respect of their peers, on their ability to predict the tumultuous next few months of cinematic releases.
Have you heard? 'Tis the season — the awards season, that is! With not much happening in the Fall Movies Fantasy League this week box-office-wise (The Croods: A New Age came in at No. 1 again, and with a $60 million worldwide after two weeks, the animated sequel seems on its way to hitting the pivotal $100 million benchmark), let's turn our attention to the Oscar of it all.
There are two ways that would-be Oscar players earn points in the FMFL. The first is the small bonus for good reviews, though in practice this hasn't been limited to movies on the prestige track: Enola Holmes got it, while Ammonite did not. The real hauls come later, when the American Film Institute and the National Board of Review name their top ten films of the year. A place on each list earns three points, which means that the cream of the crop will be taking home a six-point bonus. That's more than you get for breaking $100 million. Take that, Croods!
In the staff league, only Jackson McHenry has attempted to follow an awards-first strategy, and all he has to show for it so far is a tie for last place. (Thanks, in part, to his goose eggs for West Side Story and Death on the Nile.) However, there may be hope for him yet. Because Jackson also drafted Mank, which alongside Nomadland is looking like one of our Best Picture contenders. Both films debuted this weekend, Mank on Netflix and Nomadland in a limited digital release, and though obviously neither of them made a dent at the box office, they each did well enough with critics to earn the RT bonus. That's just an appetizer compared to what happens in late January, when the AFI and NBR announce their picks. Will that be when Jackson (who also has Ma Rainey's Black Bottom in his pocket) can come from behind to triumph?
Probably not! He is, after all, in last place. But it still gives us another thing to look forward to during those otherwise very dark days of post-holiday depression. For Jackson, the good tidings and cheer may last a few more weeks.
Here is the update for the staff league:
Week 14 Results
Jackson McHenry
Mank: December streaming release (3) + RT score above 80 (2) = 5 points
Total: 5 points
Current Standings
1. Katy Brooks: 59 points (8 movies)
2. Rachel Handler: 58 points (8 movies)
3. Neil Janowitz: 43 points (7 movies)
4. Tolly Wright: 38 points (7 movies)
5. The dearly departed Hunter Harris: 37 points (7 movies)
6. Alison Willmore: 32 points (8 movies)
7. Jen Chaney: 30 points (7 movies)
8. Chris Murphy: 27 points (8 movies)
t-9. Justin Curto: 25 points (6 movies); Jackson McHenry: 25 points (7 movies)
Staff fantasy-league teams are listed in full here.
Vulture's Fall Movies Fantasy League is open to all readers. Enter and you can look forward to an exciting autumn of endlessly refreshing Box Office Mojo and Rotten Tomatoes and quibbling over the precise definition of "wide release."