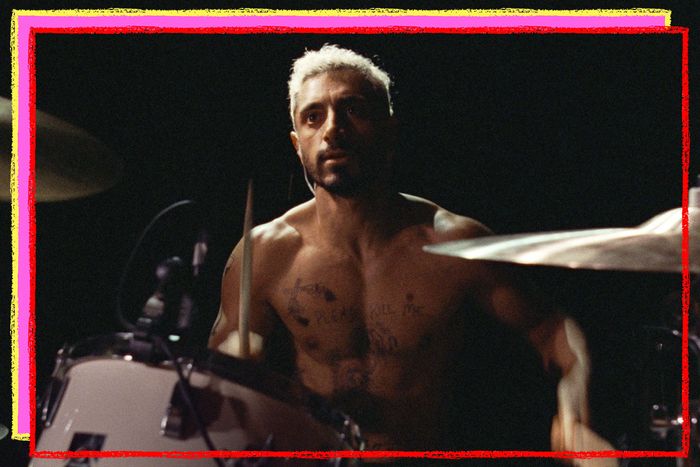 Sound designer Nicolas Becker looked to stethoscopic mics, fetal memories, and a centuries-old school for the deaf in France.
Photo-Illustration: Vulture and Amazon Studios
This piece originally ran in November but we are republishing it on the occasion of the film's debut on Prime Video.
What does losing your hearing sound like? It was a question at the front of Nicolas Becker's mind. He's the French sound designer on Sound of Metal, the new movie starring Riz Ahmed as a hard-rock drummer dealing with the sudden, catastrophic onset of sensory deprivation. Directed by Darius Marder, the movie follows Ahmed's character, Ruben, from his time deliriously touring in a metal band with his girlfriend, Lou (Olivia Cooke), to his reluctant stay with a deaf community, where he learns to live without the sense he took for granted. The sonic impression of the story was so important to Marder that he hired Becker before he hired the cinematographer, Daniël Bouquet; the two began working together a full year before the rest of the crew was brought on.
To bring the audience into Ruben's world, Becker — who has worked on films like Gravity and Arrival — pored over research from a French school for the deaf and various interviews with audiologists. He turned to an array of recording techniques that involved Foley effects, distortions that replicate the mechanical output of cochlear implants, and tracking Ahmed's body for physical sounds. In some scenes, voices and percussive clangs are muffled, as if they were heard underwater, while in other scenes, Becker and Marder clearly articulate the clatter of everyday life, providing a stark contrast to the environment the characters experience in each scene. And, of course, there are moments of silence, carefully chosen and devastatingly rendered.
"At the start [of the film], each time there's a subjective shot, there's also subjective sound," Becker told Vulture. "Then slowly, it becomes less and less strong. The more you go in the film, the more it comes back to typical levels. We come back to the kind of typical world that people know. Sometimes you have a shot that is subjective, and it reminds you of the positioning of the film. And then there is silence and the hearing loss, and [that feeling] becomes very strong again."
The subject matter isn't entirely unknown to Becker, whose affinity for loud music (think: the particularly abrasive sounds of the American rock band Eels) once led him to spend a week in the countryside attempting to regain his hearing. The nearly career-ending moment of losing his "main tools" gave him both empathy for Ruben's struggles and the ability to translate his situation for viewers who have never experienced such conditions. In advance of Sound of Metal's Amazon premiere on December 4, we caught up with the veteran sound editor to learn how he made it happen.
The Sounds of Hearing Loss
In addition to recounting his own brush with deafness, Becker worked with Marder to study the ways those who have permanently lost their hearing describe the sensation. "We spoke with audiologists, scientists who are working in that field," Becker says. "I also brought [Darius] to an anechoic chamber to actually experience, physically, the idea of silence itself." Crucially, the pair consulted with sound engineer Damien Quintard, who supplied them with the research from the Institut National de Jeunes Sourds de Paris, a French school for the deaf that was founded in the 18th century.
Becker also spoke with people who were born with hearing but who lost the ability to sense sound decades later. Because they know what it sounds like to physically hear, they were able to describe how noises changed over time. "We took that as a kind of starting base," Becker says, incorporating those testimonials with certain bodily experiences that people without hearing loss might understand. "When you are underwater, your timpani is not working," Becker adds. "What you hear underwater is the vibration you get in your body and your bones. So in a way, your brain is able to reconstruct the sound through the body."
In the end, Becker, who prefers naturally recorded noises to those found in commercial sound libraries, decided that, even though many in the film's audience wouldn't have experienced hearing loss, they would innately be able to recognize the loss, however dampened the experience. "The audience connects with their own body memories," he says. "They feel that it's right, in a way. Maybe they feel that unconsciously and they don't really remember when they were underwater, or when they were sleeping, or archaic memories from fetal life. But we know this language."
Breaking Down the Technology
Becker's determination to avoid canned sounds from libraries guided his meticulous choice of recording tech. In addition to using a variety of software — Pro Tools and different plug-ins that can manipulate audio — he experimented with a number of microphones, some of which he invented and that he was able to use on Marder's set during shoots. These helped capture the physicality of Ahmed's performance, particularly in the early scenes when he's drumming onstage. (Ahmed, to his credit, spent months learning to drum rather than use a stand-in, and he also studied American Sign Language.)
"I created different stethoscope mics with very sensitive mics," he says. "I was also able to build a small microphone that you can put in your mouth without it being broken. We were able to really recall all the inner sounds from Riz: racing heartbeats, blood pressure, tendons' moves, muscle and bone movements." And when the actors are playing music, they're really playing the music, Becker emphasizes. "What you hear is them, not a playback. It's fiction but not so far from documentary."
Reimagining Silence
In one scene earlier on in the film, Ruben attends a support-group session at which all the other characters communicate in ASL, to his visible discomfort. All the viewer hears while watching this meeting are the crickets outside of the deaf community's building, the creaks of the participants' chairs, their hums of approval, and the sounds of their signing. "That's why it was very important to have a small team and to be able to have control on everything," Becker says. "The idea was not to have like 500 audio tracks and maybe use only 10 percent of it. We tried to do things really precisely. In the mix, we removed nearly nothing." A subsequent section of the film shows the same group sharing a dinner, with the audio alternating between what Ruben senses inside his head and the loud clanking, eating, and laughter of the meal happening outside of it.
"That's an interesting thing, because you just realize that people who can't hear, of course they don't know how much sound they make," says Becker. "It's so simple. And that's what I like about the film. We really tried to not do things over-the-top but to make the concepts impressive and right." Becker notes that he and Marder had initially intended to use more music in the treatment of the movie's sound but that the nature of the performances from Ahmed and the rest of the cast took them in a different direction. "It would have been disruptive," Becker says.
Bringing the Audience In
As Becker mentioned several times, he designed the film's sound to slowly condition the audience to experience Ruben's hearing loss themselves. The production team accomplished this in part through a minimalistic approach that Becker describes as more akin to European filmmaking. That's opposed to the American cinema way, he says, in which sound can be used almost as a cudgel to force the viewer to feel something; instead, the space and understatement in Sound of Metal allows the audience to process the onscreen information and the emotions it stirs.
"In Europe, we use much less music in film in general. We work much more with the atmosphere — like with field recordings of birds. I think we have a very strong documentary-school movement, so we're more naturalistic," Becker says. "The idea of doing a film in the U.S. today is iconic. I think in the year 2020, though, the sound of films in the U.S. would be 'more and more and more' and bigger and louder. It's super-informative, but I think you reach a point where people say, like, 'Okay, it's too much.'"
As an example of his European approach, he discusses how he re-created the sensation of cochlear implants by taking the collectively described sound and breaking it down into categories — harmonics, noises, and transients — and then reconstructing them individually. "It became like Frankenstein sounds," Becker says. "You have everything, but nothing matches together anymore, [it's] more omnidirectional. That gives a feeling that you don't know where you are, because all this information is coming from all these directions into your ear."
In the end, Becker credits the tight Sound of Metal crew with allowing for such an exacting approach. "[With small films] you can push the boundaries and establish an interesting relationship that's not only technical," Becker concludes. "Really, it's a film about people who lose hearing, but I would say it's is not about that. It's about how you are able to confront problems. It's much deeper, and it's much more a life question. Everybody can understand that and be a part of the film."