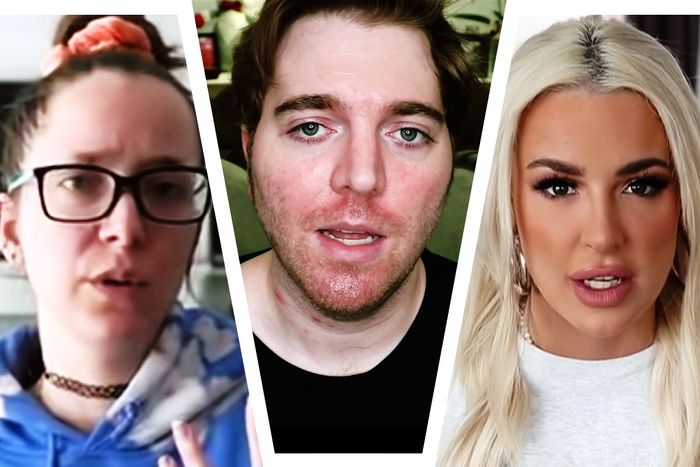 Jenna Marbles, Shane Dawson, and Tana Mongeau came up with three very different apology videos.
Photo: YouTube
If you've seen one influencer apology, you've kind of seen them all. The video, Instagram Story, and Notes App apologies that internet stars have become notorious for all tend to follow a familiar pattern, even as 2020 turned up the chaos threshold on their scandals. Often posted after a hiatus, a true influencer apology will deflect some of the accountability to age or ignorance, while also claiming they "take accountability." (Bonus points for using the phrase!) It can be short or long, unedited or over-edited, and for some reason, they're always dressed comfy-casual or in all white. Tears are key, especially if they're crying over the response to their wrongdoing, not the hurt they've caused. If they've engaged in some racism, an NAACP donation typically isn't far away. 2020 also saw the rise of new kinds of influencers, the TikTokers and the OnlyFans creators, plus the many mishaps they found themselves in amid a global pandemic. Whether they're owning up to decades-old videos, apologizing for completely ignoring the coronavirus, or accepting fault for whatever Gabi DeMartino thought she was doing, these influencers are sorry in pretty much the same ways. The scandals are getting more intricate, but the apologies are just as thin as ever. We recapped the year in influencer apologies and we're already sorry about it.
Best Floor Set: Niki DeMartino
Why are they apologizing? The 24-year-old posted an unintentionally racist and insensitive TikTok of herself in a nail salon wearing a mask with the song "It's Corona Time" playing on March 15. The implication is that Niki is wearing a mask to avoid getting the coronavirus from her Asian nail tech. Also, for getting her nails done in a pandemic in the first place.
How cliché was the apology? On March 18, the YouTuber posted a five-minute video (wearing white), plopped on her bedroom floor, explaining her ignorance in concept and execution. In a voice over she adds, "I see everyone equally, so I truly didn't see the problem" until someone pointed it out. But she's "taking accountability" and "truly sorry if" she's offended anyone.
Did they get canceled? When someone shows you who they are, believe them and the internet believes that Niki DeMartino is merely uninformed.
Least Concern in Their Eyes: Nessa Barrett
Why are they apologizing? On April 8, Barrett and a friend did a TikTok dance set to a man reciting the Quran.
How cliché was the apology? After apologizing once on a livestream that same day, claiming she "didn't know" it was the Quran (she just thought it was a "cute" old man) and added that her "stepmom is from Egypt" Barrett regrouped on April 11 and posted a video with a totally unrehearsed and definitely heartfelt apology.
Did they get canceled? The now-18-year-old is still known as one of the most problematic TikTokers, but homegirl just released a single, "if u love me," and currently has over 2 million views.
Most Organized Receipt Folder: Colleen Ballinger
Why are they apologizing? Colleen Ballinger, the actress behind MirandaSings, apologized for sending a then-underage fan lingerie several years ago. In a video posted to his own successful YouTube channel, now-18-year-old Adam McIntyre explained how he developed what he saw as a friendship with the 34-year-old actress, but now sees as inappropriate.
How cliché was the apology? Ballinger completely accepts fault and apologizes for this situation and other past incidents in a single-take video titled "addressing everything" posted May 12, 2020. In her apology, Ballinger said she didn't send the lingerie in a "sneaky" or "gross" way, but as part of a tradition of giving away random items, providing receipts for the interaction.
Did they get canceled? Ballinger and McIntyre handled the situation better than certain other 30-year-olds and teenagers. They both continue to find success online.
Best Washing Detergent: Myka and James Stauffer
Why are they apologizing? In a since-deleted video posted May 26, the Stauffers accept responsibility for rehoming their son Huxley, who they adopted from China. According to the parents, they were unaware of the full extent of Huxley's medical issues, despite claiming in the past that they were prepared for the worst.
How cliché was the apology? Dressed in all-white, Myka starts crying at about 30 seconds in, talking about how thankful she is for the fans that are still supporting her. Most of the video is defending themselves from the "insidious, hurtful" comments they've received and explaining why waited to address the situation. A month later, on June 24, Myka Stauffer posted a four-page statement on Instagram to "take full responsibility for all of the hurt that I have caused."
Did they get canceled? The Stauffers have yet to return to social media full-time as a family, but James is active on his "Stauffer Garage" car-detailing accounts.
Best College Essay: Bryce Hall
Why are they apologizing? Not for throwing COVID-friendly parties (that happens later and he's not sorry). On June 23, Hall apologized for getting arrested for marijuana possession in May with an open letter published in People magazine. This isn't a drinking game, but that sentence made me want to take a shot.
How cliché was the apology? Mr. Hall begins by saying he was raised better than this and ends by listing his philanthropic accomplishments, like … attending a Black Lives Matter rally and donating to the NAACP.
Did they get canceled? No, this apology clearly wasn't for the tweens that follow him. You think they subscribe to People?
Most Genuine Apology: Jenna Marbles
Why are they apologizing? The YouTube legend apologized for numerous old videos with offensive jokes about race and gender. She had already removed several, including an impression of Nicki Minaj that she claims was not blackface, but accepts the fault anyway.
How cliché was the apology? Aside from the comfy clothes, which fans know to be her uniform, the June 25 video not very cliché at all. She apologizes repeatedly, completely denouncing her past actions in a since-deleted video. "I think I'm just gonna move on from this channel for now," she finished. "I want to make sure the things I put out into the world are not hurting anyone."
Did they get canceled? Jenna Marbles canceled herself. The beloved creator received overwhelming praise, is credited with one of the only good YouTuber apologies, but has not posted anywhere online since this video.
Least Accountability Taken: Shane Dawson
Why are they apologizing? Decades of racist and pedophiliac "jokes," which critics have repeatedly resurfaced throughout his career, to no real detriment. He also touches on the rumors of his involvement in Dramageddon 2.0, when Tati Westbrook (and Jeffree Star) tried to cancel James Charles.
How cliché was the apology? Shane Dawson pretty much gets BINGO as soon as his video, literally titled "Taking Accountability," starts. He addresses several, but not all, of his controversies in the June 26 video, putting the blame on the person he was in his past.
Did they get canceled? Since the end of June, he's been primarily offline, but as one of the site's biggest creators, he still has millions of subscribers waiting for his return to YouTube.
Best Crying Face: Tati Westbrook
Why are they apologizing? For attempting to cancel James Charles in her infamous "BYE SISTERS" video, where she alleged he sexually harassed straight boys in retaliation for Charles posting about her rival hair-gummy company.
How cliché was the apology? The video starts with her tearing up. Can you believe we got a sequel to "BYE SISTERS"?
Did they get canceled? Westbrook hasn't posted a video or returned to social media since sharing this on June 30, but she's still embroiled in drama.
Least Fucks Given: Jeffree Star
Why are they apologizing? RACISM. Oh, wait that was the title of his first apology video, three years ago. In "Doing What's Right," posted July 18, Jeffree Star says sorry to James Charles for getting caught in the "hype" of Dramageddon 2.0 and not, uh, directly contributing to it by calling Charles a "predator" and threatening to release an allegedly damning voice note.
How cliché was the apology? The fluffy pink robe is "apology casual" at its rudest. He also completely glosses over the racism and misogyny he is accused of by using the deaths of Breonna Taylor and Elijah McClain at the hands of police as a distraction.
Did they get canceled? Jeffree Star continues to wreak havoc on the YouTube community and release beauty products with Jeffree Star Cosmetics, though skepticism is at an all-time high.
Worst Coronavirus Safety Advice: James Charles
Why are they apologizing? Just when the Internet had taken his side again, James Charles attended a packed party at the Hype House on July 22, thrown by YouTuber Nikita Dragun for TikToker Larray.
How cliché was the apology? James Charles refuses to fall into old traps. Three days later, on July 25, he briefly addressed it in his vlog of that day, writing, "Even though I have been wearing a mask in public and have tested negative multiple times, going to a party during a pandemic was a selfish and stupid decision."
Did they get canceled? Charles is continuing to thrive despite all the coronavirus risks he and his influencer friends continue to take.
Worst Close-up: Lil Huddy
Why are they apologizing? For exposing several TikTokers' relationship drama in a Note posted on Twitter July 7 because he was mad about a rumor that he cheated on Charli D'Amelio with Nessa Barrett.
How cliché was the apology? Over a week later, on July 17, Lil Huddy kept it brief, leaned over the camera, and emphasized that he's "learning" from the situation in an Instagram video.
Did they get canceled? Nope! He's on good terms with most of the people he called cheaters and even ex Charli D'Amelio, but now we all know he belongs to the streets.
Most Likely to Boost Their Platform: Addison Rae
Why are they apologizing? Kourtney Kardashian's mini-me apologized for reposting an anti-Black Lives Matter video four years ago.
How cliché was the apology? The 20-year-old responded after a week-long hiatus, posting a statement clearly written on the Instagram Story editor to Twitter July 8. In it, she said she's "committed to learning" from her mistakes.
Did they get canceled? Quite the opposite. A racism scandal is basically a Kardashian initiation rite.
Best Networking Opportunity: James Charles (again)
Why are they apologizing (again)? On August 20, Charles posted an Instagram Story bashing the creator of a new beauty brand that accidentally sent him empty products saying they had "no business having a makeup brand." That owner? Lauren Conrad.
How cliché was the apology? Listen … James Charles has made a few apologies in his day. This was no "tati." He gave a basic apology on Instagram and got to squash it with Lauren Conrad face-to-face in a NikkieTutorials video three months later, on November 12.
Did they get canceled? Obviously not, but he should be for saying he was only "a tiny little kid" when The Hills was on. We get it, you're youthful and you'll live forever!
Best Use of Instagram Story Filters: Charly Jordan
Why are they apologizing? Going to Rwanda during a pandemic, then criticizing their quarantine procedures on TikTok when she tested positive on September 3. (A follow-up test was negative).
How cliché was the apology? In her Instagram Story apology September 7, where she's using a filter that literally makes her look like a glowing angel, she stresses that she "learned [her] lesson 100 percent."
Did they get canceled? She's vibing on TikTok and Instagram, as per usual.
Most Overworked Editor: Tana Mongeau
Why are they apologizing? Racism. Specifically, microaggression accusations from Black creators Kahlen Barry and SimplyNessa as well as other racist remarks. She also apologized for her previous apology videos and "every single one of my past tweets" in the September 4 video.
How cliché was the apology? Mongeau, in a white sweatshirt, robotically holds "herself accountable" and takes "one hundred percent accountability" for her discriminatory remarks and the apology videos she's previously made. Even though it sounds pre-written, it's still full of cuts. Mongeau also adds that she's donating to multiple charities, including the NAACP.
Did they get canceled? Nope, but she was active enough to get "canceled" again in October for offering to sell nudes in exchange for Biden votes, a.k.a commit election fraud.
Best Comeback: Charli D'Amelio
Why are they apologizing? A YouTube video posted November 16 where Charli and her sister, Dixie D'Amelio, openly dislike the food a private chef has prepared for them to his face. In the same video, Charli also complained about not hitting 100 million followers on the anniversary of reaching 1 million.
How cliché was the apology? On Instagram Live November 19, though she did break down into tears, Charli directly addressed her attitude in the video and apologizes for seeming ungrateful for her supporters.
Did they get canceled? She lost over half a million followers in a day, but quickly gained them back and passed the 100 million milestone four days later. Charli is once again TikTok's unproblematic princess.
Fewest Brain Cells Exerted: Gabi DeMartino
Why are they apologizing? The DeMartino sisters snuck this one in under the wire. Specifically, Niki's twin, Gabi, had to apologize for uploading a video of herself as a toddler lifting her skirt to her OnlyFans account with a suggestive caption on December 1. Subscribers could purchase the photo for $3. She was suspended from the platform amid accusations of distributing child pornography.
How cliché was the apology? In the less than two-minute YouTube apology video shared December 3, DeMartino, in white, apologizes profusely and holds back from tearing up while delivering sound bites like, "I'm going to grow and learn."
Did they get canceled? DeMartino's OnlyFans account was suspended. Real cancellations are few and far between, but clearly in 2020, anything can happen.