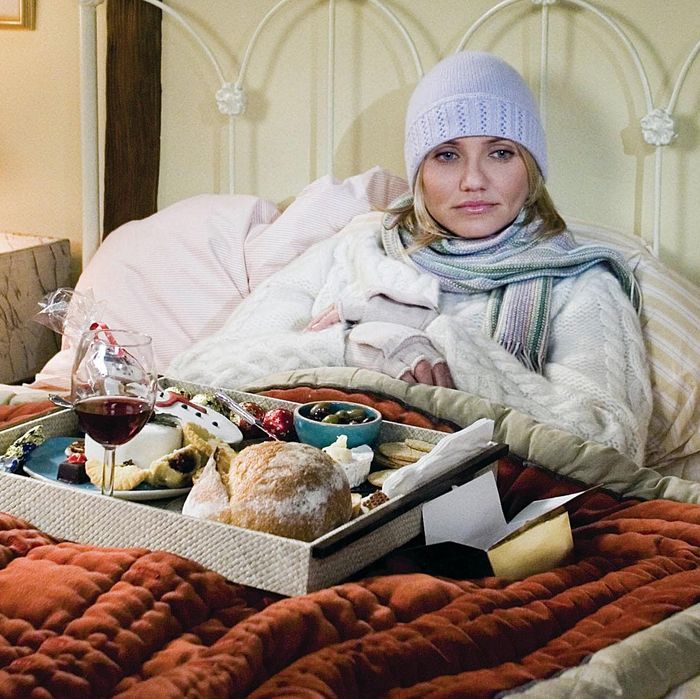 Me writing this piece.
Photo: Alamy Stock Photo
This story originally ran in March but still feels extremely relevant to our pandemic reality nine months later.
Nancy Meyers' film oeuvre has already taught us so much. For instance, we may have an identical twin living in another country, and that's why we need to go to summer camp. It's okay to have a secret affair with your ex-husband, as long as you end it in a reasonable timeframe and remodel your house. It is possible to have a tan in rural wintertime England. When life hands you your dead friends' baby, make gourmet baby food. But I believe that, in these uncertain times, Nancy Meyers has one more important lesson to impart unto us: We should all stay the fuck home for a minute.
Nancy Meyers has long celebrated the notion of Being Home, of wrapping yourself in some sort of chemise, sitting on a soft piece of furniture, and drinking a goblet of white wine — often alone, sometimes crying, sometimes just chilling extremely hard. That's basically the thesis undergirding all of her work. Now that we are being encouraged by pandemic experts around the globe to socially distance to avoid millions of preventable coronavirus-related deaths, Nancy Meyers' filmic philosophy should resonate more than ever before. If you are physically unable to avoid going to public places because you're on the front lines of this global crisis, we are eternally grateful to you and suggest you relieve your paralyzing stress by watching It's Complicated several times in a row when you do get home. But if you can stay home, the only ethically responsible thing to do right now is to cancel all of your plans that involve gathering in groups in a public space, then make some croissant dough, place it on your face, and pretend it is a beard.
Below, I have provided some stunning social-distance-spo from Nancy's filmography. Please study the captions carefully for more specific bits of wisdom.
I'd also suggest watching these actual films as a warm, almost sedative brain bath. A key to the photos above to help you figure out which one to start with: It's Complicated, The Holiday, It's Complicated x 3, Baby Boom, It's Complicated, The Parent Trap, Something's Gotta Give x 2, The Parent Trap, The Holiday, Something's Gotta Give.