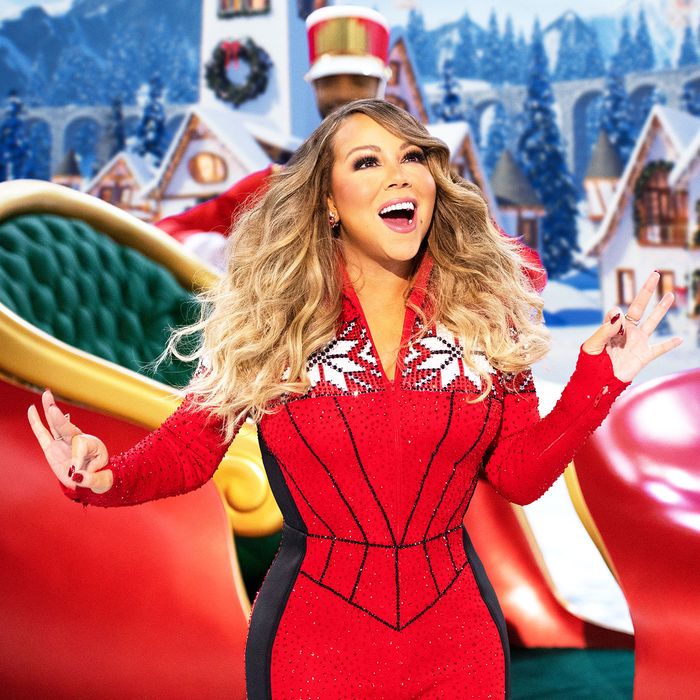 Mariah always walked two worlds to become one of our most gifted vocalists and successful songwriters.
Photo: Apple TV+
Pop is pomp and circumstance, sleek, streamlined unreality. The ideal career in it is a frictionless drift, a graceful zero-gravity paddle from milestone to milestone, or at least that's what we're led to believe in the glow of seamless marketing and promotion. A pop star's job is to know all the right buttons to press, what notes to sing, which stances to take, which ideas to avoid, and what to say when they find themselves on the wrong side of public opinion. Few will ever achieve a perfect game, particularly now, when sparking mass outrage is as easy as publishing a single sentence on social media. But if anyone has come close, it's Mariah Carey. For 30 years now, the singer-songwriter, producer, director, actress, and author has held court as American pop music's preeminent diva, architect of timeless melodies sung in a comforting whisper that lilts in the space between our dreams and waking lives, and a mirthful public figure who wears shade like a shawl.
Three decades after the release of her self-titled debut, our favorite chanteuse has decided she doesn't care to be so elusive anymore, and she's set about filling in some of the blanks in her story, unearthing rarities previously relegated to vaults and out-of-print CD maxi singles, and telling rocky stories that informed the peaks and valleys of her career in her memoir, The Meaning of Mariah Carey. The year of celebrating Mariah has only reinforced what we knew about her all along, that she's a fighter who has often had to pave the road in front of her to move forward.
In the first act of her journey, detailed in harrowing specificity across the early chapters of The Meaning, Mariah Carey endured tumult at home and in the broader community of Suffolk County, New York, as the youngest (and lightest) daughter of an interracial couple comprising her father, an ex-military Afro-Latino aeronautical engineer, and her mother, an Irish American opera singer and vocal coach, navigating fierce squabbles between her parents and her siblings, and racism from friends, neighbors, and schoolteachers who couldn't contain their disbelief and disdain upon finding out what her family looked like. Nurturing her gift as a singer, sometimes at the cost of skipping school to work sessions, Mariah broke into the music biz on a chance encounter with Sony exec Tommy Mottola, who would be both her biggest early industry cheerleader and — to hear her tell stories of controlling behavior and nickname their marital home "Sing Sing" after the New York correctional facility — her biggest hindrance.
As smooth as her rise to the top may have seemed to the casual onlooker — see: effortless early performances like the 1990 Saturday Night Live appearance where she floated through Mariah Carey's "Vanishing," a sea of sandy brown curls, raw vocal power, and possibilities — the battle to ensure that her career wouldn't live and die with the '90s made for a shaky start to her second act. Between the career highs of 1997's Butterfly and 2005's The Emancipation of Mimi, it seemed the singer's Midas touch had lost its luster, and the rapturous press that ranked her among mononymous pop icons Whitney and Madonna had turned. But Mimi (and subsequent releases like E=MC2, the tongue-twisting Me. I Am Mariah … The Elusive Chanteuse, and 2018's sleek, lovely Caution) proved Mariah's voice and melodic sensibilities to be timeless, and her spirit unkillable.
In the latest act of her career, Mariah Carey has little use for the regal distance that kept some of the finer points of her story as something of a mystery. But as she's opened up in a year of juicy revelations and archival releases, it's become clear that she was always an open book if you knew where to look. She processed overcoming pain and embracing forgiveness for her family in the 1999 Rainbow cut "Petals." She took Mottola to the cleaners on E=MC2's "Side Effects." If you want to know how she felt about her short-lived relationship with sometime New York Yankees shortstop Derek Jeter, Butterfly's "Honey" encapsulates the giddy rush of the new romance, and Rainbow's "Crybaby" catalogues the fallout from the breakup. The Meaning gives greater insight into the personal and professional difficulties that hurt the rollout and execution of her 2001 box-office bomb Glitter, but Carey was quick to note that this is a push that began with her loyal constituency, the Lambily, whose #JusticeForGlitter campaign was a reminder that the soundtrack isn't as bad as the criticism at the time suggests.
The drive to reclaim her truth extends to the music itself. Like many gifted women who work as singer-songwriters in a pop field of play, Mariah has had to remind everyone that she writes the notes and the lyrics she sings; hearing her explain how she dictates a melody to a session player, how a fragment of a melody buzzing in her head can turn into a hit record, is as illuminating as hearing her recount stories of celebrity encounters with Rick James — who "required a white suit, white limo, and perhaps some other white accoutrements" in his session for Glitter's "All My Life" — and Cam'ron, who shotgunned Purple Haze with the singer during the making of Charmbracelet's "Boy (I Need You)": "I don't inhale directly. The vocal cords, dahling."
The EP releases are vibrant clinics in the versatility of Mariah Carey. Butterfly's "The Roof" works just as well as a Mobb Deep collaboration as it did when Brooklyn DJ and producer David Morales turned it into a club anthem. The same is true of Music Box's gospel infused "Anytime You Need a Friend" and Mariah Carey's new jack swing gem "Someday," whose house remixes slap as hard as the originals. (You knew this all along if you came up within range of FM radio dance stations like New York City's WKTU.) Mariah always walked two worlds, navigating other people's prickly, binary conceptualizations of race as a child and later moving through boardrooms and studios, through pop and R&B/hip-hop charts, and through public and private lives as a one of our most gifted vocalists and successful songwriters.
Practice makes perfect: In the new Apple TV+ show Mariah Carey's Magical Christmas Special, Mariah's as much at ease channeling old Hollywood wholesomeness while yucking it up alongside Billy Eichner and Woodstock from "Peanuts" as she is reuniting with frequent hip-hop collaborators Snoop Dogg and Jermaine Dupri. The lesson in all of this is to be who you are and leave others to the worrying about where you fit. Make enough noise and they'll get with the program, or they won't, and you'll find yourself so far beyond these quibbles that they'll look as small as they deserve to in your rear view. A wise woman once said, "Only you can make it happen."