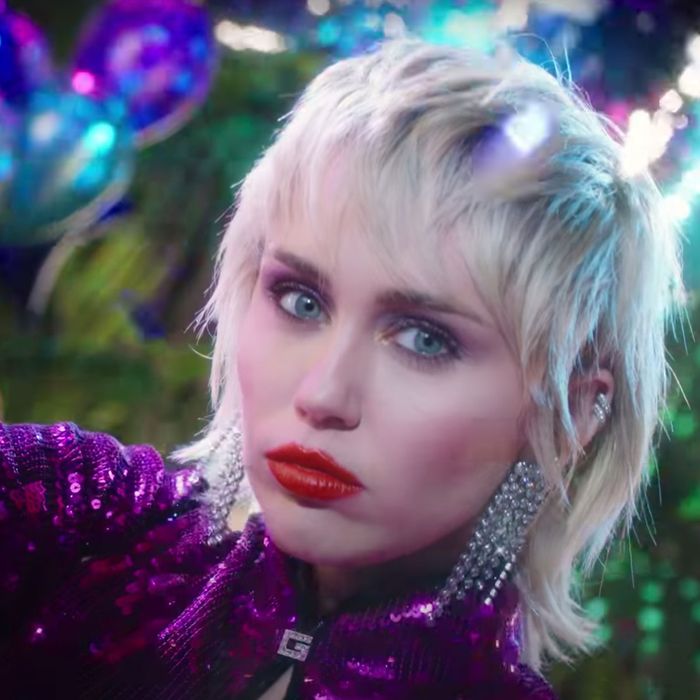 Plastic Hearts
is an album both in awe of and in conversation with the classics, whose melodies wear their inspirations proudly.
Photo: Youtube
1980 was a watershed year for women in rock music. At the same time, the men in metal, post-punk, new wave, and art rock made masterpieces like David Bowie's Scary Monsters (and Super Creeps), AC/DC's Back in Black, Motörhead's Ace of Spades, Joy Division's Closer; there were brilliant debut releases from former Runaway Joan Jett, whose self-titled solo album was renamed and reissued the next year as Bad Reputation after its killer opener; the Pretenders, whose self-titled debut technically hit America in the final days of 1979 and landed in the U.K. in January; and London's Girlschool, friends of Motörhead, whose debut Demolition is every bit as volatile as anything Lemmy's group was selling that year. X, Blondie, and the B-52s showed how versatile punk could be, just as much as the Clash's sprawling triple album Sandinista did. Breakout artists like Kate Bush and Pat Benatar charted well with the singles "Babooshka" and "Hit Me with Your Best Shot" and impressed audiences with albums — see Kate's Never for Ever and Pat's Crimes of Passion — that would help to cement them as essential to that era's sound. Pacific Northwest quartet Seafood Mama enjoyed a local hit in "Harden My Heart," a showcase for front woman Rindy Ross's impassioned vocals and sax accompaniment, later changing its name to Quarterflash and entering rotation on the fledgling MTV with a fiery video treatment for the early hit. Also waiting in the wings was Stevie Nicks, who came off of Fleetwood Mac's Tusk tour and set about recording the songs she'd release the next year as Bella Donna. 1980 was an embarrassment of riches not unlike 2020, a year so stacked with great rock albums by women that there wasn't room for men in the nominees for the Grammy for Best Rock Performance.
Miley Cyrus has been in search of the perfect balance between rock attitude and pop smarts her entire career. At its core, Hannah Montana was a show about the weight of pop star aspirations and how much one must give of themselves in order to maintain a profile on the charts. It's a question Miley struggled with long after she left the Disney Channel fold. In the drastic swing between between her roots and rock records of the late 2000s and the pop and hip-hop moves she pulled at the beginning of the next decade, there is massive tension between the singer's pedigree as the daughter of country star Billy Ray Cyrus (and goddaughter to icon Dolly Parton) and her desire to be seen as something, anything else. This restlessness made the Bangerz era cloying in a way that didn't serve the music. Experimenting with the Flaming Lips in the Dead Petz year, she sought to drown her pop star image in a glittery, Day-Glo ooze. Cyrus caught heat in those years as conversations about cultural appropriation challenged white artists adding flavor to their work with approximated Blackness that didn't feel authentic or appreciative enough of the source material. Her reaction, again, was to get as far away from the scene as possible, slamming the sex-positive strip club music she'd pursued overeagerly in the Bangerz era and returning to square one with the squeaky-clean pop-rock of 2017's charming (if clinical) reset, Younger Now. On last year's much better She Is Coming EP, Cyrus seemed interested in a sound that reconciled the many moods of her career, an aim that's revisited on Plastic Hearts, Cyrus's new and seventh solo album.
Like Miley and Mark Ronson's 2018 hit "Nothing Breaks Like a Heart," Plastic Hearts unites the singer's wide-ranging tastes effortlessly. The inspiration this time is the tuneful pop-rock convergence of the early '80s, a pivot telegraphed in a series of covers of rock hits like Billy Idol's "Rebel Yell," Blondie's "Heart of Glass," and Hall and Oates's "Maneater." The change is apparent from the first notes of the Plastic Hearts opener "WTF Do I Know?", where a fat electric bass line played by producer Andrew Watt opens up into a hard-charging chorus bordering on pop-punk. With Watt in tow, Miley zips through a dozen short, sweet tracks that touch on synth-pop, New Wave, and windswept acoustic ballads, mixing and matching styles as one maps outfits in a department store fitting room. It's a thrilling ride; Watt's a good pick for this as a producer versatile enough to have scored credits with everyone from Post Malone to Cardi B to Ozzy Osbourne, whose underrated February comeback album Ordinary Man soared thanks in part to the wingman's flair for classic rock pastiche. Like that album, Plastic Hearts attempts to storm the rock canon, mixing hero worship and sturdy songwriting and production chops.
Plastic Hearts is an album both in awe of and in conversation with the classics, whose melodies wear their inspirations proudly. The bass intro to "WTF" subtly evokes the confident strut of Hall and Oates's "You Make My Dreams Come True"; minutes later, the title track employs the same shuffle as the group's "Maneater," this after a coy tribute to shouts and bongos at the beginning of the Rolling Stones classic "Sympathy for the Devil." At the chorus, the Billy Idol duet "Night Crawling" borrows a swatch of melody from "You Spin Me Round (Like a Record)," the 1984 smash by U.K. synth-pop act Dead or Alive. The first ten seconds of the lead single "Midnight Sky" call back to the shimmering opening of Fleetwood Mac's 1987 hit "Everywhere," an homage tacitly acknowledged in the "Edge of Midnight (Midnight Sky Remix)," where the song is mashed up with Stevie Nicks's Bella Donna smash "Edge of Seventeen." "Prisoner," Miley's killer Dua Lipa duet, circles the indelible refrain from Olivia Newton-John's "Physical" in the same way Lipa's Future Nostalgia single "Physical" mirrored Patti LaBelle's "New Attitude" when the chorus hit. Plastic Hearts uses familiar sounds to jump start Miley's natural gifts as a country-rock singer and a writer who can cut deep when she chooses to.
Beneath the studded leather and early MTV rock fan service, Plastic Hearts is a reckoning, with Miley's divorce, with the contentious press in her rear view, and with her own back catalog. After the front half of the album is done playing spot the influence, the back half takes off with a string of serious and personal songs where the singer makes it clear she understands her strengths and weaknesses now, and the reasons she has set people off in the past, and that she's at peace with being a work in progress. In "High," a folk-rock tune every bit as grounded and euphoric as "The Climb," Miley points out the difference between missing someone and cherishing the memories created with them, a mirthful way to say she enjoyed her time with ex-husband Liam Hemsworth, but she recognizes that ship has sailed. "Hate Me" isn't as kind, but the second verse implies that changing her routine has been bittersweet: "Go ahead, you can say that I've changed / Just say it to my face / One drink and I'm back to that place / The memories won't fade." The Joan Jett duet "Bad Karma" takes ownership of the ways Miley sometimes courts trouble; "Never Be Me" holds a mirror to the jilted Bangerz closer "Someone Else," reversing the roles as Miley invites you to accept her, flaws and all, or move on.
"Golden G String" addresses the listener with candor, copping to being deliberately provocative at times but also suggesting that some of the pushback for it has been overblown, explaining Miley's motivations in the first verse — "I did it all to make you love me and to feel alive" — while pointing out in the chorus that there hasn't been as much scrutiny for music industry men: "The old boys hold all the cards, and they ain't playing gin / You dare to call me crazy, have you looked around this place?" From a peaceful, easy rollout to the sleek, accomplished, referential music, Plastic Hearts is the album Miley Cyrus had in her all along, a comfortable balance between songs that give her rock singer's rasp the necessary room to soar and the pop inroads that made her a household name among adults who missed the boat on Hannah Montana. Looking for inspiration in past greats who navigated both spaces with comfort, Cyrus finds a compelling middle ground for herself as well that, when the album isn't trailing the classics too closely, feels like the summation of everything she's learned in music and media up until now. Reflecting on her worst times from the distance that maturity allows, Miley Cyrus has come through with her best album. Can it be this peaceful for her forever?