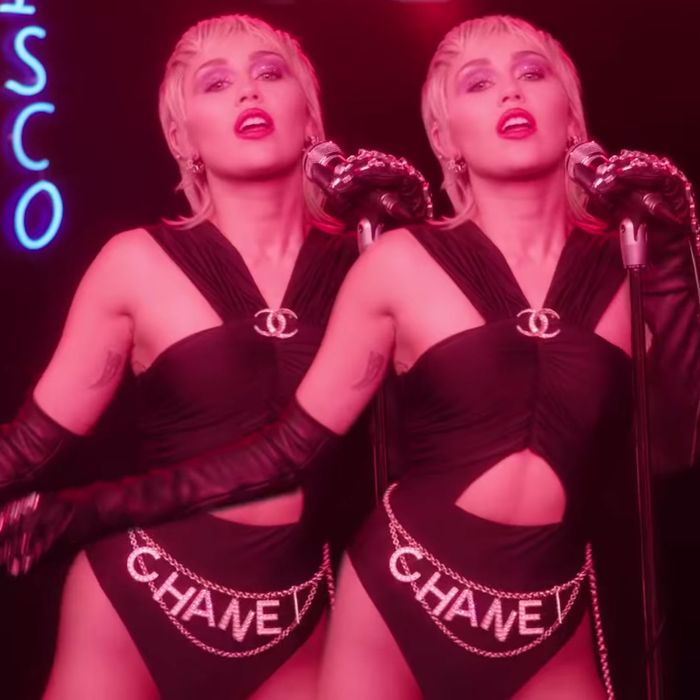 Just a few influences and then some.
Photo: Miley Cyrus/YouTube
Miley Cyrus has long worn her influences on her sleeve, from duetting with everyone from Joan Jett to her godmother, Dolly Parton, to covering musicians from every genre under the sun. She's long revered the rock greats, from '60s giants like the Beatles and the Velvet Underground to the punk and glam rockers of the '70s and '80s. This year, we've finally gotten to hear her take clearer ownership of those influences — first on covers of Blondie's "Heart of Glass" and Hall & Oates's "Maneater," then on her Stevie Nicks–indebted single, "Midnight Sky," and now on her long-awaited rock album, Plastic Hearts. After a decade of of flirting with everything from country to rap to dance, her seventh album carries the potential for a great Cyrus rock album in the near future, if she's committed to it. In the meantime, if Plastic Hearts has you in the mood for more throwbacks, here are 11 other albums you might like, from the 1970s up to 2020.
Blondie, Parallel Lines
Cyrus set the stage for this new era of her career with a loud, brash cover of Blondie's breakout hit, "Heart of Glass." That song changed music by delicately merging rock sounds with a disco-inspired danceability, the same balance Cyrus shoots for on Plastic Hearts. Its parent album — also featuring more straightforward fare like "One Way or Another" — looms large over Cyrus as the blueprint for the New Wave sound that would blow up in the 1980s.
Stevie Nicks, Bella Donna
As a whole, Stevie Nicks's style is more in line with one of Cyrus's past sounds: country-adjacent, big-voiced pop music. But on Plastic Hearts' lead single, "Midnight Sky," Cyrus sampled the iconic hook of Nicks's breakout solo hit, "Edge of Seventeen," showing how serious she was about digging into the past. Bella Donna, Nicks's solo debut, also represented a break from her own past as a singer in Fleetwood Mac. And, like Cyrus would on her album decades later, Nicks also called on some other rock icons for assists, from Tom Petty to the Eagles' Don Henley.
Dua Lipa, Future Nostalgia
Cyrus's glam-rock homage hasn't been the only blast from the past overtaking pop music and the charts this year. On the opposite corner of the genre, divas have been longing for the dance floors of the '70s — and none more prominently than Dua Lipa, whose sophomore album, Future Nostalgia, became the shiny first major statement of 2020's disco revival. The New Wave music Cyrus drew on for Plastic Hearts built itself on disco too, making a Lipa linkup on the sexy second single, "Prisoner," inevitable.
Joan Jett and the Blackhearts, Bad Reputation
Plastic Hearts is far from Cyrus's first rodeo with Joan Jett, who guested in her "Backyard Sessions" back in 2015. Jett blazed the trail for women making hard rock, from her first band, the Runaways (for more of them, check out their boundary-pushing Queens of Noise), to her solo career with the Blackhearts. "Bad Karma," the Plastic Hearts song featuring Jett, sits on the shoulders of Jett's confident solo announcement, "Bad Reputation," just as Plastic Hearts builds off Jett's album of the same name. They're both fearless, feminist kiss-offs — the old master passing the torch to the new one.
Billy Idol, Rebel Yell
Cyrus recently told Zane Lowe that Billy Idol's synth-rock ballad "Eyes Without a Face" had haunted her while making Plastic Hearts, inspiring producer Andrew Watt to get him involved with her song "Night Crawling." You'll find "Eyes" on Idol's hit second album, Rebel Yell, but Plastic Hearts recalls the title track even more: synth-rock that sounds best in dimly lit rooms, built around danceable guitar lines and sexy snarls.
David Bowie, Let's Dance
There was barely a musical development of the '70s and '80s that David Bowie didn't touch, from glam rock on Ziggy Stardust to punk on Diamond Dogs to R&B on Young Americans. He came a little late to '70s dance and disco, but when he did, he came in full force, tapping Chic guitarist Nile Rodgers to work on Let's Dance and turn the title track into his second and final American No. 1. Yet on Let's Dance, Bowie maintained his glam sheen and punk confidence, making the album a wholly original document. Not only does Cyrus attempt a similar mix of aesthetics on Plastic Hearts — her recent glam-rock performance style is also indebted to Bowie.
Janis Joplin, Pearl
A 2019 vocal-cord procedure made Cyrus's trademark rasp even more prominent on Plastic Hearts, her first music recorded since the surgery. Janis Joplin brought gruff vocals (along with a healthy dash of twang, like Cyrus, too) to rock music over 50 years ago, making it her signature as she evolved into one of the most popular rock stars of the '60s. Hear it in full, captivating force on her masterwork Pearl, the posthumous album on which she displayed her full capacity as a performer.
Metallica, Metallica (The Black Album)
Plastic Hearts doesn't live up to the Metallica influence Cyrus has been alluding to during the album rollout, with not nearly enough big guitar moments to fall close to metal. That said, it does have its power ballad highlights on songs like "Angels Like You" and standout "High," and if there's anyone who, like Cyrus, can make a power ballad their bitch, it's Metallica. You'll find the most satisfying ones on the band's go-for-broke self-titled fifth album (known as The Black Album to fans), from "The Unforgiven" to "Nothing Else Matters," which Cyrus has covered herself.
Heart, Little Queen
Cyrus and the Wilson sisters share an influence in Led Zeppelin, but Cyrus couldn't have reached her brand of pop-rock without the stepping stone of Heart. Little Queen is where the band's vision came into focus: Hard rock turned down just enough to make a splash in the pop world, but still with unpolished grit. Past monstrous opener "Barracuda," Little Queen is as dynamic as Plastic Hearts, from power ballads to guitar rippers to pop sing-alongs.
Fefe Dobson, Fefe Dobson
Canadian pop-rocker Fefe Dobson crossed paths with Cyrus around when the then-Disney star was dabbling in rock for the first time in 2008, co-writing her Meet Miley Cyrus song "Start All Over." Dobson's own self-titled debut, from five years prior, is perfect 2000s teen rock, with more of an edge than you'll find on Cyrus's music from the time — or even on much of Plastic Hearts, for that matter.
Ashlee Simpson, Autobiography
Cyrus was far from the first (former) child star to go rock. It's not hard to imagine 11-year-old Cyrus, before her Hannah Montana days, enjoying Ashlee Simpson's 2004 debut album, hard-rocking by aughts standards of teen pop music. It influenced Cyrus's music as far back as her 2008 solo debut, Breakout (not to mention that Cyrus covered "Kicking and Screaming," off Simpson's follow-up, I Am Me, around the same time), and returns as an undertone in the pop-rock of Plastic Hearts.