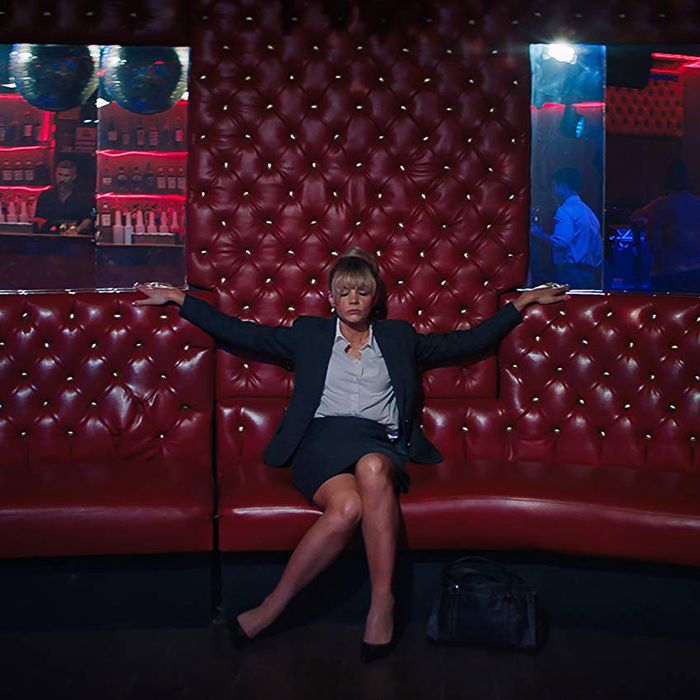 Carey Mulligan is outrageously great as a Me Too vigilante in an unsettling first film from Emerald Fennell.
Photo: Courtesy of Sundance Institute
This review originally ran in January 2020 during the Sundance Film Festival. We are republishing the piece on the occasion of the film's release on demand.
Promising Young Woman is a Pepto-pink revenge saga about a character who's dropped out of med school, and life in general, and devoted herself to trolling for would-be rapists in bars. Her name is Cassandra Thomas (Carey Mulligan), and her targets would never call what they intend to do as rape, even to themselves. They are, inevitably, self-described nice guys who just want to make sure she's okay — offer her a ride home, perhaps, and then ask if maybe she feels like stopping by their place for one last drink on the way. Cassie's trick is to appear obliterated and alone — to make herself look vulnerable and see who attempts to take advantage. When she snaps back to stone-cold sobriety midway through someone pulling the panties off what they believe to be her unconscious body, her targets recoil as though they were the ones being violated, sputtering terrified defenses and insisting she leave. She keeps a tally of her results in a notebook that appears to be color coded by how bad things get.
They go down easy, these uncomfortable, blackly funny vigilante sequences — a little too easy, with their snappy sketches of men who bloviate about David Foster Wallace and serve kumquat liqueur and wear fedoras and tell women that they don't need to wear all that makeup, that they're more beautiful without it. Promising Young Woman is a candy overdose, stomachache of a movie, in ways that seem both intentional and not. At times, it's a gleeful, if borderline glib, story about a woman wreaking her chosen form of vengeance — nonviolent, despite a few fake-outs otherwise — upon an endless supply of men who are condemned as much for their dickishness as their predatory intentions. But there's a volcanic rage bubbling under this #banmen setup, creating a tension to the film that's unsettling and unresolvable. It is, ultimately, a portrait of a woman alight with anger that might be righteous but that's also utterly derailed and threatens to consume her existence — a fantasy of self-immolation.
Promising Young Woman is the directorial debut of actor and writer Emerald Fennell, who between playing Camilla on The Crown and showrunning Killing Eve season two, has been positioned as a possible next big thing. The film isn't in danger of dissipating that hype. Fennell's got a flair for coating incendiary subject matter with a sugar shell of hyperfemininity, an aesthetic sense that encompasses everything from her heroine's enviable Easter-hued manicure to the cupcake-laden display at the coffee shop where she works. Cassie's styling evokes an Instagram celeb-ready softness, the camera at one point gliding admiringly up her back to take in her high-waisted jeans, floral top, and tendril braid as she leans over the counter reading a book during a slow stretch. She's not at all approachable, but she's fluent in how to present herself as such in sometimes disturbing ways — like when she follows a makeup tutorial for "blow-job lips" and then strategically smears the result to make it look hours into a sloppy night. She weaponizes her blonde, white delicacy, though that blonde, white delicacy is also an unacknowledged quality enabling the film's premise. Cassie repeatedly puts herself in the proximity of angry strangers who don't appear inclined to do more than throw her out.
Girlishness isn't a contrast to darkness in Promising Young Woman but incidental to it, the two perfectly capable of coexisting. Less harmonious are the two modes in which the film operates. Cassie didn't just torch her dreams of being a doctor on a whim — her life went off the rails after something very bad happened to her late best friend. The details are trickled out slowly but are depressingly easy to guess from Cassie's evening activities. When she turns her attention from shitty men in a general sense to targeting the specific parties (not all of them male) involved in what happened back at med school, Promising Young Woman shifts into another gear, presenting Cassie with the choice of rejoining existence or delving even deeper into her mission. Mulligan is uncannily good in this movie, deploying her sweetheart smile like a ballistic weapon, and exuding an apocalyptic air that makes her seem a little less like someone with a death wish and a little more like someone who could plausibly intimidate the unknown men she ends up in a room with. In offering up Bo Burnham as a former classmate turned disarmingly considerate suitor, the film threads a difficult needle regarding the kind of prospective partner who's capable of navigating past all of Cassie's defenses.
But Cassie's romance also sets Promising Young Woman up for a big finish that has to contend with the complicated question it's been skirting all along — one of reconciliation versus retribution, and whether there's any benefit to holding fast to rage forever, no matter how warranted. It's a question that's impossible to answer broadly, but the specific conclusion for which the movie opts is both profoundly upsetting and apparently intended to provoke applause. Fennell's film is a vibrant, stylistically precise piece of work, but the sentiments it conveys don't feel examined. It's an acceleration off a cliff when what you'd really like to see is some kind of road forward, no matter how rough.