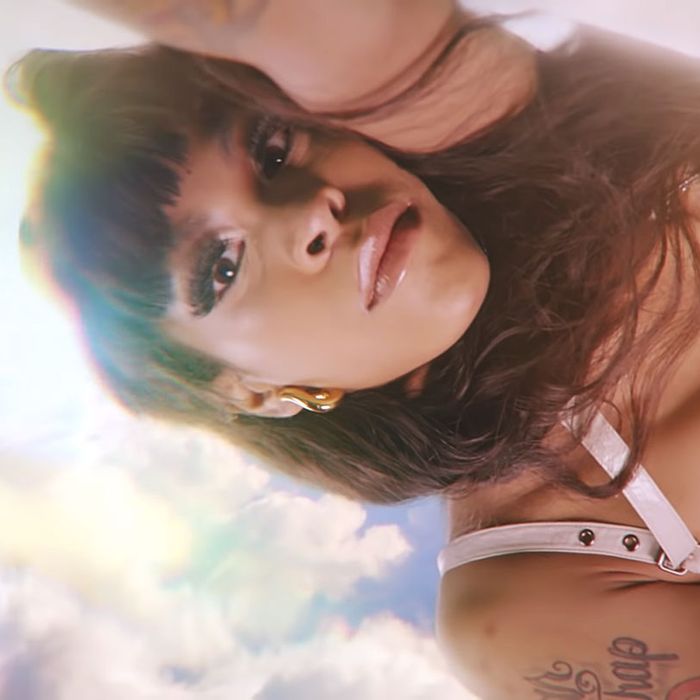 Photo: Rico Nasty/YouTube
If you scroll all the way down Rico Nasty's 121 Instagram posts, past the playful, surreal visuals she's made her calling card, you'll find a caption from November 2019 with a warning: "Nightmare Vacation #loading." Now maybe she didn't intend on predicting our collective global hiatus in that moment, but, well … You were there: By May 2020, a deadly pandemic had sent millions home from work; then the summer's atrocities sent Black Americans back to the streets to beg for justice for Black lives. All the dreams for the year were replaced with our worst fears. Nightmare Vacation, the album the dauntless 23-year-old Maryland native releases as her debut today, had nothing to do with the coronavirus, but everything to do with the underlying stress and uncertainty that predated it, and only worsened since. Last year, Rico released her most successful mixtape to date, Anger Management, and was named a member of the XXL Freshman Class alongside hitmakers Megan Thee Stallion and Roddy Ricch. From the outside, it was a career-making year, but behind the scenes, she was "lost." "I felt like I dedicated my whole life to being this fucking Rico Nasty person and I lost somebody that made me into that person," she says on a recent Thursday afternoon. "And that shit fucked me up." After over eight years of being Rico Nasty for the world, she realized only her family could see her as Maria Kelly. "So many people love me for this character that I've developed, but [family members] love me for me being a little kid, like me sharing my Barbies, and taking baths together," she said. "They love me for me."
Zooming in from her home in Fort Washington, Maryland, where she lives with Malik Foxx, her longtime boyfriend and manager; her 5-year-old son, Cameron; their dog, Fish; and a new pet snake called Voldemort, Rico Nasty is barefaced, comfortably slumped, and smoking a joint. Maybe one day she'll move to somewhere like Florida or Texas, get a new house with marble countertops and her current obsession, floor-to-ceiling windows. But right now, she's intent on combining her two worlds and minds, melding Rico Nasty with Maria Kelly from the DMV and loving whoever that is. Nightmare Vacation, out December 4, carried her on that journey. Lyrically, it gives no fucks. Several tracks, including the pitch-shifting single "IPHONE," were created with Dylan Brady of 100 gecs, the hyperpop duo breaking brains across the internet. Pushing herself and the barriers of genre, Nightmare Vacation is a monument to her chameleonic power. Rico Nasty spoke with Vulture about the personal meaning behind her debut album, her anxieties around collaborating with artists like Trippie Redd, and, of course, our nightmare reality.
Where did the title Nightmare Vacation come from? It feels so specific to right now, but you've been thinking about it since 2019.
Oh, damn, I guess you're right. A lot of this project feels like it was made in the future. The whole journey of a Nightmare Vacation is to overcome a series of things that you didn't think you could and find peace in them. That's what this whole year has been like. So many people lost their jobs, lost family members, lost being able to travel, lost things that brought them peace. And for the first couple months, we was all running around here like chickens with their heads cut off, like What are we about to do? What is our purpose? We started paying attention to the things that really mattered to us.
Last year my aunt passed away. At the time, I was doing shows nonstop and my family would ask me to do stuff with them or asked me to go places and I wouldn't because I was working. And when my aunt died, it just felt like, damn. I'm trying to convince myself that I'm sacrificing time with them for a better life, but what happens if they die?
So, when corona happened, there wasn't nothing to hide behind, like, "Oh no, I can't deal with this right now because I got to go do this." I actually got time to sit and think about what matters to me and my family matters to me. That was the biggest thing for Nightmare Vacation — overcoming, overcoming, overcoming, and constantly rising and constantly showing the devil or whoever try knock you down, Boy, you can't stop me.
And to get to that you had to come back to yourself, to your home.
It was more than just coming back home and being around my family, though. It was recording at home. Anytime I record, I go to L.A., I go somewhere else and I kind of run away.
It feels separate.
It felt way separate. It was like a whole other life. I would be here with my son, don't do no drugs, don't raise my voice. I get to L.A. [and it's] fucking molly, ecstasy, smoking all day, up all night, yelling at people. And I started realizing I'm afraid to merge my life together because I know that they don't go together. I know that I can't be doing drugs around my kid and I know that I can't do certain shit while being a mother. And I would never want him to be around that. So, I just took out all the bad shit. All the shit that was like, I can't do this in front of him, I stopped doing it.
Most of the album was finished before quarantine. Do you have a different relationship to these pre-lockdown songs now?
When corona hit, [I was like] I can't drop an album with five songs, like what the fuck. I started recording back in my hometown and stuff. I started reaching out more to Dylan Brady because he works fast as shit and he'll send a whole pack [of beats] through. So, luckily, around maybe a month or two months ago, the world wasn't opened back up, but I was able to go to L.A. and shoot [the video for] "Own It." I started working with him when I was out there and it wasn't how it was the other times where we would work one day and then probably not see each other for like a week. Bro, we was in the studio for like three days straight, just knocking shit out. We made like three songs that actually made it on the album that were made less than three months ago. I'm probably still adding shit right now.
From your music to your style, when does anything feel complete to you?
I'm literally looking at my boyfriend who's been my manager my whole career. He's like … [Laughs.] A lot of the shit that's out now, I'm like, Bruh, I could add this and that and this and that. I don't know, I'm never done. I feel my outfit is complete when I'm uncomfortable. I don't even know if that makes logical fucking sense but if my wig too tight, I know I look snatched.
What is it about the weird and the fun and the over-the-top that makes you feel at home?
I've always been an outcast; the outskirts have always been my safe place. I feel like when you're different it's kind of like a defense mechanism to get people to go away. There's so many different types of different. You can be scary different and that's what I really gravitate to because I feel like it's better to be feared than to be questioned. It's just like, Okay, well, she does that. Like, that weird kid in school with a fucking trench coat. Are you really gonna ask him what he's into, bro?
Speaking of being an outsider, how did you find entering the mostly white hyperpop space on this album, especially as a person of color?
Oh, yeah, they racist as fuck. It was one of those things where with [collaborating], it obviously [had to be with] Dylan Brady. And that was one of the reasons why I fuck with [100 gecs] so hard. As artists, we can be very protective over our style, especially if it's what got us famous or known. So, we were creating and the fact that he didn't try to [say], "No, you can't use the filter on your voice. That's my thing. I'm not teaching you how to do that," it made me feel like I could continue to work with him. We could make crazy shit together because he's not selfish. They make music because they love it and I love that shit. I think it's the most rock shit I've seen in a long time. Like, their hair is bleached blonde; they don't give a fuck and I love that shit. I was like, "Okay, so you flew me out to your planet to do 'IPHONE' and now we got to fly back to my planet to do 'OHFR?'" 'cuz now you got me in with a bunch of EDM people. Like Skrillex fucking messaged me and shit.
You became Rico Nasty at 15. What was it like growing up with and into your persona?
I feel like the industry low-key made me soft. Because where I come from you fight bitches and you do whatever you gonna fucking do and you really don't got to worry about people calling you ghetto or people thinking that you don't take yourself serious just because you want to defend yourself. Fast-forward to being really in the industry, and I get into another fight. I'm signed, I got views, I got shows, I got a booking agent. I got priorities and things that matter and people that don't condone violence. Not to mention, I'm spreading all this positivity and love and girl power. It didn't mess me up financially or business-wise, but I definitely did start feeling like people didn't take me serious after I got into the fight [with fellow rapper Asian Doll in 2018]. I don't want to be that type of person. When I'm doing photoshoots and stuff, people would talk to my manager to talk to me because they'd be afraid that I would be that type of person. So, I stopped it. I deaded all that high-school shit. All that walking around like somebody owe me shit or like, Oh, yeah, I'm that bitch. Everybody's that bitch when you really think about it. The next bitch got just as much to feel happy and proud about as you so why you gon' be negative?
It's frustrating how Black women can be labeled as aggressive for singular incidents when at the same time, you're known for reaching out to other artists, spreading that inclusivity.
It's one of them things where when you're a female and you beef with somebody, you get not only labeled as aggressive in the business world, but you get labeled as messy. You get labeled as a person who's nice just because they have ulterior motives and shit. So, it was one of those things where I stopped leaving shit up to the internet and I just started doing shit in real life, meeting these people in real life, making my own relationships. I feel like any female rapper that went through this or is going through this right now, that's the best thing that you can do. They are going to say that you're this type of person, but you have to show them that you not. I always wanted it to be a moment where it's all girls running shit, but you know what it is? When you've been raised to feel like there could only be one token Black person or one token Black girl, you are fucking competitive as shit and I know I'm not [just] speaking for myself. Coming into this shit, obviously we all felt like we had to be the best because you look at the history and it's like there can only be one of us and when one of us gets knocked off, it's gon' be you, bitch. Now that time has passed, it feels almost like a breath of fresh air seeing how many of us it is.
And this album has one of the most exciting remixes of the year, "Smack a Bitch" with ppcocaine, Sukihana, and Rubi Rose. I know ppcocaine calls you one of her biggest inspirations. How does that feel for you?
Oh, man … It's crazy you mention ppcocaine. I got a package from Flo Milli today. I got a package from Megan. Yo, I just … I love the girls, bro. I feel like I did something right. [ppcocaine] recently just dropped an interview with No Jumper and she cried talking about drugs and talking about her life and it made me so happy — sad, but happy because she won't ever have to deal with that again. When you are able to help somebody and they don't have to owe you a dime and it don't have to be all this extra shit, you're just genuinely able to help somebody get to a bag — like, she drive a Tesla truck. You're able to see somebody come up out of the dirt. It makes you feel amazing. The other girls that are on there, too, they're both now getting their flowers and being respected as creatives and artists, and look how long that shit took. I feel like "Smack a Bitch" is for alternative girls, for the weirdos, but now that we got all these different girls on here, it's not just for weirdos. And that's what I wanted to do because that's one of those songs people say [to me], "It makes me feel powerful." Those women made me feel like that; they made me feel that I could be somebody. So, I had to make them a part of this album.
I feel like the support that comes out of female rappers is unlike anything we've seen before, especially in the wake of this summer where we've seen male rappers publicly attack female rappers on multiple occasions. With your range, you could really be on everyone's album and mixtape. How do you decide what to invest your time in?
Wow. It's crazy that you asked that because the first half of working on my album, I was so focused on being mainstream and getting no fucking radio hate that I was making songs sound like other people so that they could get on it. I felt like I wouldn't be accepted [for] me, my hardcore self wouldn't be accepted on songs with certain artists. I wasn't getting a feature. People was not doing my songs. And it wasn't until I just started — okay, so my lucky number is seven, but it's a Bible verse. It's called Matthew 7:7, "Ask and you shall receive." So, I started asking. When I got in a room with these people, I stopped being so scary and so shy.
With Trippie [Redd], me and him were supposed to get in the studio a couple of times and our schedules just never met up correctly and we finally did. I was nervous as shit. So, I'm doing my verse, I'm looking out there like, Bro, this nigga looking mean as shit. I get out there [and I'm like], "I love it." Because I was myself. Aminé was a lot smoother than that because we already worked together. It just happened naturally. It's crazy you say women are the real support system because — well, I'm gonna give Aminé his credit 'cuz he was there in the studio and Trippie didn't make me wait long but — compared to the guys, these bitches gave me they verses back hella fast! Hella fast! Y'all niggas better step it up or something 'cuz they churning out the verses like crazy.
You turned 23 in May, but you've spent your entire adulthood as a professional rapper and a mother. How old do you feel?
Fucking 40.
Did quarantine age you at all?
If anything, I feel like it made me feel my age. Because I started realizing that I still had a lot of learning to do. With the music shit, I definitely feel older than I am because I feel like I've done more than what people my age have done. But in the mom aspect, I feel like a young mom because certain things might happen and I'll be like, How do I deal with this? What do I do? Oh my God! We didn't start doing fake homeschool until like six months into quarantine, I'm not gonna lie. We was in the house chillin', playing Roblox, eating candy all day. It was bad.
What occupied you the most during the first lockdown?
My job. But something that caught my attention and kept it was the death of George Floyd and all of the following deaths and all of those riots and the protests. I feel like a lot of times when the other ones would happen, I tried not to look at it because it just made me so sad. But during quarantine, you wake up, you go on Twitter, you want to interact with your fans, but then you start realizing they're not happy. I would have time to go look and I would see just so much shit. I just be on the phone for hours, feeling like why I ain't never say nothing and why I ain't never make this a more important topic? And that whole process was just like really, really fucked up, feeling like your life don't matter. I was so scared for a while, like I didn't want to go nowhere. It was corona, but it was like racism.
What do you feel when you look back on your breakthrough 2018 Fader cover story, and your rise in the time since?
I feel like a lot of this shit has kind of happened for me. In that interview, I talk about my house and what I want my house to look like and I have a house now. I said I wanted to have a room in my house that was pink and green. I have a room in my house that is pink and green. Like, Damn, it's really working. Moving forward though, I think I'm going to not be so nervous for releases. This album made me really nervous and took a lot out of me and I think it's just because it's the first one, like a baby or piercing. But shit, I wonder what the interview will look like when I'm like on my eighth album. Girl, I'm scared.
This interview has been edited and condensed for clarity.