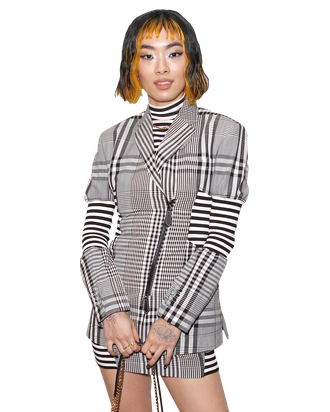 Photo: David M. Benett/Getty Images for Burberry
Rina Sawayama wants to get fit. Not for any New Year's resolution or quarantine hobby, but so she can be ready to put on the show of her life the moment the world is ready for her again. She went back to the gym to prepare for her TV debut on The Tonight Show Starring Jimmy Fallon in October, when she performed a dizzying, roughed-up version of "XS," the full picture of her maximalist pop vision. But then the U.K. went back into lockdown and the holidays crept up on her, and she thought, Oh hell no. Now, talking from her London home during one of the final days of the U.K.'s second pandemic lockdown, she's thinking about the moment she'll finally get to share her new music with her fans, live, the way it was intended. "I can't have made everyone wait this long for me to be out of breath on the second song of my set," she says. "If someone was like, 'Amazing, Rina. We've found a cure to COVID, and everyone can tour again, and you can go on tour tomorrow.' I'd be like, 'Absolutely not, no thank you. I can wait.'"
By now, though, her patience should be shot. The pop singer-songwriter released her debut album, SAWAYAMA, in April, meaning she never got to perform its songs for a crowd. It would've been as much a sight to see as a a sonic tableau of influences: The album bridges the gap between nu-metal and synth-pop more skillfully and seamlessly than should be achievable, resulting in one of the most addictive, singular sounds to come out of this year, when so much has blurred together. She captivated through the pandemic with a stream of remixes, featuring musicians like Bree Runway and Pabllo Vittar, and covers, like the 1975's "Love It If We Made It," along with late night. Today, she releases a deluxe version of SAWAYAMA, featuring many of those remixes and covers, along with three new songs: single "LUCID," plus "We Out Here" and "Bees & Honey." Like her goal of getting in performance shape, it's all in service of her fans. "Sometimes I'm like, who the fuck cares? But for me, music distracts me and makes me really happy," she says. "If I've done that in some way, I've distracted someone from some tragedies, then that's all that really matters." Sawayama talked with Vulture about the year that it'll take her "several years to process," from releasing her debut album in a pandemic to her Tonight Show performance to her Grammys snub to how she'll follow it all up.
The deluxe single, "LUCID," was a long time in the making. Can you walk me through its journey?
Oh my God, so long. We started writing it in 2018, and the initial idea was that BloodPop would release it. But then, obviously, he got signed on to do Chromatica, and plans changed. It's literally been sitting there in that form for about two years, which is so crazy. I don't think I would have done that many sessions at that point, either. I had this instrumental, and I was so confused because I had no idea how to write to a dance record. I don't think I'd written "Comme des Garçons" at that point.
[The other two originals] were actually ones that didn't make it onto the record. And honestly, if "Paradisin'" wasn't on the record, "Bees & Honey" would be on there. If "Akasaka [Sad]" wasn't on the record, then "We Out Here" would have been on there. But I wanted it to flow through really nicely. I just kept trying to make them fit and they didn't, but I'm really glad that they're coming out.
The deluxe also has remixes by other artists, it has covers of other artists. In an interview you did with us two years ago, you talked about all the musicians you were in touch with about collaborations, from Charli XCX to Grimes. Who's piquing your interest right now?
I would love to collab with Chloe x Halle. I just love that genre of alternative pop R&B. I think Gaga would be amazing. Elton John would be sick. [Laughs.] Who else? I'm reaching high here. Miley would be so great, too. Dua — yeah, all the pop queens.
Elton John said he's a big fan of your music earlier this year, right?
Yeah, still is a big fan. He calls me! Our calls are no longer than three to five minutes, but he's just like, "I hope you're doing well, and just always watching what you're doing, and really happy for you."
You've really kept up momentum this year, especially the Tonight Show performance in October. How did you plan that, and for it to be virtual?
I was freaking out, because it's fucking Jimmy Fallon, for fuck's sake. Bearing in mind, I've never ever done a TV performance up until this point, [laughs] and the first one is Fallon. I was so excited, because also this year, I haven't performed live. I even auditioned a band the end of last year and then never saw them again.
There was so many ideas in my head, but I had to make it work for limitations with COVID. It was so important that it felt live and it felt raw, like the type of live that we haven't seen. That's why there was a lot of movement with the camera, and I made it quite theatrical. It was really important to me that it didn't feel like a music video, because I love the "XS" music video already. I didn't think we needed any more of that.
I was definitely excited to see you performing with a band, because this was an album that could go either way live. Why decide to bring on a band for tour?
It was all going to be live instruments. I've already toured with two dancers and a DJ before. The album has so many interesting and exciting drum moments, as well as guitar moments, so I was like, It won't make sense if it's not live. [Now that we were going to be] playing much bigger venues, I wanted to make sure that people were getting their wait's worth.
Listening to SAWAYAMA this year, it's easy to pull this apocalyptic thread that runs through it. What do you make of releasing this into something that you didn't plan for, and now people are making new meanings out of that?
Oh, it's just been weird. Maybe the feeling of apocalypse was right for the feeling that everyone was having at the time that it came out. Obviously, the record was started maybe two years ago, and I just wanted to make everything quite dramatic and big. I always want to make sure that the song is done done. If it's not big, then it's absolutely as meaningful as possible and very intentional. I just feel really grateful, because it's been an awful year for so many people, and the one thing I can complain about is the fact that I couldn't go on tour.
When the Grammy nominations came out, a lot of people were predicting you could get nominated for Best New Artist, though it didn't happen just yet. Were you expecting anything last week?
If I wasn't on Twitter, I don't think I'd expect anything. There were some betting websites that had my name on it, and all sorts. You know, it's quite random. Obviously it's unavoidable when, after it all came out, everyone was like, "Snub! Snub! Snub! Snub!" That's literally my whole timeline. I think it's crazy that people even thought that I would be up for Best New Artist. But I know that it's a big, old machine, and I don't really understand it yet. But I wasn't like, "That was mine to take!" I think it's easy to think that after the record's come out, but when I was releasing the record, I was like, I don't know if anyone's even going to care. [Laughs.] I was like, Oh God, what if it's too disjointed? What if it's too crazy?
That almost feels like the exciting part of it all, that it has been taking off despite not really fitting neatly in the usual spaces. This is music that people didn't think platforms like The Tonight Show would even go for.
Yeah, I think so too. You should never underestimate people's willingness to take on something that's a bit weird. I've always got to remember that people love Elton John, love Freddie Mercury, love David Bowie — they're all fucking weird. You've just got to do it more and show people that this is a fun place to be, rather than a scary place to be. And I think people will get on board.
I know this is every musician's least favorite question, but I do have to ask: Have you been working on new stuff in this current moment?
I have, and it's actually been awesome. At the beginning, I was terrified. For an artist to release a first album, you literally have your whole lifetime to write that, and you can just take your time. But the second album, you've got to hurry up a little bit. [Laughs.]
The clock starts ticking.
And I felt that clock ticking on like the day after my record came out, and I felt awful about it. There was actually no pressure, no one was pressuring me at all, but I think I just put myself in that pressure. Then, when I wasn't doing as much promo, and when I was able to read, and just breathe, and chill, that's when I felt like writing again.
Before I go to every session, I'm like, I can never write a song again, and then I come out with a song that I love even more. So then I feel okay. But because I literally did whatever the fuck I wanted on that record [SAWAYAMA], having done that, and then it being so well received, it gave me confidence. I actually think I can write now, which is awesome. Before, I thought everything was a bit of a fluke. But yeah, I've already written songs that I love so much more than whatever's on the record.
This interview has been edited and condensed for clarity.