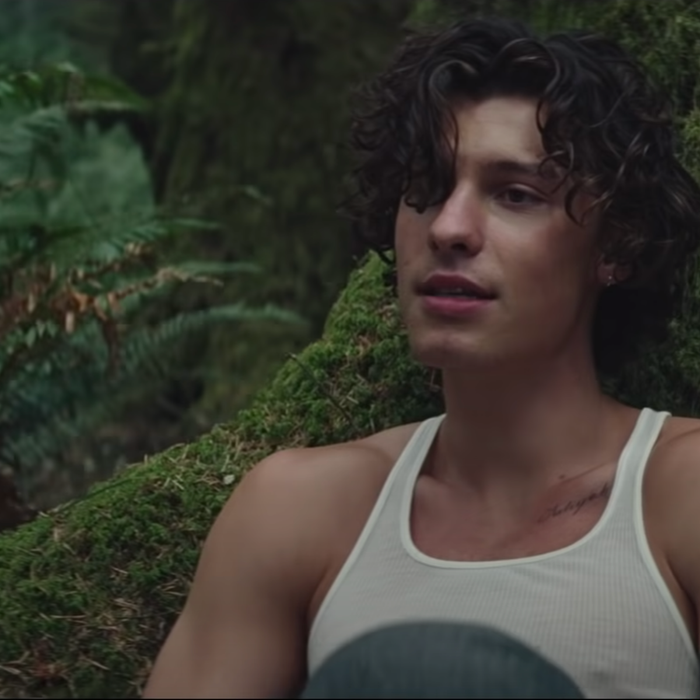 Mendes never lets us see him sweat. He's a cheerful pop star of a kind they don't make so much anymore.
Photo: YouTube
One of the most surreal moments in a music documentary from this most surreal year happens during the closing stretch of director Grant Singer's new Netflix film, Shawn Mendes: In Wonder — which chronicles the making of the 22-year-old Toronto singer-songwriter's fourth album, Wonder, and the world tour that carried him across five continents throughout 2019 — as Shawn sits mute and despondent, pecking away at his iPhone, and its disembodied text-to-speech voice delivers a soliloquy: "These next ten years are when everything I do is going full speed. It's like an athlete in their prime. I have to keep going." We're immediately transported to a misty shore where Mendes greets the cloudy skies with open arms, acoustic guitar strumming intensely in the background, as if to say he's ready to weather the storm and move on. He's whooped, yelped, and shouted himself hoarse in São Paulo, Brazil, performing with a combination of laryngitis and a sinus infection, and having to cancel a stadium concert on doctor's orders. He's taking it hard. The moment sticks out in a film that otherwise feels like a long-form music video, dense in aesthetic if not substance; Mendes never lets us see him sweat. He's a cheerful pop star of a kind they don't make so much anymore. He came up posting acoustic covers of pop and rock songs to YouTube, like Justin Bieber, and carried the sound into his own body of work. His early music dealt in the polished folk-pop that once was the province of happy-go-lucky coffeehouse bros like Ed Sheeran, all effortless vocal runs and short, pert guitar licks. They're always catchy, sometimes gloriously so and sometimes infernally so. "There's Nothing Holding Me Back" is unbridled euphoria; "Never Be Alone" is middling Mumford-core.
It's all a little too clean and predictable, though, a reality Mendes seems to notice. The songwriting and arrangements on his 2018 self-titled album spiced the usual array of soothing Mayer-isms with lite funk jams like "Particular Taste" and "Lost in Japan," but otherwise focused on refining the lyrics and melodies gracing its airtight guitar loops. For his efforts, he came away with earworms like "In My Blood" and "If I Can't Have You," the Juno Award for Album of the Year, and a spot on 2018's Time 100 with a dedication written by — who else? — John Mayer. Still, effete vocals and cute guitar licks reigned. This is a formula that Wonder is out to destroy straight away from the intro, which rolls out a plinking piano figure as Shawn gives himself a quick pep talk: "You have a million different faces, but they'll never understand unless you let them in/ You've been a million different places, so give yourself a chance to get lost in wonderland." For the next 13 songs, that's what he does. Wonder is Shawn Mendes's headphone album, full of intriguing tones, lush textures, and unexpected twists. They're short and sweet, but they never feel like a race to the refrain, like "Treat You Better" and "Mercy," hit singles with choruses so massive everything in between feels ancillary, like the complimentary bread before a hearty meal at a restaurant. You think "Song for No One" is going to stay a plaintive ballad until it blows your earbuds out with a booming orchestral coda. "Call My Friends" pump fakes with an unassuming piano line and then smacks the chorus out of the park with the kind of beefy synth, fuzz bass, and drum work you'd sooner find on a twenty one pilots record.
Wonder gets a lot of this variety from its players. Alongside Mendes and longtime songwriting partner Scott Harris, there's Nate Mercereau, solo artist and session player for everyone from Lizzo to Logic, who joined Mendes's braintrust on the self-titled album; Kid Harpoon, MVP of the first two Harry Styles solo albums; and assists from Canadian pop producer Tobias Jesso Jr., Anderson .Paak, Daniel Caesar, and — if Mendes's recent interview with Zane Lowe holds true — a little Camila Cabello. A murderers' row of talent makes for a varied and dynamic sound. Wonder's tastes are vast. The gorgeous vocal harmonies fanning through the mix on "Dreams" call the Beach Boys to mind. The climax of "Song for No One" is edifying Beatles fan service. (Put this before "Hey Jude" in a mix, trust.) The headbanger of a bridge on "Look Up at the Stars" has palpable "Bennie and the Jets" energy. "Piece of You" dabbles in disco; the long overdue Bieber duet "Monster" borders on boom bap. "24 Hours" is the same kind of impossibly loud, achingly pretty song Kanye West used to excel at. This is the most interesting-sounding music Shawn Mendes has ever made. "Call My Friends" and "Always Been You" stand up against any and everything in his catalogue.
Still, as was the case with the Netflix doc, the man in the middle of the maelstrom feels like something of a mystery. It's hard to get a sense of the mind working behind "Teach Me How to Love," "Look Up at the Stars," and "Can't Imagine." Pleasantly as the lyrics are delivered — Shawn deserves props for improving as a vocalist — these three all come from the same place of pining deeply for a lover and seem more interested in selling the universality of that experience to the listener than expressing it in a manner unique to Mendes, so much the consummate performer that he broke down in tears sitting in the bleachers of that São Paulo arena at the thought of missing one of the hundred shows scheduled for the year. It's the only time his showbiz smile and pensive photoshoot gaze break in the whole Netflix doc.
Shawn makes music for stadium-show attendees to belt back at him, but the songs he writes about himself are always better than the lover-boy pablum. "Monster," a song about voyeuristic celebrity fandom and the glee with which we watch the people we've built up fall down, goes a long way toward explaining why he keeps his guard up, although the sentiment rings truer from guest star Justin Bieber, the hopeful, troubled T-800 to Mendes's slicker, more versatile T-1000. ("I was nine when 'One Time' came out," Shawn told Lowe. "He was Elvis to me.") "Piece of You" does a great job of sidestepping the cleanliness of the artist's persona, adding a much needed dose of negativity to break up all the cheer as Mendes sings about the insecurities that come with having a beautiful girlfriend other guys lust after. "Call My Friends" laments feeling like your buddies' lives are passing you by; the pure ache for benign niceties like zoning out on the couch stoned with friends almost makes it a tearjerker in a pandemic. If you came to Wonder to find out what's going on behind the brown doe eyes, underneath the too-perfect Superboy veneer, you won't get much closer to the story. But when the band sounds this good, you wonder, does it matter?