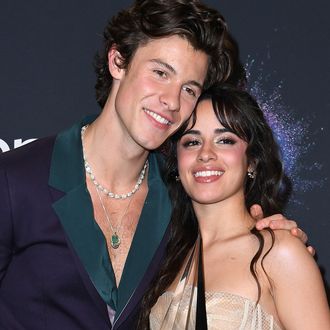 To say that
Wonder
is mostly about Camila Cabello would be an understatement.
Photo: Steve Granitz/WireImage
Not even a global pandemic has managed to stop the Shawn Mendes–Camila Cabello relationship cringe fest, which officially began last year following years of friendship. Remember the over-the-top kiss that continues to haunt our nightmares? Well, over the last nine months we've seen the two pop stars very in love, and not afraid to let anyone know it. From their slowwwww stroll at the beginning of quarantine, to recording songs together, to the crème de la crème of quarantine couple moves — adopting a puppy named Tarzan — the two have proved that they are still in love. Professionally, Mendes's life as a musician is apparently so riveting that it warrants the release of two films in one week on Netflix, with the documentary In Wonder and the concert film Shawn Mendes: Live In Concert, in which Cabello appears plenty of times. Camila gave us her take on their relationship with last year's album, Romance, now it's Shawn's turn to spill what it's like to be one half of Shamila. We know that Camila as a girlfriend makes Shawn more adventurous, in an ordering-bananas-at-a-sushi-restaurant kind of way, but how is Shawn as a boyfriend? Let's investigate the lyrics of his new album Wonder.
"Higher"
"All eyes are lookin' at us, but I can't stop fallin' in love, always been the one that I want. Wow, look at us now, damn what have we done? I almost can't believe it so please don't wake me if I'm dreamin'. Whenever I'm with you, no, I can't get much higher, let's stay like this forever, I'll kiss you every night. "
Shawn's pined over Camila for years, we all know that, but "Higher" tells us that few things make him happier than being Camila's boyfriend, and that having her around only makes things better. This man loves to spend time with his girlfriend. If he was wondering what it would be like to be with Camila, here he's learned that everything is rosy and it's all because of her.
"24 Hours"
"All it'd take is 24 hours, sign the check and the place is ours, it's a little soon, but I want to come home to you. All it'd take is 24 hours, we could dance, you could throw the flowers. It's a little soon but I wanna come home to you."
All right, Shawn makes things pretty clear on this one. The puppy was just the tip of the grown-up-relationship iceberg. He's ready to move their relationship forward, with a house and a ring, and he'd do it tomorrow. This wedding ballad in the making characterizes Shawn as the type of boyfriend who would run away to Paris at a moment's notice, right before getting married and settling down before the age of 25. If Camila's the type to order bananas at a sushi restaurant, he's the type to do a surprise proposal in front of all of your family and friends.
"Teach Me How to Love"
"Won't you draw a map for me? Laced with strawberries, and I'll get on my knees, put my hands around you. Ooh, teach me how to touch you, tease, caress you, and please you, teach me how to love."
Here's Shawn's homage to giving a woman pleasure. "Teach Me How to Love" tells us that he's willing to go the distance when it comes to sex, and "won't stop 'til you feel the rush." Maybe it's more visual than necessary, but at least we know that Shawn is not a selfish lover and is willing to learn.
"Dream"
"You're asleep in London, I wish you were coming, back home to me, darling. You're too far away. Count back from one hundred, holding you is all I think about. Baby, when I'm apart from you I just shut my eyes, all I have to do is dream, dream, dream, dream about you."
Surprisingly, Shawn and Camila do spend some time apart, and this track most likely refers to Camila's time away filming the new Cinderella movie earlier this year in the U.K. But trust, he's not using this time to explore his own independence, but spending it sleeping and dreaming about her. Loyal, if not a little obsessed, indeed.
"Song for No One"
"Fly to the most beautiful place you've ever been, close my eyes, things are better in my dreams 'cause I'm with someone, someone I adore."
There he goes dreaming again. As friends, Shamila first met years ago, but "Song for No One" proves that Mendes was thinking about Cabello long before they became official. In an interview with Elton John for VMan, Mendes told the prophet that he first wrote this song back in 2017, when he wished he could be with Camila. Definitely the type to say, "I had a crush on you for years, but I was too scared to do anything."
"305"
"You're my sunlight on a rainy day, would take my heart with you if you walked away. I'm a mess right now, I'm a wreck right now. I'm waiting for the moment that you let me down, if you cut the cord, I don't know what I'd do. Don't wanna skydive without my parachute, I'm a mess right now, baby, help me out, I'm scared I'm gonna wake up and you'll let me down."
Can you say anxious attachment style? "305" begins to show us the more fragile aspects of being in a relationship with a 22-year-old Shawn Mendes. Nervous and preoccupied with the potential end of their relationship, this song definitely conjures up images of long conversations with a partner, trying to convince them that everything is okay and that you are, in fact, not going to jet off and leave them in the middle of the night.
"Always Been You"
"It's a fairytale I can't explain, full of words I don't know how to say, and without a little twist of fate I know I'd still be searching, baby.

I swear that you've been sent to save me, you're the only one that my heart keeps coming back to."
A believer in fairy tales, fate, and all that jazz, Shawn shows that when he's in love, he's only got eyes for one.
"Piece of You"
"I get reckless, I'm obsessive, I'm pathetic and possessive, you're so sure it makes me insecure. You're majestic, mesmerizin', light the room up without tryin', baby, I'm so into you, it hurts.




Everybody wants a piece of you, I get jealous, but who wouldn't when you look like you do? From the second you walked in the room, my night is ruined, everybody wants a piece."
Okay, here's the uglier side of being the center of Shawn's universe. Seeing his one true love shine in public seems to stir up jealousy and an unhealthy level of possession. Nothing like a man praising the ground that you walk on while projecting his own insecurities onto everyone in a room and ruining his own night, but it's your fault because you look so good? Siri, play "Beautiful Girls" by Sean Kingston.
"Can't Imagine"
"I can't imagine what a world would be, without you, all the birds would stop their songs, without you, all things right would feel so wrong."
Shawn is the type to believe that everything is okay, as long as he has a girlfriend. It's a classic premeditation on events yet to come, but still making it clear that without you, he would not know how to keep living. Intense, and not uncharacteristic of young love, but for everyone's sake, including Mendes's, we're going to hope that Shamila doesn't end anytime soon.