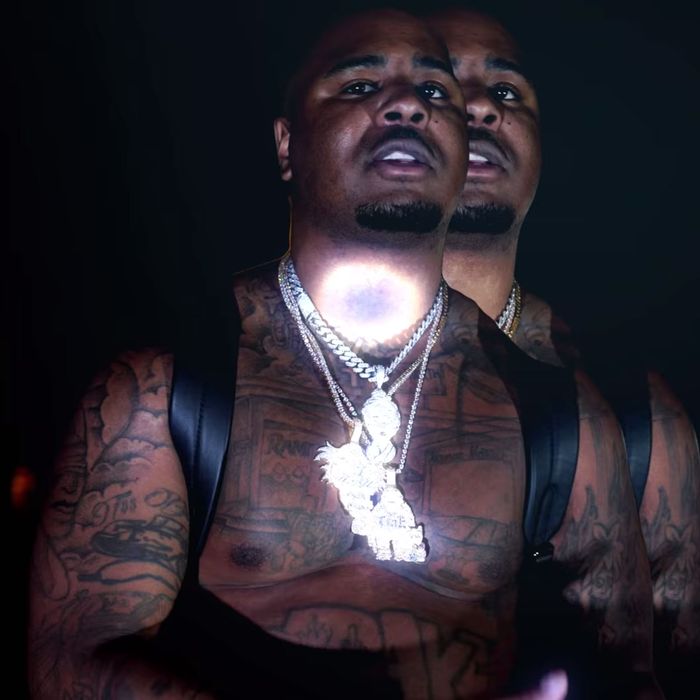 Welcome back.
Photo: Drakeo the Ruler/YouTube
Drakeo the Ruler has made an art of sounding casual. The Los Angeles emcee raps cool and level-headed as he describes how many bullets he'll put in you, where, and how. He's never been interested in much else, and he's never needed to be since he perfected that style on his 2017 mixtape Cold Devil. He recorded that project, mythically, over just ten days after being released from a 2017 stint in jail for a firearm possession charge, an early showing that he wouldn't let anything get in the way of a hot streak. But then, he got arrested again mere months after his release, in March 2018, this time on a first-degree murder and multiple attempted murder charges related to a December 2016 shooting. A jury found him not guilty of the murder charges in July 2019, but he stayed in jail on gang- and shooting-related charges, refiled after the 2019 jury was hung on those counts, still staring down a possibility of life in prison. The new trial began in early November, until he was offered a plea deal one day in that would let him out on time served. He pled guilty to shooting from a motor vehicle, while the gang conspiracy charge got dropped, and walked free on November 4.
By that time, all eyes were on Drakeo. His case had become one of the more high-profile examples of how the justice system sees Black rappers with targets on their backs. Could he go back to the same flexes and threats as before? He'd done so on the fantastic Thank You for Using GTL, recorded on jail phone calls and released in June. The social commentary was in the details — namely, the messages from jail phone service GTL cut into his raps, a reminder of his constant surveillance. Critics called it the greatest jailhouse record ever. Now, Drakeo has another new album out less than a month after his release, released on his 26th birthday on December 1: We Know the Truth, a collection of tracks, also written from jail, that emphasizes clear calls for justice with some of his most intimidating bars ever.
The second track, "20 Pieces," is the project's mission statement. The whole thing sounds directed at L.A. district attorney Jackie Lacey, who became obsessed with prosecuting Drakeo and was decisively voted out the day before his release. "The DA wanna fight me out the trial cuz I beat 'em / All 12 jurors not guilty, n- - - - beat it," Drakeo repeats in the hook, like a victory chant. He juxtaposes that against some regular-fare brags that come off even more pointed under the circumstances. Not only did he beat the system, now he's back to sipping from gold bottles, driving the newest cars, and taunting the prosecutors with it all. (He only goes too far on We Know the Truth with his continued use of "gay" as an insult, both on "20 Pieces" and by ad-libbing a slur on later track "Punk Rock Bitch.")
For Drakeo to pick up where he left off with his aggressive brand of street rapping is a declaration of victory, one he began days after his release with the single "Fights Don't Matter." His case set a dangerous precedent for rappers on trial, with prosecutors trying to use past violent lyrics by Drakeo and other rappers in his Stinc Team crew as some sort of evidence to support gang activity or violence. Drakeo addressed it on Thank You for Using GTL closer "Fictional," telling Lacey and her team, "I love that my imagination gets to you." It's hard not to remember that when he raps about "doin' shit I cannot speak on" on "20 Pieces." His fight isn't over, and he wants listeners to know that. Of course, it's also just one of those clever Drakeo threats that stops you in your tracks. He's back, he hasn't lost his touch, and he's ready to do unspeakable things to anyone who crosses him.