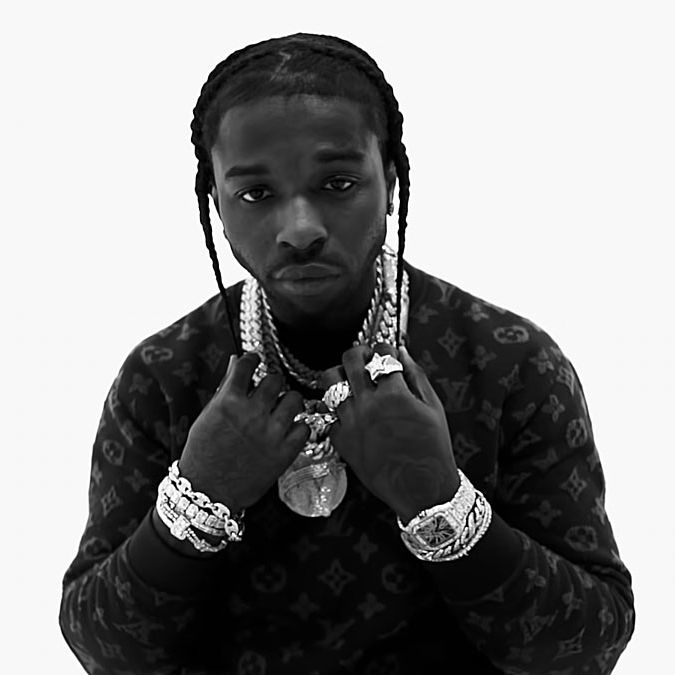 Steven Victor is from Canarsie, same as Pop Smoke. It's an area of Brooklyn that most people don't make it out of (count Flipp Dinero among the handful). Canarsie nurtures a devour-your-prey-whole mentality and, in turn, resiliency. It was their shared home turf of steel, as Victor calls it, that connected the veteran (yet still-hungry) music executive with the then-teenage meteoric drill rapper. Their intersecting paths made for a bond that was beginning to change the sound of rap well outside of Brooklyn, and one that has strengthened in the months since Pop Smoke was murdered earlier this year at just 20 years old.
The 40-year-old holds a number of coveted industry titles: CEO of Victor Victor Worldwide, the record label that signed Pop Smoke to a "competitive" deal last April; manager to Pusha-T; former COO of the Kanye-founded label GOOD Music; senior vice-president of A&R at Universal Music Group; and founder of the philanthropic organization Victor Victor Worldwide Foundation. In conversation with the man, he isn't fussed about any of it. When we talked over two calls last month, he was soft spoken as he detailed who he is, how he made it this far, and the impact that Pop Smoke has had on his life. He casually recalled his journey from unpaid internships (which he doesn't support), to becoming close friends with Pusha-T, to playing pivotal roles in the signing of acts like Desiigner and 070 Shake.
Now, Victor stands in the wake of the rapper born Bashar Barakah Jackson's magnificent run cut short, having been instrumental in helping develop the nascent Pop Smoke brand into a piece of New York rap history. Following the rapper's fatal February shooting during an apparent home invasion gone wrong, Victor co-constructed the pieces of his mentee's debut album into the posthumous body of work that Smoke had intended. Released July 3, after a hiccup, Shoot for the Stars, Aim for the Moon topped the charts in multiple countries — debuting at No. 1 on the Billboard 200 and breaking records on the rap and R&B charts for the rest of the year — serving to establish the direction the rapper was going while also memorializing what he'd already done.
As successful as Shoot for the Stars was, though, Victor was "disappointed" not to see the album and Pop properly recognized by his industry peers in the nominations for the 2021 Grammy Awards. He wanted Pop Smoke to be honored not just within hip-hop — his lone nomination is in Best Rap Performance for "Dior" — while also keeping in mind that the Grammys don't define a career or life. Victor is adamant: "His legacy is going to go on."
When did it click for you that you wanted to be in the music industry?
Around my sophomore year of college [at Morehouse]. I had always wanted to be in the music industry, since high school, but I didn't know that you could be in it and not have any musical talent. I didn't know that there were executives behind the scene that made all the things happen.
My best friend at the time was a producer on the side, and he had an internship basically doing the system work and just learning. And from there I was like, Oh, you can actually work in the music business without having musical abilities? I went and got an internship because my roommate in college's father, Haqq Islam, was a music executive; he hooked me up with his dad and his dad gave me an internship at Universal during my junior year.
What would you say your dream job was then?
I wanted to be an A&R manager, an overall executive that could help artists figure out how to achieve their dreams. It wasn't until I interned for a couple of months and started learning the different departments and the different roles that you could play that I kind of honed in on what I have come to do. But, initially, I just wanted to be in the music business. [I] had to figure out my way in.
At a certain point, you spent six years in public relations.
So when I was an intern for Universal, I met this guy who used to be a publicist at Interscope and I asked him about interning for him the following year, which I did. And I kind of just took a liking to him, because I liked the way he worked. At the time, he was working with groups like Ruff Ryders, and I saw how he was interacting with the artists; the artists seemed to listen to him and he had a really great rapport with them. So I just asked him, "Can I work for you?" He said "Sure." But I didn't know he was a publicist. I didn't know what a publicist was at the time. So through that, I learned publicity.
What did that stretch of time teach you?
The importance of the relationship between the executives, managers, and their artists — how important it is being able to trust the people that you work with, for an artist. They put their trust in a bunch of different people, whether it's their manager, their business manager, their lawyers, their label. You need to be trustworthy and honest with the artist so that they feel they can rely on you to help guide them if you're one of those people that's in their immediate circle.
How did you connect with Pusha-T?
I was working at Interscope, Pusha was at Jive. At the time I started doing publicity I was working really closely with the Star Trak record label's roster. And I was a huge fan of the Clipse duo [Pusha-T and his brother No Malice] and their work and I had a really good relationship with Pharrell's assistant, Nicole Plantin, at the time, so I reached out to her. At the time, the Clipse hadn't put music out in two or three years. I went to her and was like, "Yo, can you try and put me in touch with Clipse because I'm trying to see what's going on over there, and I want to offer my PR services to them." Just because I was such a huge fan. She put me in touch with Pusha and I spoke to him and told him a little bit about what I did. I was like, "You can check with Pharrell at Star Trak about what I've been able to do for Slim Thug, and I want to do the same thing for the Clipse."
At the time, I knew that Pharrell was trying to bring the Clipse over to Interscope. So I was like, "Yo, I'll do it for free in the meantime while you guys are putting out mixtapes. And then when you guys end up at Interscope, I'll get assigned to your project and it will be all good." They actually never ended up getting signed to Interscope; they ended up putting their album out through Jive, and they stayed at Jive.
Eventually, you made your way over to GOOD Music in 2015. And that's where you linked up with Desiigner. How did that relationship, and your eventual deal, come about?
That was a trip. We were in Los Angeles, I think. Kanye had played some music off of [The Life of] Pablo and turned on "Pt. 2." Kanye came to me and was like, "Yo, this kid [Desiigner] is from Brooklyn. We should get him to L.A. to see if he can do some stuff on the album. You need to go find him." I went and found him and brought him to L.A. and he had other music that he was playing us. Listening to it, I was thinking, Yo, this kid's incredibly talented. We should sign him. I told Kanye, "Yo, we should sign this kid to GOOD Music, especially if you're going to put this record on your album." And he was like, "Cool, let's do it." We [also] signed 070 Shake and I brought Sheck Wes to their attention, but he ended up signing elsewhere.
What do you look for when you sign an artist? And what is that interview process like?
I wouldn't say it's an interview. It's more like finding out if we have a connection, if our moves align, and if they want to work with me and I want to work with them. Like any relationship, you meet somebody and you get to know them. Some relationships take longer to figure out. Some you figure it out right away. It's a transaction. There's got to be communication, and both you guys got to want to make it work.
What are some deal-breakers for you?
The only thing for me is not being honest. Everything else you can work through. But if people aren't coming from a genuine place about their job and intentions, then you're never going to get anywhere. You have to be honest about what you want to get out of the situation.
How much of the way you run your label is inspired by what you've accomplished and witnessed with Pusha-T?
Oh, I'd say a lot of it. My deal-breaker goes back to things that are important in my relationship with him like honesty, integrity, and hard work. He's very unwavering about the craft. Because music is a very subjective thing, it's art, you can't be wavering with it. You can't be a musician [who] hears a sound and you want to chase that sound. That's never going to work. You always have to be in front of things and have integrity about your music and your art and also be able to change and reinvent yourself. Make the best art possible without any question about it.
It's like even though you see [this person] every day, every time you see [their work ethic], it's like you're seeing it for the first time. I've been around Kanye so many times, and every time you're around him he inspires you. It's never-ending.
How did the universe bring you and Pop Smoke together? Describe that first meeting.
That's funny that you say that, but I think the universe did put us together. I don't know if you know this, but I met [Pop's former manager] Rico Beats [a producer who's worked with Nicki Minaj, Soulja Boy, and Jadakiss] I think in February or March of last year. He'd been trying to get me to meet with Pop since November of 2018. His manager started playing me his music and being like, "Yo, I signed this kid from Brooklyn, you got to listen to him. We got to sign him. We got to sign him." Like every week. All of November, and December of 2018 through the following January. To the point where me meeting with Pop was a favor to Rico more than, Oh, I got to meet this kid to sign him.
So when I met [Pop], I remember after the meeting, I sent Rico a text and I was like, "Yo, this kid's going to change your life. He's like nothing I've ever seen before." And it wasn't so much the music — the music was good, and I thought he was super talented — but it was everything else about him. His aura. He looked you in the eye when he was speaking to you. He was very deliberate. I could tell he was an honest person, for better or worse. He just had all the attributes, for me at least, that you could look for in an artist and a person, that you would want to work with.
And the thing about it is: I'm from Canarsie, Rico's from Canarsie, and Pop is from Canarsie. We all grew up within four blocks of one another [Victor is from 105-01 Flatlands 1st Street, Rico grew up on 103rd, and Pop grew up on 105th]. I'm sure you've never heard of it. Even people who live in New York, or live in Brooklyn, don't know where Canarsie is.
My girlfriend is from Canarsie.
Oh, wow. Canarsie [at the time], there were no trains, no buses. Even when I was working at Interscope [in Manhattan], it would take me two hours to get to work and two hours to get home. You'd have to walk really far to catch a dollar van or a bus, and then the bus would take you to the train, and then the train would take you to the city. It's like the most obscure place in Brooklyn.
Can you tell me how much you signed him for?
I don't want to talk about his dividends, but it was a super competitive deal. Very competitive.
Where did you see your relationship with Pop Smoke going long term?
Man, from the moment we started working together it was the friendship, more than anything. I would speak to him every day. We never really even spoke about music except for the times that we deliberately spoke about music and business. We were super close.
When I met him, he was 19, but you would never know that he was 19 because he acted like a 30- or 40-year-old. So it wasn't like, I'm hanging out with a kid. He was extremely mature for his age. So, we were close. He didn't have a buzz back then. He was just a kid from Canarsie that was trying to get his music out there. He didn't have "Welcome to the Party" or any of those huge records out.
After that first meeting [where he played "PTSD" and some other unreleased records], we met again a couple days later, and I told him, "Listen, I want to sign you. I don't know how long it will take." Because I was going through some shit, and I couldn't sign him right then and there. He gave me his word: "Yo, I'm going to sign to you. Just let me know when." And then a couple months later, his phone started blowing up. Everyone was trying to sign him, and he kept his word. He was like, "I'll walk with you. I told you I was going to sign with you. Let's get it done." And we got it done. He signed in March of 2019.
It's hard to find that kind of loyalty. Next to impossible.
Yeah. I'd just met the kid in February. I didn't know him from anywhere. But you could tell we had a connection.
When did the creative process start for Shoot for the Stars, Aim for the Moon?
The moment I signed him. The music that he played me when I first met him, a lot of those songs ended up on the album. And that was deliberate because [prior to his death] he was like, "Yo, I want to put these songs on my mixtape" — "What You Know Bout Love," and a lot of the R&B-leaning songs. And I was like, "Yo, a lot of these songs are all over the place. Some of this is melodic, some of it is hard, some of it is R&B, some of it is drill, some of it is old school hip-hop." I was like, "I don't think we should do that. I think we need to find what your sound is going to be, put out a couple mixtapes, and go from there. We can put these songs out once you've established your sound. They're incredible, don't get me wrong, but you don't want them to fall on deaf ears because nobody knows who you are right now."
The first couple of months after he was signed, we started working on the mixtape [July 2019's Meet the Woo] and tried to figure out the sound for the tape, but at the same time he was making records all the time. Some of the records we would keep and say, "We're going to put this one on the album."
That's why the album has so many songs. He recorded all the time. I don't know specifically how many, but he left behind a good amount of ideas and music. Once we found the sound for his mixtape, we were like, We got to keep going until we get the buzz where we want it, and from there we'll go to the album. Obviously, it happened sooner than that: We put out Meet the Woo, and it got a bunch of buzz. Then we put out Meet the Woo 2 [in February 2020]. Once the mixtape did what it did [it's been certified Gold by the RIAA], we were like, Okay we're going to expand on this sound and put out the album.
But the idea was to finish the album while we were finishing the second mixtape, because he was supposed to go on tour in March. Artists don't [make] their best work on tour, so I was like, "Let's finish all the parts that you need to finish for the album, and then while you're on tour I'll work on getting the features and work on getting it mixed and mastered, and then together we'll sequence it." We pretty much had the album done by the beginning of February. Right before we turned in Meet the Woo 2, we had the core of the album done.
When you and the team went in to finish it without him, what did you feel?
I was emotionally not there. Mentally, I wasn't there. He had passed away so abruptly. I was in a super weird place. I couldn't listen to his music. Then what happened was, when I got back from L.A., 50 [Cent, another mentor to Pop] kept calling me and asking how I was feeling. And he was like, "When are you putting his album out?" And I was like,"What? I'm not putting no album out." And he was like, "Weren't you guys working on an album? Didn't you tell me you guys had an album finished that you were ready to put out?" And I'm like, "Yeah, but I'm not going to put it out now. The man just died. I can't even listen to his music. I'm not trying to do any of this shit. I'm not trying to be in the middle of any of this."
And he's like, "No, you're being selfish." Because I was sad and depressed about this whole shit, but he was like, "Don't be selfish because that's not what he would want. He was doing this to create a legacy for himself and to make a way for his family. [Just] because you're not emotionally available and depressed, you can't take that away from his fans, his family, or even his legacy. You got to get the fuck up out of that shit. man. You gotta finish the album" He's like, "You can't shy away from this shit and not put it out." He offered to help market it. It was kind of a wake up call. He's right. That's not what [Pop] would want. Like he said, "Get yourself together and finish what you guys started."
So I got myself together and started working on the album with the help of Rico Beats, Ben Lust [Pop's A&R,], and others. We all hunkered down and started working on it, started going back through his songs, remembering who he wanted on which song. We dived into it and worked on that for the next four months until the album came out. We worked on the album until the very last day that we had to turn it in, which I think was July 1. So from March until July that's all we worked on — the music, the roll out, the ideas.
I had to figure out my emotions in the middle of having to do work.
What has been the biggest challenge for you while putting out and supporting this album?
The No. 1 challenge is the fact that Pop's not here. To me, at least. The fact that he's not here to witness this. It's great to see it, see him [accomplish] what he set out to do. His goal was always to reach kids around the world.
What were your first thoughts when the Grammy nominations were read?
Well, the nomination for "Dior" came up first. I was excited about that, for sure, and that I was looking forward to him possibly getting nominated for Best New Artist and Best Rap Album. I was hopeful. Even Album of the Year, because of how well the public received it. I was glad about the nomination for "Dior," because that was one of his favorite songs. And also, Melo ["Dior" producer 808Melo], his longtime collaborator, got nominated, and I feel good about that. But then, with [Pop] not getting nominated [elsewhere] … It was disappointing for a multitude of reasons.
50 Cent, he called it. He said in a recent interview that drill music probably wouldn't be acknowledged by the Grammys.
Not just drill music, but I feel like a lot of artists didn't get acknowledged by the Grammys that had an incredible year and put out an incredible body of work that the public really connected with.
Even the Weeknd's After Hours. How do you feel about the way hip-hop and R&B are represented in these nominations?
I'm disappointed, man. All the artists that we listen to, they put so much work and effort into their craft and they pour their soul into this music. It comes out; the public loves it; it does well commercially; it has success globally. And then, what's deemed as the highest award in music doesn't acknowledge them. I don't know what the right word to use to describe it [is], but it's definitely an eye-opening moment. You're like, Wait, what? It's confusing because the public is telling you, "Hey, I love this. This music has gotten me through all different types of emotions. And this is where I go to … " and the highest award in music is not going to acknowledge that?
You can't ignore what the people are saying. You have to take that into consideration. I'm not saying that that should be the only criterion, but you have to take it into consideration, especially when it's that glaring. If you look at the Weeknd's stats, Lil Baby's stats, Pop Smoke's stats — those are glaring stats. That's not, Oh, this person might've seen it, and this person may have not. The music is in everyone's face. On the radio, on DSPs [streaming], at protests. This is the soundtrack to our lives right now. You have to acknowledge that. You can't ignore that.
It's hard to debate he was snubbed for the Best New Artist category.
Not to take away anything from anyone else in that category, but, like I said, his accomplishments this year are glaring. It's not a subjective thing. You can objectively look at the landscape of music across all genres, not just hip hop or R&B or pop, and he's had an impact in all genres with the exception of country. Other artists had breakthrough years, but he did as well, so he should be acknowledged.
As a music-industry insider who may have had experiences with the Recording Academy in the past, what do you think was the angle for the way that they chose these artists this particular time?
I don't know. That's a good question. I would like to know myself. I'm just as confused as everyone else.
There was something of an online conspiracy that the Recording Academy got Pop Smoke and California rapper D. Smoke's names mixed up.
If I'm being honest with you, initially I thought that as well. Because prior to the Grammy nominations, I didn't know who D. Smoke was. So I thought maybe it was a mistake. So then, like everyone else, I Googled, and I saw that he was a rap artist and he had put out an album in February. So then that's when I knew it wasn't a coincidence. He's just as eligible as everyone else.
But [the Grammys] don't change anything at all. I'm still going to put 100 percent into every artist that I work with. And if winning a Grammy is something that's important to that artist, then it's important to me. And we're going to do everything that we possibly can to try to get a nomination. Pop wanted a Grammy, so I wanted him to get nominated for a Grammy and possibly win one, but it's fine [if he doesn't]. It doesn't take away from his story at all. Pusha-T got nominated for a Grammy last year [for Best Rap Album for Daytona]. He didn't win. We were upset, but it doesn't stop how hard we work.
Keep going, baby. It's a moment in time. Enjoy it, take it in. If you lose, same thing. Let your emotions out, feel however you feel, then go back at it.
This interview has been edited and condensed for clarity.