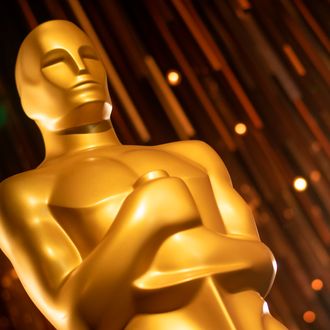 Photo: AFP via Getty Images
Next year's Oscars will reportedly be held in person, according to Variety. "The Oscars in-person telecast will happen," an unnamed source from the Academy of Motion Picture Arts and Sciences told Variety. The ceremony will presumably take place at the 3,400-seat Dolby Theatre in Los Angeles, though it's unclear how many will be in attendance for next year's ceremony. "The Academy has done a walkthrough of the Dolby recently to see all the multiple options," another unnamed source told Variety, which doesn't completely rule out the cardboard-celebrity audience from the Emmys earlier this year. Back in July, both the Oscars ceremony and the eligibility cutoff were pushed to April 25, 2021, and February 28, 2021, respectively, in order to "provide the flexibility filmmakers need to finish and release their films without being penalized for something beyond anyone's control," the Academy said in a statement.
Update, December 2: The Hollywood Reporter has released its own story about the 2021 Oscars, in which "multiple knowledgable insiders" deny the claim in Variety that an in-person ceremony "will happen." THR writes that plans "remain very fluid, with numerous contingencies being planned for," depending on whether or not the pandemic has abated in the Los Angeles area by April. The article also notes that no producers have been confirmed by the Academy for the upcoming telecast, and producers would likely play a major role in deciding how the ceremony will run. "High-ranking insiders were taken aback by the initial Variety report on Tuesday that a decision had been made," the article concludes. Variety reporter Clayton Davis responded to the THR article on Twitter, saying he stands by his reporting.