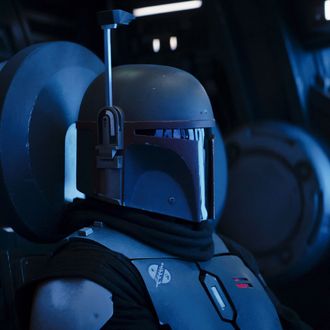 Surprise, surprise!
Photo: Disney+
You may have heard a disturbance in the Force Friday morning, a thousand voices crying out that there's an important post-credits scene in The Mandalorian. Many of those voices were then quickly silenced by people saying, "Okay, cool, but please stop talking so you do not spoil me!"
The post-credits scene is an exciting announcement re: Star Wars canon stuff, but it doesn't exactly spoil the main action of the finale, so I can give you a rough sense of what you're about to see without puncturing the separate big, exciting reveals of the episode itself. If you're going to watch and you don't want to know, please leave this post now.
If you just want someone to tell you what's going on, please scroll down!
-
-
-
-
-
-
Okay, cool, we're all on the same page now. It's a spinoff announcement! It's a Mandalorian spinoff series called The Book of Boba Fett, and although that should not be at all surprising, given the recent news that Disney will be milking The Mandalorian's success for every ounce of IP it has, it's still fun to watch how it goes down.
In the post-credits scene, Boba Fett and Fennec Shand go charging into what was once Jabba's palace, now occupied by his former majordomo Bib Fortuna. Boba and Fennec dispatch everyone very swiftly, and then Boba Fett takes a comfortable and commanding seat on Jabba's throne. Cut to the title card: "The Book of Boba Fett, Coming December 2021." This is great news for Boba Fett fans, and also for anyone who wants to take the next year to read all the many, many Boba Fett Star Wars novels so you, too, can yell about what does and does not become in-show canon.
And on the morning of December 21, Disney officially confirmed that The Book of Boba Fett will be opening later next year. The company referred to the project as "a new Original Series, starring Temuera Morrison and Ming-Na Wen and executive produced by Jon Favreau, Dave Filoni and Robert Rodriguez, set within the timeline of The Mandalorian."
Disney's announcement, vague as ever, does clear up one important point about Boba Fett: It's its own original series, and not just the new name for the next batch of Mandalorian episodes. While the company tends to be cagey about its production timelines for projects like this, Variety previously reported that Favreau had started work on a third season of The Mandalorian back in August, which means it could also be out sometime late next year. With that plus Boba Fett, and eventually the Diego Luna series Andor coming out in 2022 (the first of many other Star Wars projects Disney has officially dated), it seems as if Disney+ will eventually have some sort of Star Wars or Marvel show premiering on rotation throughout the year in the future. The IP stream never ends!