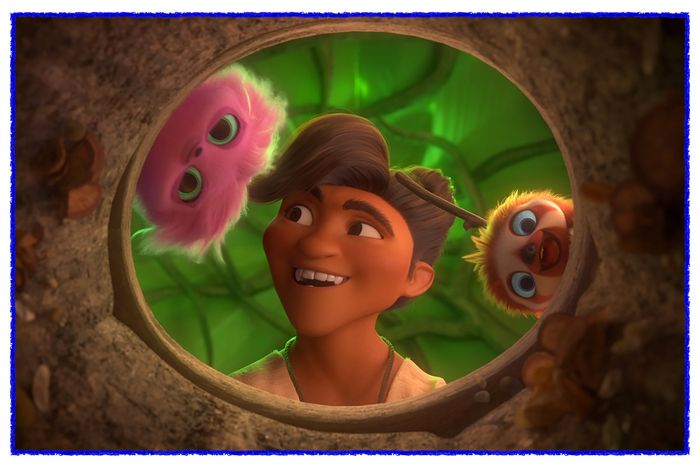 The Croods: A New Age
just had the second-best opening of the fall.
Photo-Illustration: Vulture and Universal Pictures
In Vulture's Fall Movies Fantasy League, contestants stake their pride, and the respect of their peers, on their ability to predict the tumultuous next few months of cinematic releases.
Respect to the Croods, who just did something Robert De Niro, Liam Neeson, and a creepy kid couldn't. Proving that quarantine has not dulled the power of parents' need to do something with their children, The Croods: A New Age won the Thanksgiving box office, pulling in $9.7 million over the three-day weekend, the highest-grossing weekend for a fall release since Tenet's $20 million debut. The sequel's $37 million global haul is the first set of box-office numbers that have looked even slightly close to normal for a while. (Unfortunately this was a Croods-specific phenomenon; the overall box office was still an order of magnitude below a typical pre-pandemic weekend.) Still, if A New Age has legs, it could become just the second fall release to break $100 million worldwide — heartening news for its owners in the league, especially as every other film in its price point (Coming 2 America, Death on the Nile, and Dune) was pushed to next year, and therefore scored zero.
But that's all moot for the purposes of this update, because while four Vulture staffers drafted one of those other films, once again exactly none of them drafted Croods: A New Age. In fact, the only Thanksgiving release any of them picked up was the lesbian holiday rom-com Happiest Season, which survived its move from theaters to Hulu remarkably intact, due to its positive reviews, plus the fact that it stuck with its original release date. The other two movies that came out — Uncle Frank, which stars Paul Bettany as a gay man mentoring his niece in the 1970s; and Black Beauty, in which Kate Winslet voices a horse — are most notable for the fact that their leads have both acted in films alongside (and in Bettany's case, later married after 9/11 inspired him to profess his love to her) Jennifer Connelly. Congrats, Jennifer Connelly!
Here is the update for the staff league:
Week 13 Results
Tolly Wright
Happiest Season: November streaming release (3) + Hitting scheduled release date (1) + RT score above 80 (2) = 6 points
Total: 6 points
Current Standings
1. Katy Brooks: 59 points (8 movies)
2. Rachel Handler: 58 points (8 movies)
3. Neil Janowitz: 43 points (7 movies)
4. Tolly Wright: 38 points (7 movies)
5. The dearly departed Hunter Harris: 37 points (7 movies)
6. Alison Willmore: 32 points (8 movies)
7. Jen Chaney: 30 points (7 movies)
8. Chris Murphy: 27 points (8 movies)
9. Justin Curto: 25 points (6 movies)
10: Jackson McHenry: 20 points (6 movies)
Staff fantasy-league teams are listed in full here.
Vulture's Fall Movies Fantasy League is open to all readers. Enter and you can look forward to an exciting autumn of endlessly refreshing Box Office Mojo and Rotten Tomatoes and quibbling over the precise definition of "wide release."