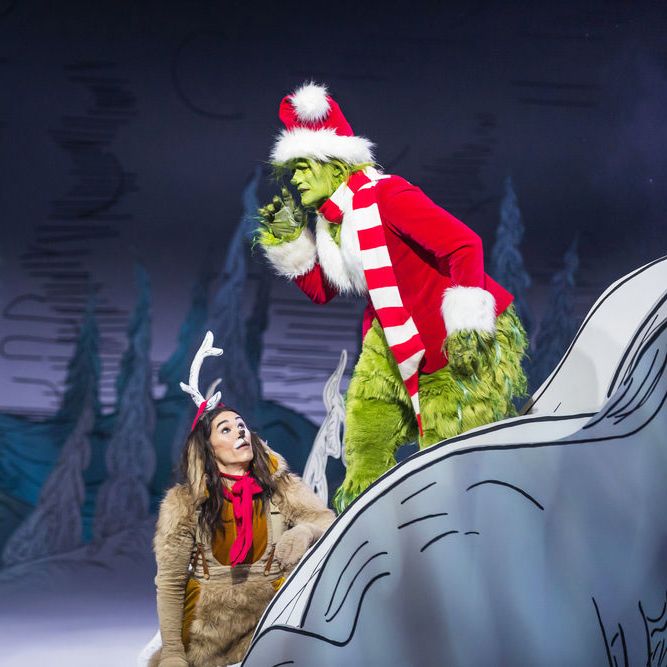 On NBC on Wednesday night, Matthew Morrison did his best to ruin Christmas. The erstwhile Mr. Shue, presumably on the lam due to various educational crimes, starred as the Grinch in a musical version of How the Grinch Stole Christmas, taped with COVID precautions at the Troubadour Theater in London for American viewing pleasure and confusion. The show, based on the classic Dr. Seuss story, has a book by Tim Mason with music by Mel Marvin, and though it's really just a one act, it managed to run for two hours in prime-time TV, thanks to many ads for shingles medication. The rest of the cast included national treasure Denis O'Hare as the adult version of the Grinch's dog Max, Booboo Stewart as young Max, and Amelia Minto as Cindy-Lou Who. And, yes, Morrison's performance was inspired by Joaquin Phoenix's Oscar-winning dance moves in Joker. What did the show invoke, other than mostly bewilderment and boredom? Here's our best attempt to break it down into highs and lows.
HIGH: Denis O'Hare got paid. On just a baseline level, it's nice to see Tony winner Denis O'Hare working. He was so good in that Assassins revival, have you listened to it recently? Great all around. Anyway, as Adult Max, the show's narrator, he wore some unsettling jowls and padded around and was generally charming as Denis O'Hare tends to be. Good for him.
LOW: Whatever voice Matthew Morrison decided to do. Thankfully Matthew Morrison didn't try to emulate Boris Karloff's low register as the Grinch, but he did adopt a vaguely British accent that confused matters, seemingly just to double down on the rhyme scheme. Also, there was a lot of sneering at the camera in direct addresses, as if the Grinch was Hannibal Lecter, a choice too unsettling for a fun little Christmas musical.
LOW: This version of How the Grinch Stole Christmas is not that great of a stage musical in the first place. I'm all for bringing new stuff to prime time, but it's very hard to beat the original animated Grinch. This musical adaptation stuffs in a few more tinny songs and a sequence where the Grinch sneaks into a Whoville department store, all of which feels unnecessary and makes the whole evening drag. A slimmer version of the show would've benefited everyone involved, or just choosing a different musical to showcase. Could we do Six live and just pretend the "Greensleeves" sample makes it seasonal?
HIGH: Booboo Stewart's level of commitment as Young Max. Denis O'Hare may have been narrating the show, but Stewart (of the Twilight films and many a Disney Channel original movie) really had to pretend to be peppy and follow Matthew Morrison around enthusiastically for the whole show. That's some real dedication.
HIGH, I GUESS: The painterly production design was cute, I guess.  It looked like a storybook, credit where credit is due.
LOW: Too many scenes where small children sing songs in unison and/or play kazoos. Like the Grinch, I am now also anti-children.
LOWER LOW: Matthew Morrison's random Grinch ad-libs. In the spirit of chaos, I assume, Morrison's Grinch would shout random things in scenes to make things modern and fun for the kids at home — I assume he gets this from playing Mr. Shue. Early in the show, Morrison turned to the camera and insulted the viewers' couches at home, then later, while being dragged offscreen by another character, shouted, "This is my Emmy nomination!" (Good luck with that.) And finally, while the Grinch's heart was growing three sizes, announced, "Just don't make my butt any bigger." In fairness, the show's costumers did give the Grinch a giant butt, something I refuse to spend any more time thinking about.