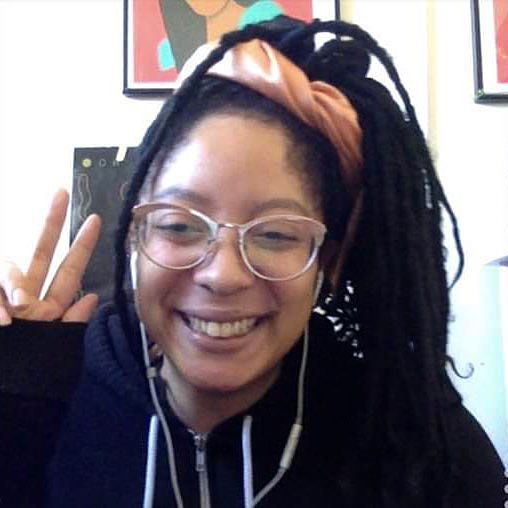 Photo: Courtesy of Ashley Ray-Harris
The comedy-podcast universe is ever expanding, not unlike the universe universe. We're here to make it a bit smaller, a bit more manageable. There are a lot of great shows, and each one has a lot of great episodes, so we want to highlight the exceptional, the noteworthy. Each week, our crack team of podcast enthusiasts and specialists and especially enthusiastic people will pick their favorites. We hope to have your ears permanently plugged with the best in aural comedy.
TV, I Say w/ Ashley Ray - Roxane Gay and Seth Rogen: In Conversation: 90 Day Fiancé
TV, I Say is a modern-day TV Guide. Hosted by Ashley Ray-Harris, whom you'll recognize from her now-suspended Twitter account, the podcast "keeps listeners up to date on the shows everyone is talking about, digs deep into classic tropes, and breaks down the best moments in television." An extension of the smart and witty takes found in Ray's writing (don't sleep on her bylines) and comedy, the show sees her employ her deft interviewing skills and comedic timing to talk to various guests most engagingly. This episode offers a lively conversation with Roxane Gay and Seth Rogen about the bonkers and bingeable 90 Day Fiancé franchise, which Ray recaps for Vulture. Diving into everything from character motivation to conspiracy theories, the discussion is as enthralling as the show itself. The trio's amusing analysis often provides solid advice, too. "There's nothing wrong with being a sadist, but you have to find a masochist," says Gay. Tune in to "the hangout sitcom of a podcast" for even more guidance and laughs like this. —Becca James
Listen: Spotify | Apple | Website
The Bechdel Cast - The Santa Clause 3: The Escape Clause
Comedian Grace Thomas has a lot of feelings about The Santa Clause franchise. This first became abundantly clear during last year's two-part live episode of The Bechdel Cast, in which she joined hosts Caitlin Durante and Jamie Loftus to pick apart every detail of the first film while offering punch-ups that may or may not be included in her own script for The Santa Clause 4. This time around, she's back to tackle The Santa Clause 3: The Escape Clause. Things in this episode get off track almost immediately when both Durante and Loftus admit that they didn't even remember to track whether or not this movie passes the Bechdel Test — even though it most certainly does not. But the chaos is welcome, as listeners are brought down a rabbit hole of how child elves reproduce, the unexplainable boomer appeal of Martin Short, and the terror of a fireplace made in Tim Allen's image. With the distinct honor of being one of the longest single episodes of the podcast so far, this episode mirrors the energy of happiness and delirium that comes with a sugar-fueled middle-school sleepover, in the best way possible. —Brianna Wellen
Listen: Spotify | Apple | Website
The Neighborhood Listen - Cam Girl Ham Girl with Nicole Byer
Here's all you need to know about this semi-recently-freed-from-behind-the-paywall, improvised delight: Dignity Falls' resident hosts Joan Pedestrian (Nicole Parker) and Burnt Millipede (Paul F. Tompkins) get to know their neighbors by reading intriguing posts from the Neighborhap app, a.k.a. "a popular neighborhood networking website" that their "network is scared for [them] to name for legal reasons" (but, I mean, we know which one it is). This week, Burnt and Joan invite user "ineedham" to justify their (actual, word-for-word) trending post: "Ham: I cannot find a ham anywhere. Does anyone have any recommendations?" Thankfully, the poster (Nicole Byer) shows up with an explanation. Byer's the perfect, playful candidate to embody the type of peculiar character that this podcast features; she instantly commits to an unprompted British accent and names herself Gidget. Most importantly, as happens almost every week, she succeeds in leaving Burnt and Joan with more questions and concerns than they started with. If you're just tuning in to this season-two finale, you'll want to go back and listen to each episode to catch up on all of the quirks and lore of Burnt, Joan, and her husband/sound engineer Doug (Brett Morris). Hopefully we'll get a third season soon … and someone out there gets their ham. —Anna Marr
Listen: Spotify | Apple | Website
It's A Wonderful Lie - "Bathing Suit & a Smile" and "You Can Taste It"
'Tis the season for specialty podcasts and, if you've ever received one of those cloyingly cheery holiday "update letters" from a relative or friend, then you'll instantly connect with this 12-part series that dropped two episodes on Sunday and will continue to release an episode every day until Christmas. Created and hosted by Ashley Flowers, she has two friends — Holly Laurent and Greg Hess (of the podcast Mega fame) — taking potshots and sniping between the lines, as she reads what appear to be updates from real people. The first episode features the story of Lucas, a young man who can't stop gushing about his new gig as a fitness instructor, which increasingly sounds like a sales come-on aimed at his Christmas-card list. There also seems to be a suspiciously not-quite-kosher relationship with owner of the gym where he's now working. The second letter is from a too-good-to-be-true husband and family man who can't stop bending over backwards for his wife of 26 years, Joyce. ("I don't trust this guy," says Holly, then moments later, proclaims, "He's the best man ever.") The year has started off badly, as Mr. Thompson fell off his roof and was hobbled by a broken ankle for two months. Thank God for his faithful "itchin' stick." There is a lot to unpack in each less-than-half-hour episode. —Marc Hershon
Listen: Spotify | Apple | Website
You Are Worthy - Sex, Drugs and Pretty Bad Rock N Roll
You Are Worthy is maybe the only comedy podcast that doubles as a meditation app, and I think it deserves a moment of your time. Like a mindfulness guru who's a little bit mad at you, host and therapeutic authority LilMookieB (Mookie Blaiklock) begins each session with a sometimes gentle, sometimes confrontational sermon focusing on a specific emotional-health issue before welcoming a guest. This week's focus is gratitude — not a bad concept to reflect upon at the end of the year, even at the end of such a hellish year as 2020. Mookie's Grammy (Betsy Sodaro) joins the discussion to offer a refreshingly different view of mental-health treatment as it was practiced in her day, 100 years ago. She survived the Spanish flu of 1918 and was later institutionalized for excessive horniness and almost boiled alive, so she has her own opinions on the medical establishment, but still finds aspects of life to be grateful for. —Kathryn Doyle
Other Podcasts We're Listening To:
Wokefield - Gemini Twins - Sweet Valley High
Listen: Spotify | Apple | Website
Law School - The Nest
Listen: Spotify | Apple | Website
Stand By Your Band - Gin Blossoms with Myak Fox
Listen: Spotify | Apple | Website
Here's the Situation - Binging Down the House with Adal Rifai
Listen: Spotify | Apple | Website
Hella in Your Thirties - Volunteering at Food Banks
Listen: Spotify | Apple | Website
Got a comedy podcast recommendation? Drop us a line at comedypodcasts@vulture.com.
If you like comedy and you like podcasts, we recommend you subscribe to Vulture's own Good One podcast, which releases new episodes every Tuesday on Apple Podcasts, Spotify, Stitcher, Overcast, or wherever you get your podcasts.