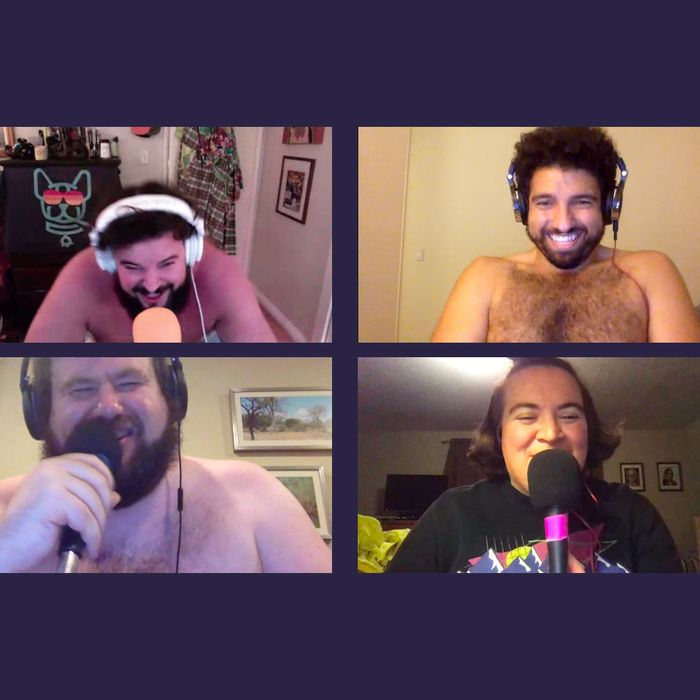 High and Mighty.
Photo: Courtesy of HeadGum
The comedy-podcast universe is ever expanding, not unlike the universe universe. We're here to make it a bit smaller, a bit more manageable. There are a lot of great shows, and each one has a lot of great episodes, so we want to highlight the exceptional, the noteworthy. Each week, our crack team of podcast enthusiasts and specialists and especially enthusiastic people will pick their favorites. We hope to have your ears permanently plugged with the best in aural comedy.
High and Mighty - The 6th Annual Thanksgiving Eve Power Hour
For many, the beginning of the holiday season usually involves breaking bread at family gatherings, singing seasonal tunes, or scanning the internet for Cyber Monday deals. For me, nothing screams "holiday season" more than Jon Gabrus's annual High and Mighty "Power Hour." As an East Coaster, seeing the Power Hour unfold live onstage was never an option. Due to COVID-19, however, the format shifted to a virtual setting this year, where thousands could attend for $10 a ticket, all proceeds of which were donated to The Okra Project. Traditionally, listening to the Power Hour is a podcast highlight of mine. This year, being able to watch it unfold live proved to be the lifeblood I didn't realize I was looking for. Although streaming the video is no longer available, listening in proves to be just as fun and chaotic. As is customary for the annual event, our favorite cast of characters reunites Avengers-style. Instead of taking down Thanos, though, Jon Gabrus, Nicole Byer, Mano Agapion, Betsy Sodaro, Mike Mitchell, and Nick Wiger all try to take down 60 shots of beer in an hour. Will they succeed? Will they be snapped into oblivion? Tune in to find out! —Tom Rainey
Listen: Spotify | Apple | Website
Straightio Lab - "Ketchup" w/ Sandy Honig
We love ostensible podcast premises, don't we folks? In each week's Straightio Lab, comedians George Civeris and Sam Taggart analyze and deconstruct major elements of straight culture — things like the UFC, the Beatles, prom, sheds, and garages. But like many of my favorite podcasts, its supposed premise is just a jumping-off point for bits, industry gossip, and emotional reveals of controversial beliefs (like thinking David S. Pumpkins is funny). To discuss the most hetero of condiments, ketchup, the boys invited Three Busy Debras' Sandy Honig, fresh off her release from Twitter jail for impersonating Ivanka Trump. There's a brief ranking of condiments (mustard is lesbian, truffle aioli is gay, BBQ sauce is closeted) but the real fun of the episode comes when the trio discuss which stale TV stereotypes they've been self-taping for during the pandemic and Honig's story about discovering that her upstairs neighbor follows her on Twitter. That last one might not seem like a big deal, but it is when you find out after your tweet about your noisy upstairs neighbor goes viral. —Pablo Goldstein
Listen: Spotify | Apple | Website
This Is Important - That Time Blake Ate Lasagna With the Edge From U2
"Whatever happened to those guys from Comedy Central's Workaholics?" fans of the bonehead sitcom ask themselves from time to time — probably. Well, they've got a podcast. This Is Important features four of the show's creators (and three of its stars) — Blake Anderson, Adam DeVine, Anders Holm, and Kyle Newacheck — having rambling conversations about lives as buds before, during, and after the show. It doesn't take long to realize that these guys were those guys on the TV show, only now it's real life. Anderson turns out to be so bad at directions that he would frequently get lost driving to a filming location while following the other guys. DeVine once bought a motorcycle during the series but was usually too afraid to drive it down the twisty, curvy road he lived on — and often wiped out when he did drive it. Nobody's mom could cook a decent meal, but Holm's mother made great brownies. The reason they even get into discussing their mothers' cooking is because of Anderson's story involving a time he ate lasagna with his mom, an Instagram photographer, and the Edge from U2. (It's a whole thing.) This show is an hour long, and the whole thing hangs together like that. Super random, super fun. —Marc Hershon
How Did This Get Made? - Cats
Cats, the 2019 film adaptation of Andrew Lloyd Webber's Tony Award–winning stage play that ended up being so bad it's amazing, is the type of movie that fuels How Did This Get Made? A box-office bomb, the film was plagued with production issues, mostly due to the extensive visual effects required to transform the actors into awkward alien versions of cats. Hosts Paul Scheer, June Diane Raphael, and Jason Mantzoukas discuss this at length, trying their hardest to figure out, among many other things, how large these cats are. On the first-ever livestreamed episode of the show, Seth Rogen drops in to share some knowledge. "I did research online, and it told me that the sets were built to a 2.5 scale, which means that the cats would weigh around 60 pounds," Rogen says incredulously. They also rack their brains, attempting to figure out what a Jellicle is. Each guess gets more absurd, but the gist is maybe all cats are Jellicle cats. "If this is true, I swear to God, I'm capable of murder," says Mantzoukas after this revelation. Finally, there's talk of the infamous "butthole cut," which you'll have to tune in to hear more about. —Becca James
Listen: Spotify | Apple | Website
Other Podcasts We're Listening To:
The Reluctant Phoenix - Matthew Zachary
Listen: Apple | Website
Got a comedy podcast recommendation? Drop us a line at comedypodcasts@vulture.com.
If you like comedy and you like podcasts, we recommend you subscribe to Vulture's own Good One podcast, which releases new episodes every Tuesday on Apple Podcasts, Spotify, Stitcher, Overcast, or wherever you get your podcasts.