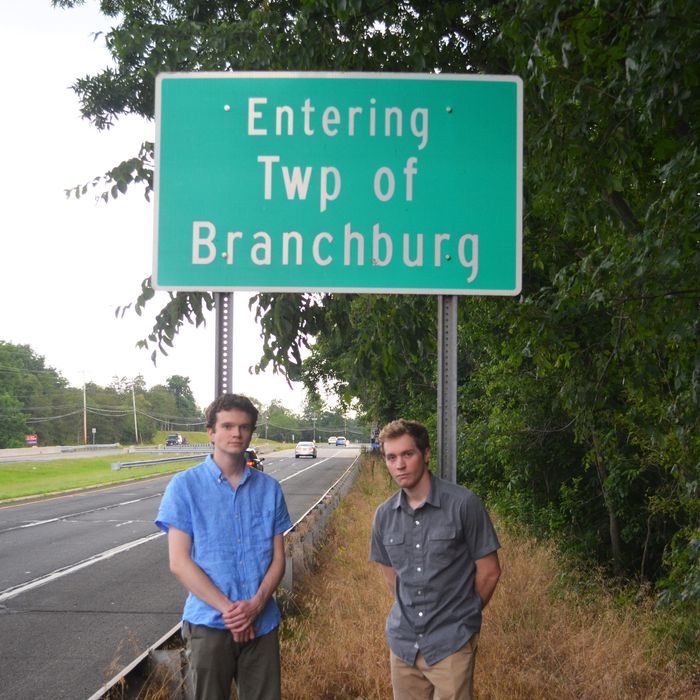 Thank you.
Photo: Courtesy of Brendan O'Hare and Cory Snearowski
The comedy-podcast universe is ever expanding, not unlike the universe universe. We're here to make it a bit smaller, a bit more manageable. There are a lot of great shows, and each one has a lot of great episodes, so we want to highlight the exceptional, the noteworthy. Each week, our crack team of podcast enthusiasts and specialists and especially enthusiastic people will pick their favorites. We hope to have your ears permanently plugged with the best in aural comedy.
This Is Branchburg: 'Would Anyone Like to Be My Wife?' 
This Is Branchburg, a wildly hilarious fictionalized take on the small New Jersey town from Brendan O'Hare and Cory Snearowski, just wrapped another season full of surreal slice-of-life stories. After season one introduced listeners to many of Branchburg's zany characters — like the last remaining milkman and a defiant principal — season two seamlessly shared their latest shenanigans with a stellar list of guest stars including Tim Robinson, Aidy Bryant, Ellie Kemper, and Ezra Koenig. In the finale, between some volunteer firefighters getting let go for hunting deer with a fire hose and a harrowing communion at the local church comes a funny, fascinating, and tension-filled tale of doppelgängers. "We made identical twins look like assholes. We were something deeper, something cosmic," explains the storyteller. Laugh-out-loud lines like these are abundant as the podcast goes from one piece of small-town lore to the next. A familiar yet foreign world, this version of Branchburg is worth taking a trip to, so tune in. —Becca James
Listen: Spotify | Apple | Website
Green Eggs and Dan — Nicole Byer
Green Eggs and Dan is a podcast about eating that's more funny than foodie. Described by host Dan Ahdoot as "not your typical, holier-than-thou food show" and instead the "type of food podcast you'd make with your friends around the table, roasting more than just the food," it's an amusing take on a beloved subject. In this episode, his fellow roaster is Nicole Byer, who is pro–cheesy potatoes and very anti–pickled items. "Whenever I see a person just, like, munching on a fucking pickle, I'm like, What's wrong with you? Who doesn't love you?" says Byer. In addition to Ahdoot quizzing Byer on her likes and dislikes, the two reminisce about restaurants, and Byer jokes that the best meal she's ever had was from an expensive tasting menu that included things like "a puff of smoke, a wish, and a radish." Both agree that restaurants are "so fucked" right now before discussing other pandemic predicaments. "I just think we're going to have to be cleaner than we want to be," says Byer. Take note. —B.J.
Listen: Spotify | Apple | Website
Working It Out — "Natasha Lyonne: No F**kin' Around"
The host of Working It Out, Mike Birbiglia, is an unabashedly huge fan of his guest this week, Natasha Lyonne. It's easy to understand why, since he had just binge-watched the whole first season of Russian Doll — the 2019 Netflix series Lyonne co-created, co-wrote, co-directed, and starred in — the night before this interview. Her husky New York–accented voice is unmistakable as she gets settled into her time with Birbiglia. It's easy to forget she's been around for years, but she's got bits and bobs of memories from a movie you forgot she was in, or a TV show she wishes she hadn't been in. "We really need to unpack that" is a phrase Birbiglia uses a few times in response to some heavy wisdom Lyonne drops along the way. One such nugget is something she shares as "the best advice I ever got: 'You've got to develop the talent to back up the talent.'" There's also a delightfully awkward moment in which Birbiglia looks for her feedback on a joke about death that he's thinking about including in his new show. Not only does she not laugh at it, but she isn't even sure what she's supposed to say. So she says nothing, which allows Birbiglia, after a few beats of painful silence, to artfully pick up the momentum again. —Marc Hershon
Listen: Spotify | Apple | Website
SONG-A-WEEK by Don't Stop or We'll Die — "Mrs. Barnaby"
Paul Rust and Michael Cassady bring a dose of silliness and rhythm to the podcasting world in their short and sweet new show, SONG-A-WEEK by Don't Stop or We'll Die. With help from producers and musicians Emeen Zarookian and Tony Thaxton, the duo releases a new song each week, with little lead-in but plenty of fanfare. Rust and Cassady are their own best hype men, starting episodes off with so much enthusiasm for what they're about to play — and, it seems, life in general — that it's impossible to not get caught up in the excitement. This time around, they spend the intro on a quick detour detailing the history of the already existing songs "Honeysuckle Rose" and "Dancing on the Ceiling," with a few improvised musical bits sprinkled throughout. But the main event is the performance of the band's original tune "Mrs. Barnaby," a somewhat emotional ballad that, in true Don't Stop or We'll Die fashion, features giggle-inducing lyrics like "Taxi should still be on the air." But make no mistake: The music is no joke. These two are talented, and their melodies will be stuck in your head for weeks. Each episode clocks in under 20 minutes, and each minute is pure joy and chaos, a bite-size piece of escapism. —Brianna Wellen 
Listen: Spotify | Apple | Website
Other Podcasts We're Listening To:
Dads: The Podcast — Vanessa Ragland Is an Adult, We Promise
Listen: Spotify | Apple
Highbrow Drivel — Conspiracy theories and why people believe them.
Listen: Spotify | Apple | Website
Got a comedy podcast recommendation? Drop us a line at comedypodcasts@vulture.com.
If you like comedy and you like podcasts, we recommend you subscribe to Vulture's own Good One podcast, which releases new episodes every Tuesday on Apple Podcasts, Spotify, Stitcher, Overcast, or wherever you get your podcasts.