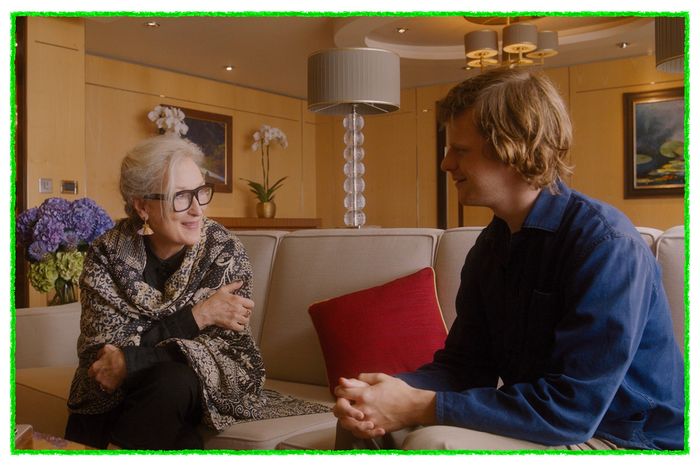 Meryl Streep and Lucas Hedges being allowed to talk.
Photo-Illustration: Vulture and Netflix
In Vulture's Fall Movies Fantasy League, contestants stake their pride, and the respect of their peers, on their ability to predict the tumultuous next few months of cinematic releases.
It was bound to happen sooner or later: a week in which we had absolutely nothing to talk about.
After 15 weeks of the Fall Movies Fantasy League, we've come to a lull in the season. A whole bunch of movies technically came out over the weekend — Minari, Wild Mountain Thyme, I'm Your Woman — but since they were all undated at the time of the draft, none of them were included in the game, and thus they do not exist. The only new release worth speaking of is Steven Soderbergh's Let Them All Talk, a fun cruise-ship comedy that is nevertheless more fun to discuss (is it, as some critics contend, a veiled response to Soderbergh's pal David Fincher?) outside the context of the league, where it debuted to a very-okay five points. And at the box office, The Croods: A New Age topped the charts again with $3 million, lumbering to $76 million worldwide before it heads to VOD next week.
But if this week is the calm, the next few will bring quite the storm. Friday will see the Netflix debut of Ma Rainey's Black Bottom, the most-owned film among readers who've been playing since week one. Reviews are great, and the August Wilson adaptation seems probable to show up on at least one of the National Board of Review and the American Film Institute top-ten lists next month.
Then there's Christmas, when Wonder Woman 1984 will slide down the chimneys of Americans who subscribe to Christopher Nolan's least-favorite streaming service, while everyone else gets the chance to see it on the big screen. It's a big test, not only of HBO Max's viability but also of the post-Tenet conventional wisdom that says you can't open a global tentpole in 2020. The stakes are equally high in the FML. Considering how many points are at stake, and how many people own WW84 — a lot, in both instances — it's not a stretch to say that the fate of the competition will hinge on this particular release.
But it's not alone! Christmas also marks the debut of Pixar's Soul on Disney+ and the Tom Hanks Western News of the World in theaters, both of which are likely to score with critics and are solid bets to show up on the NBR and AFI lists too. (News of the World will also be our third big blockbuster-y movie to test the waters of a wide release.) Each could be a solid differential as we enter the season's closing weeks.
But that's all in the future. In the present, all we have is Let Them All Talk.
Week 15 Results
Justin Curto
Let Them All Talk: December streaming release (3) + RT score over 80 (2) = 5 points
Total: 5 points
Current Standings
1. Katy Brooks: 59 points (8 movies)
2. Rachel Handler: 58 points (8 movies)
3. Neil Janowitz: 43 points (7 movies)
4. Tolly Wright: 38 points (7 movies)
5. The dearly departed Hunter Harris: 37 points (7 movies)
6. Alison Willmore: 32 points (8 movies)
t-7. Jen Chaney and Justin Curto: 30 points (7 movies each)
9. Chris Murphy: 27 points (8 movies)
10. Jackson McHenry: 25 points (7 movies)
Staff fantasy-league teams are listed in full here.
Vulture's Fall Movies Fantasy League is open to all readers. Enter and you can look forward to an exciting autumn of endlessly refreshing Box Office Mojo and Rotten Tomatoes and quibbling over the precise definition of wide release.