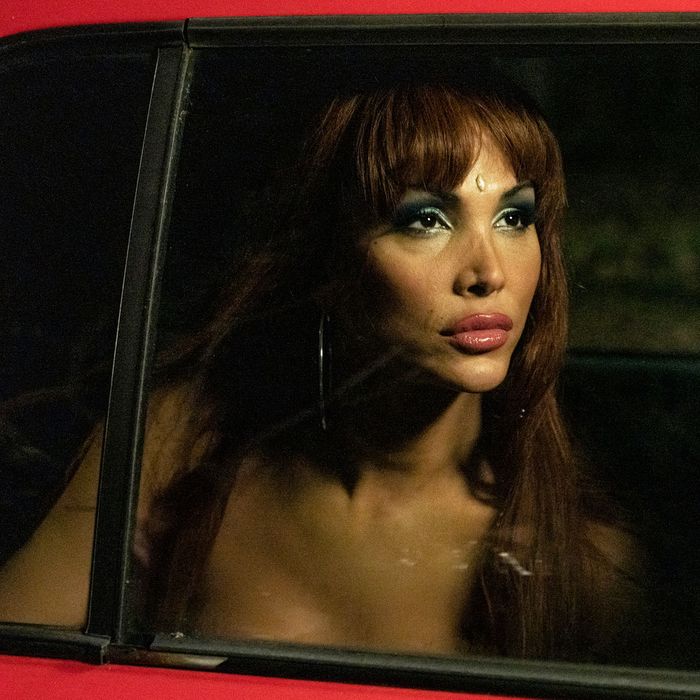 Daniela Santiago as Cristina Ortiz Rodriguez, a.k.a. La Veneno.
Photo: Atresmedia/HBO Max
The first time we see Cristina Ortiz Rodriguez (Daniela Santiago), better known as La Veneno, she's a silhouette backlit by headlights, strutting down a misty road — a showstopper. An obtrusive TV reporter Faela Sainz (Lola Dueñas), worried about what maternity leave might do to her career, has barged her way into the Parque del Oeste in Madrid to report a story about trans prostitutes and the johns who solicit them. When Faela sees Veneno, tits out, in heels, like a screen goddess from a sexploitation film, she knows she's found her subject. She runs up, mic in hand, and asks her, "Are you a man or a woman?" "What am I?" Cristina purrs. "A traffic light, honey."
When that scene aired on the late-night show Esta Noche Cruzamos El Mississippi in 1996, it turned the real-life Cristina into an icon. Viewers ate her up and wanted more. She became a regular on the show, delivering juicy bon mots with a scandalous decolletage. Veneno, created by Javier Ambrossi and Javier Calvo, is as interested in Cristina's biography as it is her thorny relationship with the media and the cost of being a trans woman in the public eye. After interviewing Cristina in the park, Faela tries to get B-roll of the rest of the women. They close ranks to protect themselves from this bottlenecking interloper and her cameraman. Even as the show launches Cristina's career, the wolfish glint of the camera lens is something she contends with for the rest of her life.
What, then, does it mean to be seen as you are? In the present-day timeline of 2006, a young college journalist named Valeria Vegas (Lola Rodriguez), not yet out as a trans woman, is determined to track down Cristina, her childhood idol. Her curiosity comes from a desire to understand her own incipient transition. When she finally meets Cristina and her best friend Paca (played by the real-life Paca La Piraña herself, who is absolutely delightful), they recognize her immediately: She's one of them, a sister. Valeria and Cristina begin their own relationship of writer and subject, daughter and mother, that eventually results in the book ¡Digo! Ni puta ni santa. Las memorias de La Veneno (Listen! Neither whore nor saint. The memories of La Veneno), which becomes the source material for this show.
Veneno toggles between the present timeline, in which Cristina recounts the story of her life to Valeria, and another focused on those very memories — from her childhood in Adra with an abusive mother to her eventual escape to Madrid and rise to fame. Like anyone, Cristina is an unreliable narrator. In that sense, Veneno, quite remarkably, mixes fantasy and reality, self-mythology and delusion, without betraying its subject or looking down on her: The stories we tell ourselves about ourselves are perhaps just as crucial as what happened. It is tender but not cloying. When Cristina recalls walking down the church aisle as an altar server in a surplice she remade as a child — fitted waist, shortened hemline — her imagination takes flight, and the show moves into surrealism. The energy is electric. At times, Veneno tries to fit too much into a short time span, but even its ambition is a necessary tonic. There is so much within a life!
Veneno is close to the people whose lives it depicts. Trans actors play trans characters; the real-life Vegas consulted on the scripts as well as the performance by Rodriguez, who anchors the show as its wide-eyed newcomer. Each character feels lived in — their camaraderie and rivalries thick with love and jealousy. The actors are knockouts, particularly those who play Cristina throughout her adult life: Jedet Sanchéz as a young upstart in Madrid, just beginning her transition (the actor herself is transitioning as well); Daniela Santiago exudes charisma as the bombshell TV star; Isabel Torres lives with the faded grandeur of a woman after her prime years. Paca La Piraña, Veneno's close friend and keeper, plays herself in the latter years, and whatever love she must have had for Cristina in life seems not to have diminished.
Veneno debuted in Spain earlier this spring, and Cristina Ortiz Rodriguez again became a star. The show was a hit (there was also a theatrical release which reached No. 1 at the box office, beating Christopher Nolan's Tenet), and interestingly, moved the political needle. After the series finale, Vice-President Pablo Iglesias tweeted that the show "makes you cry, laugh, remember, empathize, but above all, understand the savage pain inflicted on trans people simply for being themselves." The Madrid city council erected a new commemorative plaque in honor of Cristina in the Parque del Oeste. Irene Montero, the head of the Ministry of Equality, started a public consultation on a Trans Law that would allow for gender self-determination on official documents and IDs without medical requirements. (It has predictably brought out the TERFs.)
I'm often struck by how small the scope of television is; there's a surface-level approach to diversity resulting in shows and characters that feel intrinsically the same. Veneno is a jolting reminder of how big the world is — how precious, beautiful, fucked-up, and knotty our relationships are with ourselves and with others. At its core, it is simply a story about how far a person is willing to go to self-actualize, because anything less feels like no life at all.