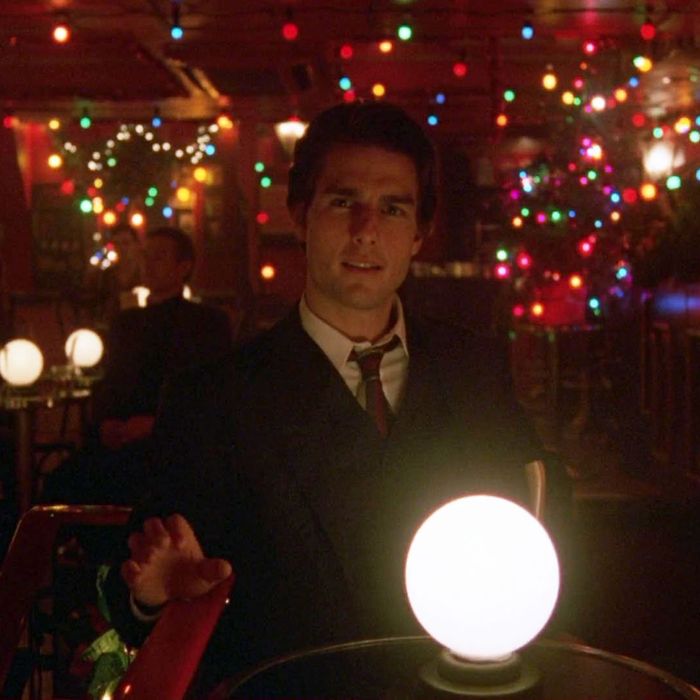 As some of you may know, this is a voyage I've taken many times before.
Photo: Warner Bros
Every week for the foreseeable future, Vulture will be selecting one film to watch as part of our Friday Night Movie Club. This week's selection comes from Vulture senior reporter Lila Shapiro, who will begin her screening of Eyes Wide Shut on December 11 at 7 p.m. ET. Head to Vulture's Twitter to catch her live commentary, and look ahead to next week's movie here.
After a miserable year of discord, disease, and despair, the holiday season is upon us again, and this month at Vulture, we've calibrated our Friday Night Movie Club selections accordingly. Last week, my colleague screened Home Alone. Next week, it's Nancy Meyers's The Holiday. Let those other hosts indulge in their seasonally appropriate illusions of cheer. I'd rather wander madly, blindly, alongside Dr. Harford, the protagonist of Stanley Kubrick's misunderstood masterpiece, Eyes Wide Shut, as he searches desperately for an answer to a mystery he'll never solve.
As some of you may know, this is a voyage I've taken many times before. Many, many, many times. When I wrote about my obsession with the film back in 2019, I told my editor that I was struggling to explain why I had watched it nearly 100 times.  "I don't know if anything will explain that," she gently replied.
Perhaps I watched it because it's hypnotic, and I wanted to be hypnotized. Perhaps I watched it because I'd just gotten married, and marriage is a terrifying proposition, as Kubrick understood so well. Or perhaps I watched it because it was a fairy tale, and I have always liked fairy tales — especially the kind that tell us something true about the brutality of the world, and the human tendency toward self destruction and delusion.
At the lavish Christmas party where the story begins, Dr. Harford and his wife are separated shortly after they arrive. While Alice dances with an elegant Hungarian who tells her that one of the charms of marriage "is that it makes deception a necessity for both parties," the good doctor is whisked away by two beauties in glittering dresses. When he asks the women where they're going, they laugh. "Where the rainbow ends," one says, stoking his arm. "Don't you want to go where the rainbow ends?" murmurs the other.
As Dr. Harford embarks on his dark night of the soul, Christmas lights illuminate his path. Although the film, with its orgy and dead hookers, might not seem, at first glance, to fulfill the comforting genre obligations of a Christmas film, there are thematic elements that tie it to the season of rebirth and repair. Like Scrooge before him, Harford is haunted by the ghosts of the past and chilled by the horrors of his present, ultimately running home to his wife in an attempt to salvage his future. As the Ringer pointed out, the best joke of the film is that it's a movie about how Tom Cruise can't get laid. But during the final scene, on a Christmas shopping trip to F.A.O. Schwarz, Alice makes clear what she wants for the holiday. "There is something very important we need to do as soon as possible," she tells her husband: "Fuck." Merry Christmas.
This Friday, beginning at 7 p.m. ET, I'll be live tweeting the film. Meet you where the rainbow ends.
Eyes Wide Shut is available to watch on Hulu and to rent on Prime Video, iTunes, Vudu, YouTube, and Google Play.
If you subscribe to a service through our links, Vulture may earn an affiliate commission.