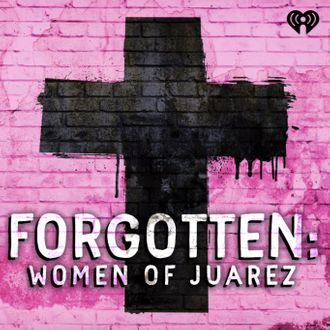 Oz Woloshyn was mulling over something when he wrote me a note.
He had read a column I wrote last month about the rise of right-wing podcasts, and felt there was some connection to be unspooled with a specific trend he had observed in the responses to Forgotten: Women of Juárez, an audio documentary series he made with Mónica Ortiz Uribe, since its release over the summer.
Forgotten is a dense investigative piece that examines the history of femicide around the US-Mexican border, with a specific focus on the city of Ciudad Juárez that sits just across from El Paso, Texas, where Ortiz Uribe is based. It straddles the micro and the macro, linking together individual stories as means to illustrate the bigger picture of the ways in which capitalism and American policy directly drive the systems behind the crisis. "My primary intention was to give back some of the humanity that was so brutally stolen from the women slain in Juárez," Oritz Uribe told me. "I wanted our listeners to get to know them as they were in life. I also wanted to show how American consumption habits, both legal and illegal, are directly connected to violence in Mexico."
The series comes out of a deal with iHeartMedia, and as part of that arrangement, Forgotten was the beneficiary of a podcast marketing campaign that's still fairly novel in many ways. The series was promoted aggressively over the company's vast broadcast radio apparatus, even reaching a point earlier this summer where Forgotten turned out to be the most prolifically advertised product on national radio airwaves, receiving over 71,000 instances of advertising between July 27 and August 2, according to Media Monitor. The next-most advertised subjects during that week were the insurance company Progressive, at around 53,000 instances, and the language learning app Babbel, at around 47,500 instances.
Woloshyn suspects that this broadcast marketing push — hitting scores of commercial radio listeners around the country — ultimately resulted in something they weren't quite expecting: an audience that contains more conservative-leaning listeners than they had originally anticipated.
There was one incident in particular that caught the Forgotten team's attention on this note. It had to do with a specific line delivered in the show's ninth episode; at that point in the series, Ortiz Uribe and Woloshyn were going over a theory that posited powerful industrialists being somehow directly responsible for the disappearances and killings of women in Juárez. Near the end of the episode, the narration deployed a brief aside remarking upon on the long history of powerful men getting away with sexual assault and abuse.
"Time and time again, there are examples of powerful men abusing women, whether it's Jeffrey Epstein, Harvey Weinstein, Dominique Strauss-Kahn, R. Kelly, Roger Ailes… I could go on and on," Ortiz Uribe said in the narration. "I mean, our own president was caught on-tape describing how he feels he has license to sexually abuse women. Two men are now sitting on the US Supreme Court despite strong allegations of sexual abuse."
That line was carefully composed, with the team intending to stress how abuse adheres to no political party and taking pains to name a diverse group of men. But the episode — and that line — drew a noticeable uptick in critical responses within the show's Apple Podcast listing nevertheless. "Up until that point, we had almost exclusively five-star reviews and very positive comments," said Woloshyn. "All of a sudden, we got dozens of one-star reviews and an avalanche of negative comments about having a disguised liberal agenda and an anti-Trump bias."
Now, it's important to properly contextualize the scale of these responses. At the end of the day, those one-star reviews worked out to be a mere fraction of the overall ratings. If you pulled up the show on Apple Podcasts right now, you'd see that the vast majority of ratings are still five-stars, and most of the visible reviews were generally pretty positive.
Nevertheless, the bump in seemingly ideologically-driven negative responses still registered prominently in the minds of the two producers. "It was a little disconcerting," Woloshyn said. "Particularly at the time, it felt bad when it felt like the audience was turning against us."
Some of those negative responses were the kind you'd expect from contemporary online discourse: "You're horrible liberal monsters," and so on. But Woloshyn was struck by several entries that he felt were comparatively more reasoned. He sent over a few examples of the latter — interestingly enough, all written during and around the week that Forgotten was being heavily promoted on broadcast airwaves — and they collectively convey a sense of listeners who were generally appreciated the work they're hearing, but were bristling at what they perceive to be the show's liberal-bent.
Here's one such example:
I thought the show was very well done and professionally done. It could have easily been a five star if not for the latest episode. I believe you did a disservice to the cause by talking about men of power in the US abusing women referencing our current president and two Supreme Court Justices. Yet failing to mention a former and current presidential candidate? I don't believe that abuse of women is exclusive to a single political party.
"I was shocked because, up until that point, I had no idea how many conservative listeners we had brought along to listen to the story," said Woloshyn.
He further pondered: "To think that, for nine episodes, conservative listeners were happy to listen to a story about poor people who work in factories on the Mexico border manufacturing goods for the US market, whose lives and fates are basically incredibly negatively impacted by decisions that happen in the US, and those listeners could feel their humanity, and it was only until we said that thing about Supreme Court justices they seemingly flipped."
Now, it wasn't that the team didn't hope to reach conservative audiences. Effectively engaging listeners outside one's ideological corner is an objectively positive outcome for any journalistic enterprise. "I am glad to know we had listeners with diverse political leanings," said Ortiz Uribe. "This is an urgent issue. It's a story that concerns all of us, no matter where we live or how we vote."
Rather, it was the very fact that the show had caught conservative listeners itself that felt surprising, reflecting an underlying assumption held by the team about the kinds of people who would have ordinarily picked up a podcast like Forgotten. "Most of the big narrative shows come firmly from the liberal tradition," Woloshyn contends. "Knowing the landscape, we simply assumed that the audience for our show would be liberal."
Forgotten's situation neatly feeds into a host of worthwhile editorial debates: about how best to approach telling these kinds of narratives in a way that's able to sustain a bridge across ideological divides, about how to do so without moral equivalency and resorting to reflexive both sides-ism, and about how to effectively convince while standing your ground during a time of intense political polarization.
It's all very interesting, but my brain is still stuck on the whole broadcast promotion thing. The efficacy of promoting podcasts over the radio has been a point of contention for quite a bit now; from what I've heard anecdotally, results have generally been mixed at best. But if the Forgotten team's suspicion is right, and heavy targeted radio promotion over the summer actually translated into new audiences and new kinds of audiences who convert into podcast listenership, then it looks like the wall between podcast and broadcast is more porous than ever, and the notion of older broadcast-centric audio companies effectively crossing over to podcasting seems like more of a viable prospect than ever.
Select news…
➽ The Joe Rogan Experience is now officially exclusive to Spotify, realizing the full scope of the deal brokered between the influential (and controversial) podcast host and the aspiring all-consuming audio platform. At this writing, though, the show remains in the top five of the Apple Podcast charts, which carries only one episode for consumption outside of the Spotify platform.
➽ Howard Stern is staying at SiriusXM, with both sides announcing this morning that his exclusive agreement has been extended for another five years.
➽ Google Podcasts has added support for private RSS feeds, a feature that's already somewhat common across most listening platforms. (Spotify remains a prominent exception.) As a reminder, private RSS feeds are a crucial component when it comes to shows that use members-only content as part of their revenue mix. Here's The Verge on the matter.
➽ Slate's Political Gabfest is celebrating fifteen years this week. Fifteen years! That's almost half my age! What!
➽ From a circulated press release: "IAB Tech Lab has released the Podcast Measurement Technical Guidelines 2.1 for public comment for a 30-day period which begins today and lasts until December 31, 2020." Heads up.
➽ Bookmarking this, just in case: Dan Le Batard is leaving ESPN in January. Here's the Sports Illustrated write-up.
➽ In parallel radio news… From the Los Angeles Times: "Walt Disney Co. shutting down influential Radio Disney after two decades."
➽ From NPR: "Benjamin Netanyahu's Son Makes Podcast Debut." Curiously enough, an interesting and international variation on the column I wrote a few weeks back on the Rise of the Politician podcast.
Report: Amazon in "exclusive talks" to acquire Wondery. The Wall Street Journal broke the news last week, with sources telling the Journal that the talks value the podcast startup at over $300 million. This is the latest notch in a process dating back to the fall, when Bloomberg reported that Wondery had made arrangements "to explore strategic options, including a potential sale." A follow-up report, also by Bloomberg, identified Apple and Sony Music as interested suitors. Looks like they're out of the picture now, probably due to the price tag.
The deal is not done yet. The Journal notes that the talks are on-going and could still fall apart, but I reckon we'll probably see this thread resolve sooner than later. One detail I'm interested to know: the extent to which Wondery CEO Hernan Lopez will be given a long-term employment contract, a measure of how Amazon weighs Lopez's legal drama.
Steve Wilson, longtime Apple rep, joins QCODE as Chief Strategy Officer. Years ago, it used to be the case that you had to manage a relationship with Wilson to get reliable placement on the front page of Apple Podcasts. (This was a widely known open secret, but was officially recorded for posterity in a 2016 New York Times piece.) These days, the Apple Podcast team handling marketing and promotional inbounds is significantly larger, and the process is generally thought to be much less bottle-necked.
Wilson — a fifteen-year veteran at Apple — is now leaving the company for a podcast shop well-rooted within the Hollywood system, tying a bright red bow on what is truly the end of an era. Here's the Variety write-up on the appointment.
The Daily looks forward… CNN's Kerri Flynn who wrote a piece last week on how the New York Times' singular daily news podcast views its place in the world beyond Inauguration Day, and it's a meaty one.
Keep an eye out for all the worthwhile details scattered throughout, like the team's insistence of not having The Daily be "The Michael Barbaro Show" — the core tension of that franchise at this point, in my opinion — as well as GroupM, described as the largest media buying agency in the world, observing that its clients has increased their podcast spend by about tenfold over the past year.
The question of how The Daily will change for the post-Trump world is an intriguing one, though I personally wonder if they even should. There's a lot to unpack even in the very framing of that question: to begin with, it doesn't seem like a given that we're due to immediately transition into some "post-Trump world" even in an America led by President Joe Biden, and the jury is still out on whether the news hungriness of the last four years will ultimately regress back to some mean in the absence of the concern, anxiety, and chaos actively stoked by the Trump administration.
Besides, there's plenty of concern, anxiety, and chaos to go around, stemming far beyond the Trump administration. Take your pick: climate change, the long-tail of the pandemic and vaccination, all sorts of explosive inequalities, and so on. The dominant vector of newsworthy stories from the last five years may be changing, but the newsworthy stories themselves are largely the same as it ever was.
Anyway, there's an even bigger candidate for questions about change with respect to a post-Trump world: Crooked Media. I wonder what they're thinking.
Speaking of the Times… Looks like Serial Productions' Nice White Parents is being adapted into a half-hour HBO series by Issa Rae and Adam McKay. (As a reminder, the Times acquired Serial Productions earlier this summer.)
According to Variety, the TV version will be a "satirical look at the conflict and comedy that arise when highly resourced white parents, who claim to have the best intentions, wield their influence over generations of black and brown students within the NY public school system."
That translation from the one to the other seems a little strange to me, but okay!
'Tis the season for year-end lists… and the opening volley is well underway. TIME's Eliana Dockterman went first with a drop two weeks ago, and last week, The Bello Collective published their hundred-strong selections from the year.
My own top ten list for Vulture will drop later this week. There were several omissions that I feel really bad about, but hey, unexpectedly competitive year, even if, in my opinion, there wasn't any single breakout.
Speaking of which…
Tomorrow's Servant of Pod will be all about the year in podcasts. We switched up formats to recorded a round-table with myself, the New Yorker's Sarah Larson, and Crime Writers On…'s Rebecca Lavoie, where we talked about what we noticed about show releases, what we found ourselves drawn towards, and what kinds of shows we found ourselves avoiding the kinds of shows in this very long and ghastly year. And of course, we went over our respective top three picks.
If SOP lasts past this season, I'd love to return to the round-table format with more frequency, and maybe blow up the picks format a little further. Perhaps a panel with ten people with one pick each? Could be wild, could be interesting.
You can find Servant of Pod on Apple Podcasts, Spotify, or the great assortment of third-party podcast apps that are hooked up to the open publishing ecosystem. Desktop listening is also recommended. Share, leave a review, so on.
Inside the System
By Caroline Crampton
As I was scanning the list of winners of the UK's Audio Production Awards last week — one of the most coveted prizes for those working in audio over here — I was struck by the fact that I kept seeing one name: the Prison Radio Association (PRA), which scooped up three Gold awards, including the coveted title of Production Company of the Year, as well as a handful of other nominations.
In a crowded field that includes industry stalwarts like the BBC, big indies like Whistledown, and broadcasters like Absolute Radio, the PRA's stellar showing stood out. I decided to check in with Andrew Wilkie, the PRA's Director of Radio, and find out about the background to the group's achievements this year.
Some background for the unfamiliar: the PRA operates National Prison Radio, which is a linear radio station for prisons in England and Wales. The organisation operates as a charity with the larger mission of reducing recidivism rates, and that informs all of its content. Around 80,000 people in the prison system here can listen to the station through the TVs in their cells, and it has two production centres, one in the men's prison at Brixton in London and the other at Styal women's prison near Manchester. The station is funded in part by government grants, philanthropy, and entities that want to reach people within the prison system, like the Prisons and Probation Ombudsman.
"I think what's really important to us is that we're not playing at making radio," said Wilkie, when I asked about industry award recognition means to the PRA. "We're not an amateur radio station. We have very serious editorial standards. We have very serious technical standards. We demand that sort of professionalism from everybody who works with us." It means all the more to him, therefore, that Anthony Olanipekun — who presents the National Prison Radio's breakfast show — won the "New Voice" award in competition with peers in the industry.
Audio made from within prison, whether that's the Ear Hustle podcast from San Quentin in California or the Bird's Eye View show made by women inmates in Darwin, Australia, has become much more high profile in recent years. Ear Hustle, of course, has been nominated for both a Pulitzer Prize and a Peabody award, and Bird's Eye View was recently named podcast of the year at the Australian Podcast Awards.
I asked Wilkie why he thinks audio from prisons has proved so powerful and so popular. He traces it back to the core intimate dynamic between host and listener. "I think that translates very, very well in a prison environment, which can be intimidating, scary, isolating. You know, that friendly voice in the corner is very, very valuable." Further, for those listening on the outside, it's the fresh perspectives these shows offer, which are hard to find elsewhere.
This year has been challenging for the PRA due to restrictions that Covid-19 has brought to prisons. Many work and education programmes — of which the radio station is one — have been shut down, and so from March onwards, they haven't been able to produce from inside. Wilkie told me how they quickly pivoted to working remotely with people who had been released from prison, providing them with USB microphones and other equipment so they could present and produce the station's schedule from home.
Another big innovation since the initial lockdowns in March has been making the station more interactive. "Most radio stations have some sort of live interactive element, but we didn't have that luxury before lockdown," he said. "The way our listeners contacted us was by writing letters and we used to get around seven or eight thousand letters a year from our audience."
This year, they've opened a free phone line that people can call from the telephone lines on prison wings. "Since we opened that phone line, the number of contacts we've had has been incredible," he explained. "In the six months from April onwards, we got around about 20,000 calls." Producers have been incorporating these voice messages from inside into the programming schedule wherever possible.
One of the challenges of running a prison radio station used to be the competition from television: with the incarcerated working or doing activities during the day, the peak listening time after around 5pm on weekdays or over the weekends when they were locked in their cells. "We try to put our most popular programmes like the request show on at 7pm, so it's up against the soaps and peak time telly," Wilkie said. "Our talk shows are where we put most of our resources, and they tend to be the programmes where we will address the sorts of issues that commonly lead people to prison — I slightly hesitate to say that because it makes it sound terribly dull and it really isn't."
Since the start of the pandemic, almost all activities have been suspended and inmates have been spending almost all of their time locked in their cells, often up to 23 and a half hours a day. Visits were completely suspended during the national lockdowns, and remain so for prisons in tier three areas of the country (that's places on "very high" alert).
The radio has become a vital link with the outside world, and the PRA has shifted its schedule accordingly. "Whereas before during the day we would have just filled our air time with automated music and focussed all our content on the times people are in cells, now we are broadcasting programmes all the way through the day." They've also incorporated faith services, Wilkie explained, as in person worship in prisons has also stopped. In partnership with the chaplaincy team from the prisons service, they broadcast Friday prayers, a Sunday service, and other sessions targeted at people of all faiths.
Amplifying the sense of community within the prisons system has been very important, too. "The overwhelming sense is that people in prison want to support each other… You get all sorts of different people in prison, but there's a sense that you are all in something together and that you're all there to support each other because it's a uniquely difficult experience," Wilkie said. As one example, he cited the fact that on Thursday evenings, when people on the outside were standing outside to bang pots and clap in appreciation of the NHS, inmates all over the country were banging on their doors to do the same.
Prison radio is in a unique situation, in that it has thousands of listeners within prisons but because it's broadcast on a closed circuit through the in cell TVs nobody else can hear it. The PRA, therefore, makes podcasts to communicate its work to people on the outside. The main one targeted at a general audience is The Secret Life of Prisons, which released the first episode of a new series yesterday.
That show aims to share "aspects of prison life that people generally wouldn't really think of" — such as the fact that people in prison have no access to the internet whatsoever, which personally I sort of knew in theory but it wasn't until I talked to Wilkie that I appreciated fully what that means, especially during a pandemic. The PRA also makes podcasts in partnership with other organisations, such as The Forensic Psychology Podcast, which is a collaboration with HM Prison & Probation Service and targeted very specifically at psychology professionals who have an interest in working with inmates. The PRA also pitches regularly to the BBC for commissions to make radio documentaries, like any other UK production company, and has some with that avenue. In July this year, for instance, BBC Radio 4 broadcast a programme hosted by awards nominee Brenda Birungi.
In August, the PRA went through all of the risk assessments in the hope that they would soon be able to resume production inside prisons, only for the number of Covid cases to rise sharply again in September and take that option off the table for now. I asked Wilkie what ambitions he had for 2021, after a year of such lows and then the high of the recent awards successes. "We want to maintain the standard of our broadcast schedule," he said. "I think over the last nine months since lockdown, we've taken what we do to another level, I think, with providing an ever more essential service. So we want to maintain that."
There are also ambitions to bridge the gap between inside and outside because "we're aware that lots of people lose their access to their favourite radio station when they leave prison". There are funding bids in progress that, if successful, would finance new content, such as a weekly video talk show that could be distributed both to inmates and listeners outside. And then there's work with a body called Prison Radio International, which brings together prison audio makers from all over the world to share experiences and practices.
But above all, Wilkie wanted to tell the rest of the industry about the quality of the people the PRA works with, who hone their skills at the in-prison production centres and then build careers once they are released. "Keep an eye on what we're doing because the talent of the future is sitting with us," he said.