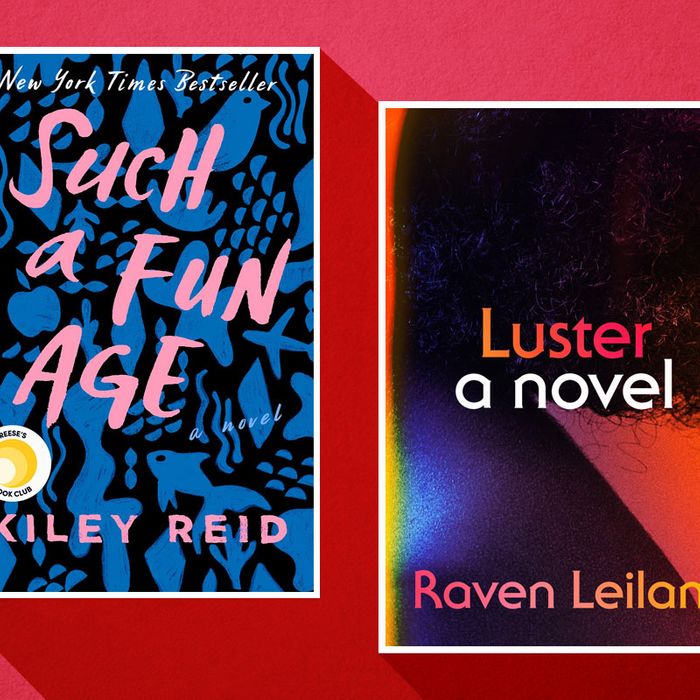 Photo: Courtesy of the publishers
The protagonist of Raven Leilani's Luster, a Black 23-year-old named Edie, is having an affair with an older married white man named Eric when an age-old curiosity arises: the wife. Edie's social-media investigation yields no results, so she decides to go to his house, which she finds unlocked. In his wife's closet, Edie gathers "the silk and wool and cashmere in my hands." Then she hears a voice. When she turns around, a white woman is standing there wearing yellow rubber gloves and a Yale T-shirt. "I know who you are but I don't want to discuss it, if that's all right with you," she says. "I just wasn't finished looking at you."
It is often in the home where the plainest expressions of politics appear. This year, you could see it everywhere in the domestic novel. Leilani's Luster, J. Courtney Sullivan's Friends and Strangers, and Kiley Reid's Such a Fun Age all enter the home of an upper-class white family where a domestic worker takes care of the children. Though the protagonists of these novels are purportedly hired for child care — a job that demands emotional labor from caregiver to child — each story focuses on the implicit expectation that they act as a flattering mirror for the white mothers who hire them. It is this element of the job description that, though unwritten, becomes the most onerous demand of the role. And it pulls the protagonist out of her own life and into the white family's, affecting her relationships with her friends, family, and romantic prospects.
These stories came in a year that thrust white liberal parents into a harsh light. In the spring, there was the TV adaptation of Celeste Ng's 2017 novel, Little Fires Everywhere, a show about a white mother who hires a Black woman as a "house manager" in the backslapping liberal town of Shaker Heights, Ohio. The white mother rents her out a place to stay, surveils her, and believes they are friends. Nice White Parents, a podcast produced by the New York Times, examines Brooklyn parents who fight for desegregated schools until they realize it means giving up benefits they had reserved for their children.
Friends and Strangers casts the least judgmental eye on this dynamic. Unlike Luster and Such a Fun Age, the book's houseworker protagonist is white. Elisabeth Ronson, a white mother, has recently left Brooklyn and settled in a college town in upstate New York. Thinking about her time in Brooklyn, she recounts watching "black nannies care for white children and thought there was something problematic about the whole arrangement." So she hires Sam, who made her feel "above all that." Sam is a chubby 21-year-old on financial aid at the town's small, brand-name women's college. Coming from a big Irish Catholic family where money is tight, she is seduced by the serenity of Elisabeth's house: the single, angelic infant, the fancy soap, the nice wine Elisabeth offers her. Elisabeth, a writer struggling with her current book, is deeply lonely. She is also so ashamed of her inherited family wealth that she begins lying to Sam about financial barriers she overcame in order to build her life and career.
Elisabeth's loneliness and Sam's envy of Elisabeth's life push them into a situation Elisabeth reads as friendship. As much as Sam adores Elisabeth, she never "forgot that Elisabeth was her employer" and "was careful to let Elisabeth set the boundaries." When Elisabeth meets Sam's British boyfriend, she becomes vengefully jealous. Telling herself Sam can do better, she goes behind her back and uses her connections to get Sam an interview for her dream job in New York, disparaging Sam's boyfriend to her network in the process. Sam discovers Elisabeth's meddling — in both her relationship and career — and the "friendship" falls apart. At the novel's end, Sam is now a successful gallerist, a job available to her only because of the entry-level position Elisabeth helped her secure in New York. Friends and Strangers closes on an ambivalent note: Elisabeth's "advice, her meddling, had been wrong and problematic, and yet all of it had propelled Sam into her future. For that, she was grateful." The book suggests that the façade of friendship in such a lopsided dynamic will inevitably fall away. At the same time, it indicates that there may be benefits to be gained for young white women who serve as flattering mirrors for the white mothers who employ them.
Luster is not ambivalent about the power of the white mother. Where Friends and Strangers alternates between Elisabeth's and Sam's perspectives, Leilani's novel follows Edie as she narrates the story in the first person. Upon discovering Edie snooping in her closet, Rebecca invites her to stay for dinner and then to move in. Edie has lost her publishing job, so the offer is difficult to turn down. Soon, Edie realizes Eric and Rebecca have a Black 12-year-old daughter named Akila. Rebecca's interest in Edie begins to make sense on both practical and emotional levels. Keep your enemy close — and maybe she can help raise your Black daughter.
Rebecca's sociopathy becomes more acute as the novel presses on. She performs autopsies for a living, and she likes breaking things apart and rebuilding them in her image. Her cruelty is specifically female: making Edie wear one of her own dresses that she knows will be too small; casually telling her, later in the novel, she must be chilly when Edie puts on a skimpy dress of her own. Soon Rebecca is doing things like shooting a neighbor's dog for barking too much. She smiles and lies to the cops when they come to investigate. In search of a suspect who lives in the house, they pin Akila to the ground when she tries to enter, the Black child more suspicious than the white mother.
Like Sam, Edie is enthralled by the tendencies of a class of which she is not a part: She is fascinated by their extra towels, their organic toothpaste. An essential part of the transaction, of course, is Edie's sexual relationship with Eric. Rebecca welcomes Edie into their home, in large part, as a power play with her husband. Soon, someone begins placing money — sometimes large bills, sometimes a random assortment of coins — on Edie's dresser. "It feels finite," Edie says, "tethered to the source in a way that makes it explicitly transactional, and so of course it is demeaning. But it is also demeaning to be broke." When finding a place to sleep is at stake, practicality becomes more important than divorcing yourself from historically prescribed roles. Edie becomes, over the course of the novel, a Black live-in maid whose value varies by the day. Luster magnifies power dynamics to present them as surreal but recognizable forms of belonging in contemporary American culture, however rooted in exploitation they may be.
Such a Fun Age takes up a modified version of this formula in the story of Emira and Alix. Emira, a Black 25-year-old who is about to get kicked off of her parents' health insurance, is hired by Alix, a white influencer, to watch her infant and toddler. Alix craves reassurance that Emira truly likes her; but unlike Sam and Edie, Emira is not sucked into a relationship with her employer. She laughs politely at Alix's jokes.
Like Friends and Strangers' Elisabeth, part of what informs Alix's behavior toward Emira is her shame at her origin story: Her parents inherited wealth, spent it on a garish Pennsylvania mansion, and hired a Black maid named Claudette, who wore a uniform and regularly spent nights at the family house. Alix uses irony in an attempt to distance herself from such lurid displays of money — at one point, adorning her home in over-the-top Thanksgiving decorations as a campy joke for her friends. But the nature of the display also hints at an attachment to her family's traditions. Soon, Emira's story begins to echo Claudette's. As Emira is about to leave for an art class with the children, wearing a cardigan that would stain easily, Alix offers her a polo embellished with her brand's logo; these polos soon become her uniform. Later, she offers Emira a full-time job staying over at the house a few nights a week — a position with health insurance.
The novel's language hints at the traditions Alix resists and repeats. There are "plantation columns" at Alix's childhood home, and when Emira's friend comes to Alix's house, she comments that there are some "plantation vibes up in here." When Alix's friend notices her daughter gagging at Thanksgiving, she says "grab your girl." Alix thinks, at first, that she's referring to Emira. Switching between the perspectives of its two main characters, the novel's depiction of Alix evolves over the course of the story. In the beginning, it frames her as neutral and well intentioned, then slowly reveals her behavior's paternalistic underpinnings. It suggests that exploitative conditions today come in ostensibly innocent, enlightened packages.
Both Luster and Such a Fun Age are concerned with the reverberations of slavery, depicting the politics of a Black maid living in the home of her white employer, who proudly asserts she is "like family" to them. An unresolved attachment to this tradition compels these white mothers to inflict harm on the women they hire. In contrast to Sam, Emira and Edie walk away from the homes of these white mothers empty handed, leaving only with the damage inflicted by their employers. Taken together, these novels suggest that maintaining the ego of white mothers comes at a higher expense for Black characters compared to their white counterparts.
The books also hint at power dynamics beyond gender, race, age, and wealth. All three protagonists possess higher education, a fact that never goes forgotten. Sam and Emira call themselves nannies, a label that, echoing Elisabeth's tendency to deny her level of privilege, misleadingly frames them as members of the working class. Friends and Strangers and Such a Fun Age critique this kind of self-fashioning: a working-class character, in frustration, corrects Sam, while Emira, when pressed to distinguish whether she is a nanny or babysitter, admits she is the latter. Because of their degrees, there is a sense that these protagonists should, can, and will do better than the full-time workers who stand on the sidelines of these stories. In highlighting their protagonists' college degrees, these novels also establish that they are depicting nuanced power dynamics within socioeconomically privileged sets of people.
In the end, Sam, Edie, and Emira find jobs in the outside world that match their education. These jobs may be just as fraught, but they will likely not be as consuming, or intimate, as the ones in the houses where they spent their younger years. Luster and Such a Fun Age suggest their protagonists' stories will repeat themselves with each generation. At the end of the latter book, Emira wonders what will come of Alix's daughter. If she ever struggles to understand herself, Emira worries she may "just hire someone to do it for her." Looked at another way, young Black women will be dealing with the echoes of history for years to come.