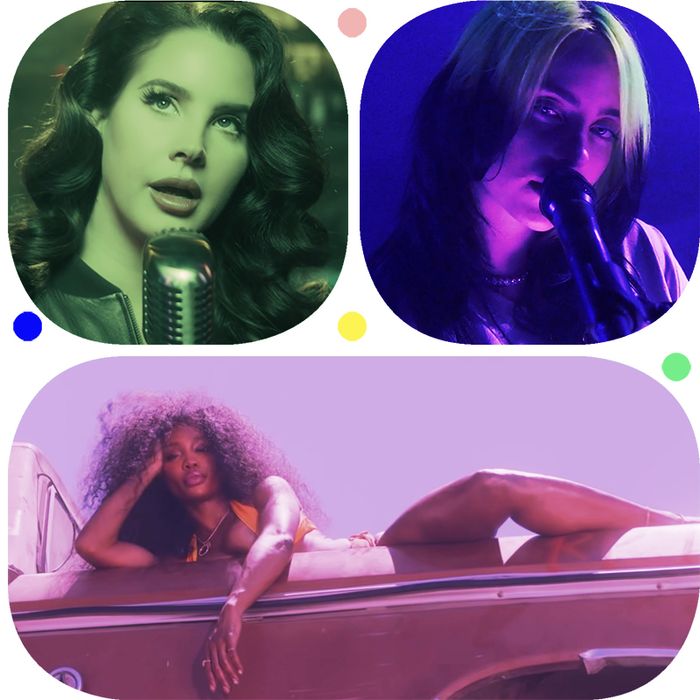 Photo-Illustration: Vulture and Photos by YouTube and DNCC/EPA-EFE/Shutterstock
Collective experience was hard to come by in 2020, except when it came to music. When big-ticket albums like Fiona Apple's years-in-the-making Fetch the Bolt Cutters and Taylor Swift's surprise quarantine albums folklore and evermore came out, it felt as if the whole world paused to listen in on the same night, translating the feeling of a listening party at a club or a festival set to online spaces for the age of social distancing (which you should still be doing, ahem). As we quickly approach a full year of staying at home, we'll still be looking to music for these experiences in 2021, and music will still be there to provide them — whether in the form of new releases by exciting up-and-comers or, uh, a Drake album. Maybe we'll even get some of those long-teased albums from our biggest stars, like Rihanna, Kendrick Lamar, and Adele. Surely we deserve them at this point.
As in 2020, expect this music-industry turning point to keep on spinning. Ten months into the pandemic, the quarantine albums will surely only keep coming, and they'll get more innovative as they roll on. There's no sign of TikTok releasing its grip on the charts, leaving artists to try to keep up (and succeed greatly if they can). The boomer rock renaissance — thanks in part to quarantine albums and TikTok — also seems likely to continue apace with new releases from artists like Ringo Starr already set for this year. The release calendar becomes more obsolete by the week, with a surprise album by Playboi Carti currently reigning on the charts and Zayn Malik eyeing his own No. 1 debut with a new album on less than eight days' notice. And the biggest question of all: When will enough people be vaccinated for concerts and touring to resume safely? That answer could prevent many artists from dropping new albums until safe tours and festivals seem viable.
In the meantime, unannounced drops and extended rollouts continue apace. Here are the ones — some locked in, some not — we can't wait to hear this year.
January
Morgan Wallen, Dangerous: The Double Album (January 8)
Nothing can interrupt Morgan Wallen's status as the newest toast of Nashville — not even having his Saturday Night Live performance canceled after some unmasked partying ahead of the episode. No, Wallen just got the Country Music Association Award for New Artist of the Year and a second chance to bring his skills to prime time. His eventual SNL performances of "7 Summers" and "Still Goin' Down" were both infectiously chill and full of heart. Now he'll attempt to sustain that blend across 30 tracks on his ambitious double album, Dangerous, with co-signs from country giants Eric Church (co-writer on "Quittin' Time"), Chris Stapleton (featured on "Only Thing That's Gone"), and Jason Isbell (whose "Cover Me Up" Wallen covers). "The 'double album' idea started off as just a joke between me and my manager," Wallen conceded in a statement — but if Dangerous succeeds, he'll become a giant in his own right.
Ashnikko, demidevil (January 15)
Other pop stars would kill for the success Ashnikko has had. No, the rising hyperpop rapper doesn't rack up No. 1s or Grammys — not yet, anyway — but she has harnessed the power of TikTok for hits in a way many artists are still figuring out. It's easy to break down what her viral tracks "Stupid" and "Daisy" have in common, from mind-numbing beats to deceptively simple, repetitive lyrics, but none of that accounts for Ashton Nicole Casey herself, who carried those songs to TikTok fame with her sheer charisma. Just listen to the way she laughs! She'll attempt to channel that magnetism into her first full-length, the mixtape demidevil, set to feature Grimes, Princess Nokia, and Kelis. (Update: Originally set for a February 19 release, the tape has been moved up due to a leak.)
Arlo Parks, Collapsed in Sunbeams (January 29)
Garnering attention with her track "Cola" in 2018, London singer-songwriter Arlo Parks signed on to Transgressive Records and released two EPs, Super Sad Generation and Sophie, that attracted further notice. Parks processes emotion and trauma through sensitive, layered pop, so get ready for some heart-wrenchers on her debut album.
Baio, Dead Hand Control (January 29)
Vampire Weekend bassist Chris Baio will soon grace us with his third solo album and has so far has released two singles, "Endless Me, Endlessly" and "What Do You Say When I'm Not Around?" — New Wave offerings underlined by his deep, heady vocals. It's giving New Order meets LCD Soundsystem meets the National.
Drake, Certified Lover Boy (January, date TBD)
It's hard to remember that Drake hasn't actually released a proper album since 2018's monstrous slog Scorpion. He has released a lot of things that look like albums, from the EP The Best in the World Pack to the compilations Care Package and Dark Lane Demo Tapes, and he has kept a near-constant presence in the top of the charts thanks to his uncanny ability and drive to game the system (see the shameless TikTok hit "Toosie Slide"). So what does Drake have left to do in 2021? Bulk up the discography and make more hits, if "Toosie Slide" and the Lil Durk–featuring "Laugh Now, Cry Later" are any indication. A bit more moody rap would be nice too, though.
Other Anticipated Albums
Barry Gibb, Greenfield: The Gibb Brothers Songbook, Vol. 1 (January 8)
Griselda, Conflicted soundtrack (January 8)
Jazmine Sullivan, Heaux Tales (January 8)
Beach Bunny, Blame Game (January 15)
Buck Meek, Two Saviors (January 15)
Zayn, Nobody Is Listening (January 15)
Caroline Shaw, Narrow Sea (January 22)
Clap Your Hands Say Yeah, New Fragility (January 29)
Madlib and Four Tet, Sound Ancestors (January, date TBD)
February
SG Lewis, times (February 19)
There are strong odds that SG Lewis touched at least one of the songs you danced to in 2020. The 26-year-old English producer worked with Victoria Monét on her glistening disco cut "Experience," Dua Lipa on her pulsing Future Nostalgia standout "Hallucinate," and even Channel Tres and Robyn on "Impact," the best in a string of offerings from his own debut album, times. The record follows a series of EPs that featured Clairo, AlunaGeorge, and Ruel; times also boasts collabs with Lucky Daye and Rhye, with likely more to come. Lewis's premier talent lies in making his guests shine with a signature blend of disco, house, funk, and R&B that he can form-fit to just about any singer. No wonder everyone's working with him.
Julia Stone, Sixty Summers (February 19)
Australian folk singer-songwriter Julia Stone returns with her first solo work in nine years. Co-produced by St. Vincent and Thomas Bartlett, Sixty Summers will feature the National's Matt Bellinger and Bryce Dessner (folklore and evermore fans, take note). Stone has released three singles ahead of the album, "Break," "Dance," and "Unreal," as well as a music video for "Dance" featuring Susan Sarandon and Danny Glover.
Wild Pink, A Billion Little Lights (February 19)
A Billion Little Lights isn't quite the double album about the American West that Wild Pink's John Ross originally set out to make, but it's expansive and glimmering nonetheless. The third album from Ross's New York three-piece doesn't just follow in the footsteps of indie giants like the War on Drugs — it could be the final push, after 2018's promising Yolk in the Fur, to make Wild Pink just as looming. Both singles so far are impressionist masterpieces grounded by accents of pedal steel and fiddle alongside backing vocals from Julia Steiner of the fantastically underrated rock band Ratboys. Ross's lyricism is equally delicate: "I want to remember every single thing," he sings on "The Shining But Tropical." "Just not who I used to be." Barring a miracle, safe travel and social gatherings won't be possible by late February. A Billion Little Lights could be the next best thing.
Julien Baker, Little Oblivions (February 26)
Julien Baker is a master of the direct hit. On 2015's Sprained Ankle and the masterful 2017 follow-up Turn Out the Lights, she stripped her music down to the bare necessary minimum to accompany her pained cries and emotional breakthroughs. Now, on her forthcoming third album, Little Oblivions, she's turning up the volume. It's Baker's first album with a full band — or full rock instrumentation, that is, although it's still largely performed and entirely produced by her — and it finds the 25-year-old at multiple crossroads, reevaluating her relationship with sobriety and taking time off the road to finish college. Fittingly enough, lead single "Faith Healer" is one of Baker's most reserved songs, even in its fullness. She's still searching for the same revelations, just maturing along the way.
Other Anticipated Albums
Foo Fighters, Medicine at Midnight (February 5)
Femi and Made Kuti, Legacy (February 5)
Slowthai, Tyron (February 5)
The Weather Station, Ignorance (February 5)
Florida Georgia Line, Life Rolls On (February 12)
Pale Waves, Who Am I? (February 12)
The Pretty Reckless, Death by Rock and Roll (February 12)
Sia, Music: Songs From and Inspired by the Motion Picture (February 12)
The Hold Steady, Open Door Policy (February 19)
Katy Kirby, Cool Dry Place (February 19)
Mogwai, As the Love Continues (February 19)
Cloud Nothings, The Shadow I Remember (February 26)
Willie Nelson, That's Life (February 26)
Spring
Lana Del Rey, Chemtrails Over the Country Club (March 19)
Let's not cut corners here: 2020 was a hard year to root for Lana Del Rey (and in 2021, it still is). She popped up in every discourse possible (and never in a good way), from racial justice to the pandemic to politics. Plus that foray into spoken-word poetry on top of it all! Now, though, she seems back to her quirky, brooding self as she preps her new album, Chemtrails Over the Country Club, which returns her to the partnership with Jack Antonoff that took her to new heights on 2019's Norman Fucking Rockwell!, an opus for a generation. "Let Me Love You Like a Woman," her first offering off Chemtrails, is a drag by comparison, but the rest of the album sounds more exciting — she has teased country and folk stylings, along with one song where she's "just screaming my head off."
Loretta Lynn, Still Woman Enough (March 19)
Loretta Lynn has watched her legacy in country music blossom before her via multiple generations of confidently feminine performers while never closing the door on her own career. Now over 60 years after her debut single, Lynn is back with her 50th album, Still Woman Enough, featuring interpretations of iconic songs from throughout her career alongside new material. And she'll have help from the generations of women she has influenced: Reba McEntire and Carrie Underwood guest on the new title track, while Margo Price and Tanya Tucker will join for signature songs "One's On the Way" and "You Ain't Woman Enough," respectively. And don't call this one good-bye, either — it's only the fourth in Lynn's current five-album deal with Legacy Recordings.
Anticipated Albums
Arab Strap, As Days Get Dark (March 5)
Teenage Fanclub, Endless Arcade (March 5)
Ringo Starr, Zoom In (March 19)
Evanescence, The Bitter Truth (March 26)
Greta Van Fleet, The Battle at Garden's Gate (April 16)
Weezer, Van Weezer (May 7)
Albums That Should, or Could, Come Out in 2021
Adele
Adele decided to host SNL back in October, as opposed to being the musical guest, because — you guessed it — she didn't have anything new quite ready to share. In a year of wrapping up her tumultuous divorce, possibly dating Skepta, COVID-19, and attending reggae festivals, the 32-year-old singer has been busy. Following her SNL performance, she said she wouldn't be back until next year, hopefully with a slate of new tracks to weep along to.
Aly & AJ
The Michalka sisters have had their foot on Gen Z for all of 2020 and won't be letting up into 2021 with their upcoming '90s-inspired album. The former Cow Belles were blessed with the most important accolade of 2020 — a viral TikTok — for their 2006 track "Potential Breakup Song," which is finally receiving its well-deserved explicit version. They've spent quarantine releasing a compilation record, promoting their new album, making music videos, and dropping clues on Twitter. It shouldn't be long before Aly & AJ go in for the kill with their third album.
Bleachers
It's just a fact by now that Jack Antonoff has more hours in his day than the rest of us do. In 2020, he worked on two albums for Taylor Swift, one for the Chicks, and that spoken-word poetry project of Lana Del Rey's; expect him to make appearances on upcoming projects by Swift, Del Rey, and Lorde as well, along with God knows who else. Amid all of this, he has also gotten back to his pet project Bleachers, releasing two songs in November to precede a 2021 album. A-side "chinatown" is all-time great Antonoff: the Bruce Springsteen collaboration that felt fated from Bleachers' beginnings, rendered better than seemed possible. Bleachers had already mastered swelling anthems, and Springsteen didn't push them over the top — instead, he brings a steady hand to one of Antonoff's most heartfelt songs. It's an exciting harbinger for that next album, which Antonoff comes to after years of refining his production skills.
Cardi B
It took just one rowdy, raunchy song for Cardi B to dominate 2020. "WAP" was larger than life on arrival, with Cardi showing just how much star power she has in her. Who else could dominate the camera in that music video, tell off the stupid conservatives, and keep the line "I want you to touch that little dangly thing that swing in the back of my throat" ringing in your ears for weeks afterward? But of course, she's been a star all along and never stopped reminding us after her fantastic debut album — from her 2019 role in Hustlers to "WAP" to near every time she opens Twitter or Instagram. Cardi spent the last months of 2020 hinting at a second album with more love songs and big collaborations. She even redirected the renewed attention to her hot-and-cold marriage with rapper Offset toward the record. "If you all are so curious to know about my relationship and blah, blah, blah, I'm going to put it in the fuckin' music, and you can buy it, too," she told Elle. Oh, we will.
Billie Eilish
After Billie Eilish's record showing at the Grammys, she didn't sit out 2020 to take stock of her accomplishments. Instead, she continued a run of great singles with her grand Bond theme, "No Time to Die"; the quietly groovy "my future"; and the chill-as-fuck diss track "Therefore I Am." Eilish made no secret about spending a lot of the pandemic in the studio with her producer brother, Finneas, and recently flicked at a "new era" in 2021. She'll have a busy year even without a new album, between her Apple TV+ documentary, The World's a Little Blurry, and the ever-so-slight possibility of finally embarking on the world tour she canceled last March. But that hasn't stopped her before.
Sky Ferreira, Masochism
On the long list of reasons 2020 was so terrible: zero new songs from alt-pop auteur Sky Ferreira. At least the past few years brought stellar collaborations with Charli XCX, Iceage, and SSION, not to mention the first taste of her sophomore album, Masochism, via the moody Twin Peaks pop of "Downhill Lullaby." But Ferreira has always worked on her own schedule, so it's no surprise she skipped out on 2020 (musically, that is — she did star in an episode of the revived Twilight Zone). The self-professed perfectionist has given mixed signals on what's next, first promising more music in 2019, then saying she wouldn't release music if she couldn't tour during the pandemic but recently joking that she was just waiting out the Trump era. If 2021 does bring a new album, her dedicated fans will surely embrace it. If not, her thrilling 2013 debut, Night Time, My Time, only gets better by the day.
Kimbra
Experimental pop artist Kimbra has hinted that not only is her fourth album in the works but she's making lots of headway with Ryan Lott of Son Lux. The New Zealand songwriter and producer didn't release any new tracks in 2020 but featured on many, including one with Grammy-nominated Jacob Collier called "In My Bones." Kimbra's sound has transformed with each of her albums, beginning with Vows in 2011. Maybe she will prove once again that she's not just somebody's sound we used to know.
Kendrick Lamar
Every year since 2017's DAMN., Kendrick Lamar's last studio album, has brought reminders of how large the rapper's legacy looms. In 2018, it was his Pulitzer Prize win, the first for a popular-music album; in 2019, it was the end-of-decade coverage, with Lamar's albums and songs dominating the lists; and last year, it was Marcus J. Moore's cultural biography The Butterfly Effect, along with Rolling Stone naming three of Lamar's albums to its updated "500 Greatest" list, including To Pimp a Butterfly at No. 19. All that fanfare only ensures that all eyes will continue to be on Lamar in 2021 until we can blast new Kung Fu Kenny again. Just don't even entertain the thought that he'll lose his touch — Lamar's recent verse on Busta Rhymes's "Look Over Your Shoulder," just one of two features in 2020, effortlessly stole the show.
Lorde
When Lorde took her trip to Antarctica in 2019, she might have returned with a new lease on life, but she also came back with an album title. Since her 2017 sophomore album, Melodrama, Lorde made it clear that she was taking some time off to relax and find new inspiration, which was extended following the death of her beloved dog Pearl last year. In an email to her fans back in May, however, she announced that her third album was in fact in the works after she'd reteamed with Jack Antonoff to create it remotely. Focusing on quality over speed, the artist wrote that she wants to give something her fans can cherish for years to come, rather than quick "perfect pop morsels." I suppose we can all wait just a little longer for the next tour de force of grief and nostalgia.
Rihanna
All right, let's release a collective sigh. R9 is beginning to feel like a lofty dream, possibly a mistaken existence due to the Mandela effect, or maybe even a cruel joke Rihanna holds over our heads to continually remind us that we're all dependent on her. With its original release date of 2019, then 2020, 2021 may finally be the year. We all know she's been busy with Fenty Beauty and Savage X Fenty and FENTY over the past few years (among other distractions), but we also know she's been cooking up plenty in the studio. Come on, Rih, the kids are starving.
Romy
Romy Madley Croft, the quiet, deliberate guitarist of the xx, has some serious dance-music chops. You wouldn't guess it from watching her perform with her art-rock band (past the slight swaying during upbeat songs like "On Hold"). But mid-2020, she took on a mononym and quietly dropped her solo debut, "Lifetime," a bop in the truest sense. The song brims with enough euphoria to wash over any crowded dance floor but is tailored to the isolation of the pandemic, with lyrics celebrating that now-rare spark of connecting with someone else. It was nearly as impressive an announcement as her band's "Intro" — and like that track, it gives just enough to leave you wanting more. Expect the pop turn to continue on Romy's debut album, born from her time writing for stars like Dua Lipa and Halsey and a partnership with British hitmaker Fred Again.
Rostam
The super-producer and songwriter behind Vampire Weekend's first three albums, Clairo's debut, and Haim's Women in Music Pt. III is due to release his second solo album in 2021. Rostam has been pretty tight-lipped about what's to come but has given listeners a taste with two singles, "Unfold You" and "Under Control," a cover of the Strokes track from their Room On Fire album. "Unfold You" also makes a solid argument for music needing way more dreamy saxophone in 2021.
Saweetie, Pretty Bitch Music
Saweetie can make songs that stick in the back of your mind for weeks. The Bay Area rapper quickly rose to stardom following the release of "My Type" in 2019, and she has made her name with glammed-up visuals and in-your-face bars. Her EP Icy and 2020 single "Tap In" have built ample anticipation for her full-length studio album, Pretty Bitch Music, which she says will usher in a whole new era of Saweetie with her official introduction in the rap game.
Spoon
The Austin indie-rock heroes are racing to the finish line on their tenth studio record, set to release in early 2021. The group was on track to potentially release it in 2020, but COVID-19 halted the recording efforts in March. Dialing back on the production levels of 2017's Hot Thoughts, Britt Daniels told Rolling Stone the new record will have more of a "live-band sound," harking back to '60s bands like the Doors and the Velvet Underground.
St. Vincent
St. Vincent recently announced on Twitter that her sixth studio album is "locked and loaded." No further details concerning its release have been discussed, but diverging from the raucous, sensual, latex-laced Masseduction, Annie Clark told MOJO magazine that this record will call to the "masters" of funk like Stevie Wonder and Sly and the Family Stone. She has also described the new album as having the color palette of Martin Scorsese's Taxi Driver — a much grittier move from the tight, clean packages of Masseduction. You've got us on the edge of our seats, Annie.
SZA
With the release of two singles over the past four months, most recently "Good Days" (plus a snippet from an unreleased track going viral on TikTok), an album from heartbreak harnesser SZA feels imminent. On Twitter, she indicated that her work on the album is done and she's been on-and-off squabbling with her label to get it released. If we don't get the album by the end of 2021, it'll be time to march down to Top Dawg Entertainment with pitchforks in hand.
Taylor Swift, rerecordings of Taylor Swift through 1989
Listening to Taylor Swift's snippet from a newly recorded "Love Story" in Ryan Reynolds's recent Match.com ad (what a cursed game of Mad Libs) felt like playing a parlor game. The small differences jumped out: this vocal inflection, that fiddle moment. Given the record speed with which Swift recorded 2020's folklore and evermore, expect more such moments this year. In November, she became eligible to rerecord her first five albums — something she has planned to do for over a year since she doesn't currently own those masters — and the "Love Story" clip coming a little over a month later proved just how seriously she would take the project. For the record, we're still not fully counting woodvale out yet, either.
Other Possible 2021 Albums
3OH!3
Arca, KiCk ii
Arcade Fire
Big Boi and Sleepy Brown, The Big Sleepover
Danny Brown, XXXX
Demi Lovato
Chika
Clairo
Jacob Collier, Djesse Vol. 4
Conway the Machine, God Don't Make Mistakes
The Cure
Denzel Curry, Melt My Eyez, See Your Future
Dinosaur Jr.
Doja Cat
FKA Twigs
Foxing
Lil Nas X
Marina
Migos, Culture III
Mike WiLL Made-It, Michael
Neon Indian
Noname, Factory Baby
Liz Phair, Soberish
Charlie Puth, Voicenotes 2
Rosalía
Emma Ruth Rundle and Thou, The Helm Of Sorrow
Travis Scott, Utopia
Shamir
Gwen Stefani
VanJess
Tierra Whack
The War on Drugs
Diane Warren, The Cave Sessions Vol. 1