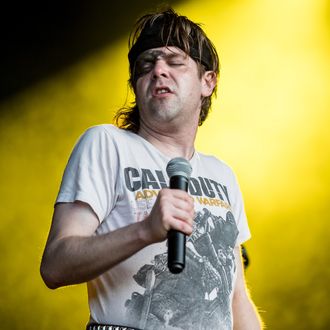 Photo: Xavi Torrent/WireImage
According to Pitchfork, following his attendance of Wednesday's pro-Trump "Save America" rally (which ballooned into an attack on the Capitol), Ariel Pink has been dropped by his record label. "Due to recent events, Mexican Summer and its staff have decided to end our working relationship with Ariel Rosenberg AKA Ariel Pink moving forward," the label tweeted Friday. Mexican Summer, which released Pink's most recent album, 2017's Dedicated to Bobby Jameson, was set to reissue several of the singer's remastered albums, including Odditties Sodomies Vol. 1, Sit n' Spin, Scared Famous/FF>>, and Odditties Sodomies Vol. 3, on January 29.
Pink was spotted on social media alongside fellow indie musician John Maus at the January 6 demonstration in Washington, D.C., after which a mob of the president's supporters smashed their way into the Capitol while Congress was in session to ratify Presidential-elect Joe Biden's electoral victory.
Pink, however, denied taking part in the melee that has left a Capitol Police officer and four protesters dead. "i was in dc to peacefully show my support for the president," the musician wrote in response to a user. "i attended the rally on the white house lawn and went back to hotel and took a nap. case closed." Tweeted Pink on Wednesday, "vote for trump."
Update, January 15, 10 a.m.: Ariel Pink appeared on January 14's broadcast of Tucker Carlson Tonight for an interview with Carlson, alleging his career had ended and blaming "cancel culture" after his label dropped him. "If you're a recording artist, which you are, and you can't record, what does that mean?" Carlson asked Pink during the often-absurd six-minute interview. "Well, and I can't tour either, at this point, so it pretty much leaves me destitute and on there street," Pink responded. The musician further claimed that Mexican Summer "reassured me that they were not going to drop me" after his attendance at the rally, before "they succumbed to cancel culture, basically." He later added, "This is what I voted against. I mean, I didn't vote so much for Trump as against cancel culture."
The interview came the same day that allegations surfaced that Pink had abused an ex-girlfriend and former bandmate, Charlotte Ercoli Coe. In a court declaration against Pink's attempt to get a restraining order on Coe, she alleged he "attacked" her during a concert, forced her to have unprotected sex with him, distributed nude photos of her to his friends, and harassed her after they broke up. Carlson's interview with Pink did not address the allegations, but Pink did claim, "I can't even afford my lawyer right now." As Carlson concluded the interview, he remarked, "When reasonable people like you are destroyed, all of us should take notice."