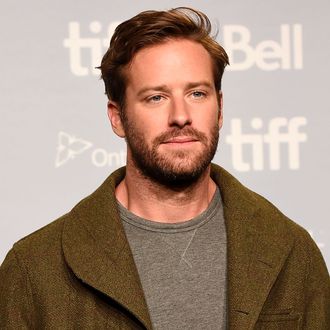 Photo: Kevin Winter/Getty Images
Armie Hammer has left another project. Variety reports that the Rebecca actor who has been embroiled in a social-media scandal has exited The Offer, the forthcoming miniseries about the making of the Godfather from Paramount+. Hammer was set to lead the series as producer Al Ruddy, who produced The Godfather in 1972. Hammer's star has continuously fallen since allegations of emotional abuse, related to his alleged fantasies of cannibalism and rape, have plagued the actor after unverified direct messages he allegedly sent to various women began surfacing on social media earlier this year. Hammer has denied all claims lodged against him as "spurious online attacks," but has since dropped out of the film Shotgun Wedding starring Jennifer Lopez, and has issued a public apology after referring to a faceless woman in lingerie "Miss Cayman" in a video on his secret Instagram account, @el_destructo_86. We look forward to seeing which non-cannibal actor will replace Hammer in the series. We hear Josh Duhamel is available.
This post has been updated to clarify the allegations against Hammer.