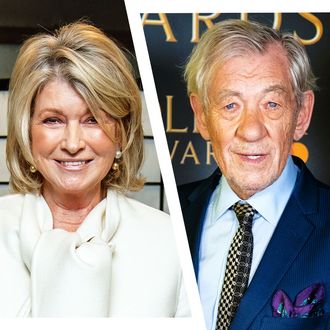 You can now sleep peacefully knowing that Martha Stewart and Ian McKellen have been vaccinated.
Photo-Illustration: Vulture and Getty Images
Many celebrities, politicians, athletes and influencers contracted the coronavirus this year, but we are now seeing some begin the process to immunity. There are numerous vaccine rollouts ongoing, including the Moderna and Pfizer-BioNTech vaccine, the Oxford University–AstraZeneca vaccine in the U.K., and more currently in phase three of clinical trials. While some celebs in the U.K. started receiving the vaccine in early December, and some have already received their second round, the U.S. mostly saw politicians receiving the vaccine in December, with celebrities starting to get the vaccine in January. With current age and career restrictions on the vaccine, it may be a moment until we see a wave of celebs under 60 receiving the vaccine, but until then rest assured that icons such as Martha Stewart, Prue Leith, Joan Collins, and more, are in the clear.